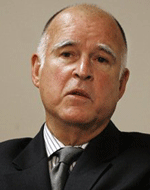 Last night, Governor Jerry Brown laid down the gauntlet against Republican lawmakers, accusing them of an "unconstitutional delegation of power."
The governor, angry that the legislature defeated his tax and jobs plans, accused Republicans of being controlled by the Howard Jarvis Taxpayers Association.
"The Republicans in Sacramento have one jockey," the Sacramento Bee quoted Governor Brown in a speech in San Francisco, as he changed tactics.
The legislature failed to send the governor his two major jobs proposals.  The first would have closed tax loopholes for multistate corporations and used proceeds to provide tax breaks for California small businesses and manufacturers.
The second would have extended the state's electrical surcharge to promote energy efficiency and the development of alternative energy sources. The surcharge has been in effect since 1997 and adds $1 to $2 to the average monthly household electric bill.
The Sacramento Bee, in an editorial noted, "It wasn't even close, as some Democrats joined Republicans in rejecting the measures."
Writes the Bee this morning, "In the aftermath of that defeat, Brown went hiking.  The quiet approach, Democratic strategist Darry Sragow said, didn't work."
"Now he's trying something else," Mr. Sragow said. "Plan B, or maybe Plan C, and that's to engage, to be more confrontational and more visible, to call the question in public."
The Bee reports that Governor Brown will be asking voters next year to raise taxes.  In so doing, he knows he needs support by the unions, "Brown piled blame Wednesday on the Howard Jarvis Taxpayers Association  for the Legislature's defeat of his tax and jobs plan, saying some Republican senators told him they would like to vote for the measure but couldn't because of the association's political clout."
Said  Governor Brown, after acknowledging months of failed negotiations, "At least I know who to talk to."
However, Republicans are not the governor's only target.  The governor is planning to veto many of the hundreds of bills passed by the legislature prior to the recess.
"I'm going to veto a lot of bills over the next 30 days," Brown told reporters. "So I have to say to some, fasten your seat belts. This is going to be a rough ride. … They'll be playing the veto blues before we finish them up."
The legislature has sent the governor nearly 900 bills for signature, slightly down from previous years.  Of those, about 560 need to be acted on by October 9.
According to the governor's office, Governor Brown has signed 295 bills so far this year.  He has also vetoed 31 bills and allowed one to take effect without his signature.
In an editorial by the Sacramento Bee on Tuesday, the paper implores the governor to "use his veto pen without mercy."
Writes the paper, "Gov. Jerry Brown needs to sharpen his veto pen. We hope he mercilessly skewers many of the bills sent to him in the closing hours of the legislative session."
"In recent weeks, Brown has declared that not every human problem requires a law. He has noted that the state would survive fine without many of the bills sent to him," the editorial continues.
The Bee declares, "Lawmakers did, however, jam through an extension of a $100 million annual tax break for the movie industry. Given California's precarious financial situation, Brown ought to ax this labor- and Hollywood-backed measure."
The Bee presents an anti-labor message, "Several other labor bills also deserve quick deaths, including Assembly Bill 101, to expand the right of child-care workers to unionize, and Senate Bill 922, to restrict city councils, county supervisors and voters' power to ban 'project labor agreements,' which require that public agencies use union labor for public works projects. This power ought to remain in local hands."
Indeed, as Bee writer David Siders noted, "The raft of labor-backed bills are a challenge for Jerry Brown."
On the one hand, the Governor wants to be independent and careful with state spending, but as noted earlier, the Governor needs labor to pass his tax measure.
Writes Mr. Siders, "As the Legislature finished in a flurry early Saturday and left town, it left Gov. Jerry Brown in a jam.  Among the raft of bills approved in the final hours of the legislative session were several union-backed measures that, if Brown vetoes, could strain his already-complicated relationship with labor and, if he signs, could upset his business friends."
Democratic strategist Garry South noted the delicate balance that Mr. Brown must play as he prepares for his seminal tax measure in 2012.
Mr. South asked, "How much of labor's agenda can he veto and still have the kind of labor support he's going to have to have if he puts a tax measure on the ballot in 2012?"
Labor unions spent millions in 2010 electing Governor Brown.  It was an easy call, given the anti-labor rhetoric of his opponent.  It has been seven years since there was a Democratic Governor, and at that time, Governor Davis passed huge increases in both salaries and pension.
Notes Mr. Siders, "Legislation Brown has dispatched so far suggests he is capable of disappointing his supporters.  Despite intense pressure from Democrats and labor unions, Brown vetoed legislation in June that would have made it easier to organize farmworkers. A compromise measure proposed by Brown and negotiated by Steinberg and the United Farm Workers union was approved by the Legislature late Friday."
Concludes the Bee editorial, "Brown might be tempted to give Democrats who control the Legislature the benefit of the doubt and sign the majority of their bills. But as the governor says, not every human problem warrants a law. The state would be better off without the vast majority of the bills that await his review."
—David M. Greenwald reporting