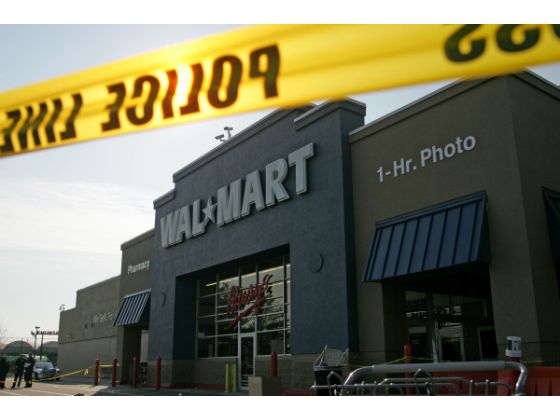 For a number of years, I would get up early with my father and brother-in-law, and trek to the local Staples in San Luis Obispo on the Friday after Thanksgiving, hoping to time it just right so that we arrived right around 6 am at the store's opening and hoping that we would snatch up some deal.
In recent years, I have grown less and less interested.  Perhaps the luster has worn off.  Perhaps the deals are not nearly as alluring as they were five or ten years ago.
Each year, we hear stories where people line up outside the doors of major stores like Best Buy and Walmart – sometimes for days – hoping to be the one to get some cheap product.  This year, apparently, it was flat screen televisions.
However, increasingly, the competition is apparently too much for people and they will resort to violence.
This year came the chilling incident, especially ironic coming on the heels of the well-publicized pepper spraying of students by UC Davis police officers, where a woman fired pepper spray at other customers during an LA Black Friday sale at a Walmart.
According to published reports, "The attack took place about 10:20 p.m. Thursday shortly after doors opened for the sale. The store had brought out a crate of discounted Xbox video game players, and a crowd had formed to wait for the unwrapping. Valle says the woman began spraying people in order to get an advantage."
This was not the only incident, and in fact many of them have occurred at Walmart.  In San Leandro, a robber shot a shopper who refused to give up his purchases.  The attack left the victim in critical but stable condition.
These points of violence appear to be rising.  Perhaps we can chalk it up as a function of the faltering economy and the desire of the public to maintain their material obsessions of the past with less money.
However, there is a disconnect going on here.  Consumer analysts are quick to note that Black Friday is largely a marketing ploy to get people in the stores.  The deals that are offered are no better and sometimes far worse than what people can get the same or better goods for, later in the holiday season.
It is simply a marketing ploy to create a level of urgency – a limited-time horizon, a small number of loss-leader products, many of them considerably older and about to go off market, a limited supply, and enticing deals.
It leads one to wonder if the retailers should re-think their approach, or at least take more steps to keep their customers safe.  And why is it that most of these attacks happen outside of Walmart?  What does that say for this phenomenon?
What does it say about people willing to wait in line from Monday through Friday for a deal on a television?  They are missing the point of Thanksgiving.
While we understand the importance of the holiday season for retail, it is important to note that, while Black Friday is an important date, it is actually not the most important date for retail.
But the hype and the advertising have a clear impact over behavior.  They have sold these sales into a life or death struggle, and when that happens, the unstable are likely to take things too far.
On the other hand, maybe what is really happening here is that the media is overblowing a few notable incidents.  After all, during the course of the ordinary shopping week, people likely do crazy things, trying to steal merchandise.  And while someone might not use pepper spray to advance in line, the rest of the violence is probably closer to par for the course.
The AP reports, "Experts say a volatile mix of desperate retailers and cutthroat marketing has hyped the traditional post-Thanksgiving sales to increasingly frenzied levels. With stores opening earlier, bargain-obsessed shoppers often are sleep-deprived and short-tempered. Arriving in darkness, they also find themselves vulnerable to savvy parking-lot muggers."
The AP interviewed Theresa Williams, a marketing professor at Indiana University.
"These are people who should know better and have enough stuff already," Professor Williams said. "What's going to be next year, everybody getting Tasered?"
But what is missing from this analysis is any kind of comparative statics.  In other words, how many incidents of violence do we normally see?  Are the incidents highlighted by the media looking for a story?  Are the incidents of violence higher than usual or merely reflective of the higher shopping volume?
It is easy to point to the pepper spray incident as an example of the phenomenon running amuck.  There were past incidents where people were trampled to death and people were rushing to get their products, as people collapsed of heart attacks.  But those are comparatively few incidents.
Consider that we can probably name all of these incidents on two hands and considering there are tens of millions of shoppers, perhaps we have less to fear.
Indeed, as Walmart spokesman Greg Rossiter said, Black Friday 2011 was safe at most of its nearly 4,000 U.S. stores, despite "a few unfortunate incidents."
There is much to that view, but I think that lets retailers like Walmart, who have problems every year, off the hook.  The sales ploys are overblown.  It would be interesting to see research that shows such ploys are necessary.
Moreover, why not have safeguards?  Crowd control measures.  People line up for events all of the time.  Limit the number of products per person per visit.  Allow only a certain number of people at one time.  Guarantee product availability through the course of the sale.
Anytime you create a frenzy, allowing a large number of people to compete for a small number of products in a small space and during a limited time, you are asking for problems.
Or why not make these great sales online events?  A number of sites are doing that, anyway.
Intelligence and good planning could solve most of these problems, overblown though they likely are.  But apparently we are going to have to have a real catastrophe before retailers are ready to act, and that will be too late and it will be the end of the fun for those who play by the rules.
For those who take this stuff so seriously that you have to injure someone to get your product, get a life, it is really a pathetic thing to see.
—David M. Greenwald reporting