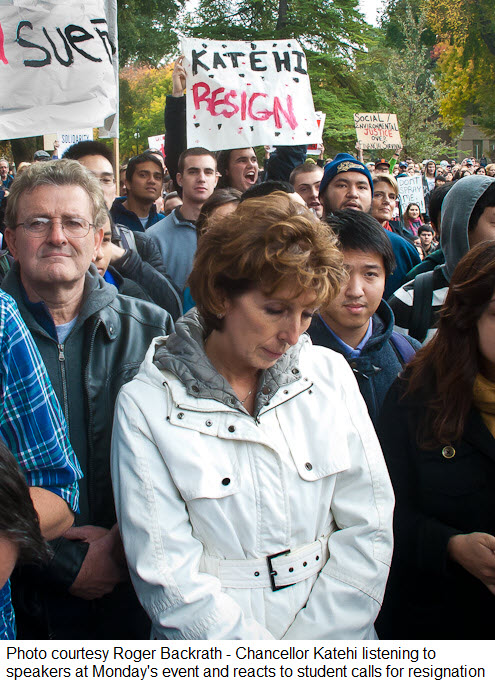 It was not a friendly crowd that faced Chancellor Linda Katehi on Monday afternoon, but they clearly wanted to hear what the chancellor had to say, even as many chanted for her to resign.  The crowd listened politely, quickly shouting down those who wished to catcall or heckle the chancellor.
But in the end, it would have been better for her not to have made an appearance, if this were all she was going to say.
"I'm here to apologize," Chancellor Linda Katehi said, "I feel horrible for what happened on Friday."
"When you tell me you don't want to be students at a university like we had on Friday," she said, "I'm just telling you, I don't want to be the chancellor of the university we had on Friday."
"Our university needs to be better than it is and it needs all of the community to come together to do that," she added.
"I know you don't believe everything that I say here today, and you don't have to.  It is my responsibility to earn your trust," the chancellor said.
According to the University News release, "She spoke briefly – respecting the request that all speakers limit their remarks to about a minute."
But she was not any speaker, she was the speaker.  The speaker that everyone had come out to to hear, to listen to her address the students and say something.  And she didn't.
Some will argue this was not the venue.  But it had to be the moment when she made it clear that this wasn't what she was about.
The problem is, she already tipped her hand as to what she was about.  She did it in the moments before everyone in this community was engaged in this issue – they saw atrocity, she saw a threat to public safety and saw the police response as necessary but unfortunate.
The chancellor had her moment, but instead the people who stood out the most on this day were the students, who very maturely and articulately told their accounts of the horrors of what happened.
It was Professor Nathan Brown who captured the chancellor's sudden contrition, telling her as she waited to speak, "What we see in the chancellor's statements are the same techniques of backpedaling and obfuscation that are used by the powers that be every time there is an act of police violence in this country."
"They are efforts to defer and displace criticism," he added, as well, to "defer and displace calls for her resignation.  Those calls now number in the tens of thousands."
"There is no place on our campus for administrators who order the use of force against peaceful protestors," he said.
And there was nothing in Chancellor Katehi's words that responded to that.
What we have heard in the last few days are about a chancellor who has not been around, has not stepped forward and led.
The amazing thing that we now know, thanks to the Reverend Kristin Stoneking, is from that letter, the police had already had a major miscommunication and foul up at Mrak Hall, as police officers had arrived in riot gear for a peaceful demonstration.
Assistant Vice Chancellor Griselda Castro told Reverend Stoneking "The police were not supposed to be in riot gear and the administration was also not happy about their response," but she also defended the administration, calling them "overworked" and saying that they were "doing the best they can."
Perhaps worse yet, the reverend was also told, "The Chancellor is unavailable due to her triple-booked schedule to move forward her agenda of globalization and internationalization of the university."
This is, in fact, the growing criticism of the chancellor, that she is rarely at the university and rarely available to act as the chief administrator.  The word is that she is out on the road attempting to make a name for herself and set herself up as the successor to President Yudof when he retires down the road.
What this incident seems to suggest is that no one took control of the police, and without leadership, the police overreacted to a fundamentally non-threatening situation.
So far the police chief and the two perpetrators have been placed on administrative leave and there is a task force, and the matter has been sent to the Yolo County District Attorney's Office for review.  But we all know these are all techniques of letting the situation calm down.
Make no mistake, Chancellor Katehi is on life support.
I rarely watch the news, but what I saw last night on MSNBC is important, to place this into context.  UC Davis and what happened is the talk of the country.
On Lawrence O'Donnell's show there were images of the pepper spray video that we first saw on Saturday.  He interviewed on the air those who were pepper sprayed, as UC Davis Student Kase Wheatley, and then Michael Moore came on to talk about UC Davis.
Now I know Michael Moore is a polarizing figure, but if you focus on Michael Moore himself and even to some extent what he says, you miss a point here.
The point is that Michael Moore is talking about UC Davis, which has now become a symbol for what is wrong with this nation.
Michael Moore asked, "When are the police going to arrest the real criminals?" referring to all of those whose actions led to the collapse of the US economy.
The imagery of Lt. Pike spraying pepper on the protesters has been morphed into a symbol unto itself.  It is a symbol that has galvanized the public in ways that other images could not.
Far from nipping this in the bud, as one commenter on the Vanguard suggested, it has thrown gasoline on the fire – over 5,000 people at the event yesterday, millions watching UC Davis transformed into a symbol.
This was captured very well by Michael Moore, who said last night, "The Police in Davis, California, doing this to non-violent citizens – if you were writing the script for this, you would actually write this in."
"If you were trying to build the protest movement, you would say, how do we get the police to behave in this matter because when they do, this thing is just going to explode across this country."
"The students at UC Davis now have solidarity movements in support of them all across the country," he continued.
Michael Moore noted that this was just a movement of 11 students, "Just 11, this wasn't a demonstration of 30,000, this wasn't a large encampment of 200 tents in Portland.  This was just 11 students in a not very well known UC campus, and the images of this have resonated around the world…  This will be an iconic moment in the Occupy Wall Street movement which clearly now has shifted to an even larger movement on campuses."
"People will remember years from now that UC Davis was the moment when Occupy Wall Street went to the college campuses," he said.
I understand that he may be wrong.  But that is what the talk was on cable television last night across the country.  UC Davis has become a symbol of a movement.
Kase Wheatley was asked by Laurence O'Donnell whether the apology was sufficient, and he responded: "No, not at all.  They are empty words.  To be honest I think the Chancellor is very similar to a robot, I think people feed her things to say and then she regurgitates them."
"I don't accept her apologies.  I don't want her apology, I want a resignation," he said.
Another student on MSNBC suggested that the chancellor can show she is sorry by resigning and joining them.
Mr. Wheatley's words raise an interesting point as to just who is advising Ms. Katehi, who is generally seen as she was on Monday with her husband flanking her.
Her initial response was ill-considered.  Her subsequent statements are not enough to overcome those hardships.
We have to question the wisdom of speaking to the students if she were only intending to speak for two minutes and offer platitudes without substance.
This entire thing has been undoubtedly mishandled.  It is very clear it is not all Ms. Katehi's fault, but I have to keep going back to that moment last week at Mrak Hall.  The UC Administration knew there was a mess up.  They admitted it.  Sure, they put the blame on the police, but it was there and they knew it.
At the same time, the excuse was that they were "overworked" and the chancellor "triple-booked."  Two days later, this happened.  To me, that is on the chancellor.  And based on that, and everything else that is happened, she needs to be dismissed by the Regents or she needs to step down.
Everything else that she says on this matter is, as Nathan Brown put it, "backpedaling and obfuscation."
The Vanguard therefore joins the call of those asking for the chancellor to resign.
—David M. Greenwald reporting