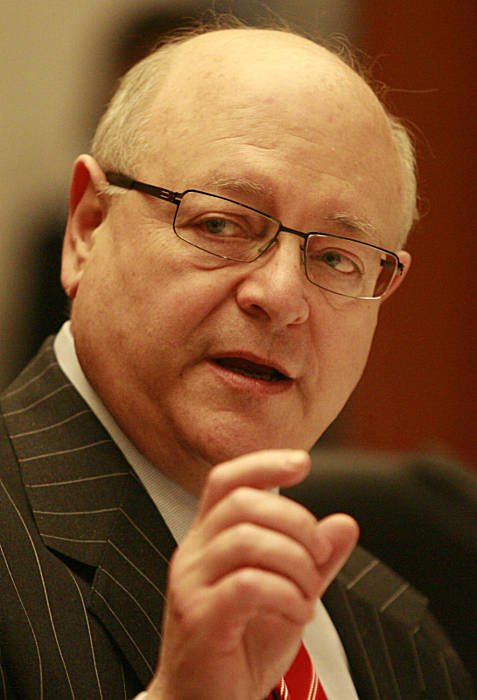 During a time when the University of California is reeling from the mishandling of student protests by campus police on multiple campuses – protests spawned by increasing fees – it is appalling the degree to which the university is completely tone deaf to the concerns of students, many of whom believe that their fees are going to line the pockets of already wealthy and highly-paid administrators.
And at such a time, President Yudof and the regents supported a pretty massive increase to already well-paid executives.  His defense was almost laughable.
"We consider these retention efforts to be essential," he said. "I understand it's not a great time, but we can't really close down shop and say we're not going to make any effort to retain our best people."
The Sacramento Bee came forward with the details:
Two vice chancellors at UC Irvine and a vice chancellor at UCLA got raises of 9.9 percent. That brings salaries for Wendell C. Brase and Meredith Michaels at UC Irvine to about $247,000, and the salary for Steven A. Olsen at UCLA close to $317,000.
Joseph I. Castro was appointed interim dean of the graduate division of UC San Francisco and given a 7.5 percent raise, bringing his salary to $252,625.
Steven A. Drown, chief campus counsel at UC Davis, got a 21.9 percent raise, bringing his salary to $250,000.
Diane F. Geocaris, chief campus counsel at UC Irvine, received a 14.3 percent raise, bringing her salary to $255,000.
Carole R. Rossi, chief campus counsel at UC Santa Cruz, received a 13.9 percent raise, bringing her salary to $215,000.
Michele Coyle, chief campus counsel at UC Riverside, received an 11.4 percent raise, bringing her salary to $215,000.
Marcia J. Canning, chief campus counsel at UC San Francisco, received an 8.9 percent raise, bringing her salary to $255,000.
Daniel Park, chief campus counsel at UC San Diego, received a 6.4 percent raise, bringing his salary to $250,000.
To say this is not a good time is an insult to the intelligence of everyone who works in the UC system, every student in the UC System, and every taxpayer.
Some have suggested that students are focusing their anger in the wrong place by focusing on the administration and to some extent the regents, but in light of such moves it is hard to argue with their angry choice of targets.
Chancellor Katehi's salary has often been a target, and it has made her easy prey for the wrath of protesters and citizens of this community who are appalled at what has transpired.
But worse yet, this feeds into the belief by the protesters that the real problem is not a faltering economy or a legislature that has continually cut funding for education and higher education in the face of billion dollar deficits. The problem is the greed of the 1% embodied by the administrators making six-figure salaries, many of whom have received double-digit pay increases as students are annually asked to cough up double-digit fee hikes.
The fairness issue is going to fuel this rage, and that will not abate until wiser heads prevail.
And while it is true that the legislature and the previous governor bear a good deal of responsibility for tuition hikes, it is the students' own perceived lack of political power that makes the students and school more vulnerable than others in the battle for increasingly scarce funds.
To the extent that this movement emboldens and empowers student protesters, forcing the regents and legislators to take them seriously, the more likely they are to prevail.
In any case, President Yudof, who himself has grabbed headlines for his exorbitant salary, has poured a giant can of gasoline on the fire.
While it may be easy to dismiss the occupy movement as a bunch of radicals, just as the anti-war movement began to gain steam when more and more middle-of-the-road people became sympathetic to their cause and digusted with the Vietnam War, the same danger exists here.
What Mr. Yudof apparently does not understand is that this is a battle for the hearts and minds of the middle ground student, and to a larger extent, the middle class voters of California who sent their kids, or dream of sending their kids, to a University of California school.
Right now, Mr. Yudof is losing the battle and probably does not even contemplate why that is.  Look in the mirror, Mr. Yudof, this is simply an atrocity almost as horrific as the pepper spraying itself.
—David M. Greenwald reporting