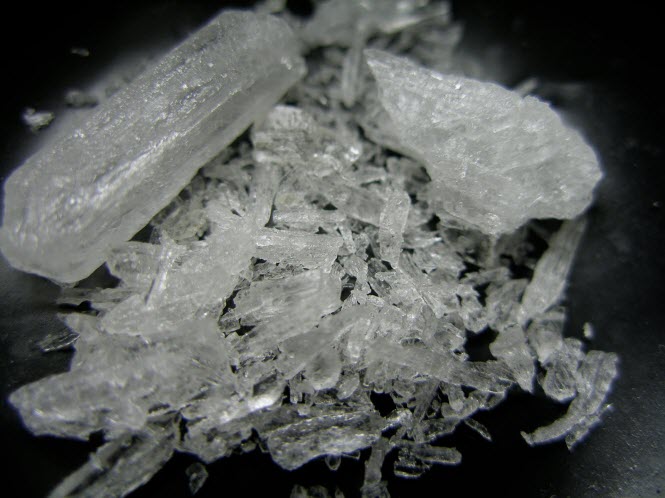 Yolo County Judge Janet Gaard held Davis resident Paul Delgado to answer, in a preliminary hearing for two felony charges of attempting to sell meth, despite the fact that there is no evidence that he ever possessed the drug that he allegedly offered to sell to an undercover agent of YONET.
Mr. Delgado is being prosecuted by Yolo County Deputy District Attorney Michael Vroman.  The evidence presented, at the preliminary hearing on Wednesday, was based solely on the word of Officer Ryan Bellamy of the Davis Police Department, acting as a supervising agent for YONET.
In his testimony on Wednesday, Officer Bellamy said that they had received complaints about people acting under the influence of narcotics at the fire dancing shows in the E Street Plaza in Davis.  There, street performers draw a crowd of anywhere between 20 and 50 people.
Based on these complaints, YONET apparently initiated Operation Fire Dance and one of the agents involved was Jeff Moe.
On the night in question, he estimated a crowd of 30 to 40 people attended the show, and there was spillover of people into a nearby alley.  It was there that Agent Moe contacted Paul Delgado, who was said to be pushing another subject in a wheelchair.
Upon contact, Mr. Delgado allegedly told Agent Moe he could smoke him out – referring to marijuana, but Agent Moe wanted something "harder" – crystal meth.
Mr. Delgado allegedly told the agent that if he brought him two beers, he would get meth from a guy named "Wedo."  They agreed to meet at the benches across from Woodstock.  Agent Moe brought the beer, but Mr. Delgado did not have any meth.
He allegedly told the undercover agent that he could not find Wedo.  He went looking for him again and said they could talk later.
Over the next few days they played this cat and mouse game, but Mr. Delgado never produced the drugs.
A few days later, Officer Bellamy testified that Mr. Delgado talked again with Agent Moe.  This time, the agent asked Mr. Delgado if he could hook up directly with "Wedo."
Agent Moe allegedly said, "If you hook me up, I'll split with you the profits."  They made arrangements to meet in West Sacramento, and while Mr. Delgado seemed interested, he never put Agent Moe in contact with "Wedo" and never himself had possession of meth.
Under cross-examination, Officer Bellamy said there was never a point in which the conversations were recorded.  During some of the contacts, he said that Agent Moe was working this case on the weekend when other agents were off.
Public Defender Dean Johansson asked Officer Bellamy who initiated these contacts, and he acknowledged that Agent Moe had contacted Mr. Degaldo every time, even though he knew there was no recording device available.
According to Officer Bellamy under direct, there was never any meth found on Mr. Delgado.  They were never led to an individual with meth.  There was no physical evidence of meth and no observation with meth.
Apparently Wedo is a known individual to YONET, whom they know to be Jonathan Abshire, known to be some sort of drug dealer.  Although Mr. Delgado himself denied this was the same individual, it does lead to a puzzling question as to why they needed to get Mr. Delgado involved at all, as he appears not to be an individual dealing drugs.
Mr. Delgado took the stand and gave a very rambling account.  He claimed to have just had a job with Comcast.  He was also a caregiver to the gentleman in the wheelchair who is blind.  He identified the individual as Patrick, who had a Prop. 215 card (for medicinal marijuana).
Mr. Johansson argued that there is no evidence that a crime actually occurred here.  There was no meth, no known connection between Mr. Delgado and anyone with meth, no evidence that he ever attempted to obtain meth.
He called it a "thought" crime, at best.  He said he has never put a client on the stand before, and Mr. Delgado has a very scattered memory, at best.
Mr. Vroman argued that, looking at jury instruction, the law is very clear that there is an intent to follow through and so long as there is intent, there is no need to prove that there actually was meth.
Mr. Johansson argued that, according to the testimony of Mr. Bellamy, Agent Moe did the offerring to his client, rather than the other way around.
Judge Gaard ruled that, based on the evidence, there is enough evidence to hold him to answer for those charges.
Mr. Delgado was ordered to remain in custody and was visibly distraught over that.
I feel compelled to offer up several points about this case because, frankly, it is so absurd.  We have a prosecutor and a sheriff that have complained about changes in state law and bed space at the jail.  What purpose does it serve to hold Paul Delgado in custody?  What danger does this guy represent?
The unique thing about this case is that our entire account is based on the officer's side of the story.  Mr. Delgado's account is frankly a bit too scattered to really get a sense of what happened.  So let us take the officer's account as true and accurate.
Mr. Delgado was not out there attempting to sell drugs.  At best, he was talked into an attempt and approached by the YONET agent.  He is not a drug dealer.  He is not an individual who was out looking to sell drugs.
He didn't have any drugs at the time and over the next four or five days was unable to obtain them.  So why is the DA's office and YONET out to get Paul Delgado?  If you are concerned about drug use around the fire spinning, this does not seem to be an individual likely to have contributed to the problem.
Not only that, but the work done here is sloppy.  You basically have one undercover agent, who, through a quirk in the law, does not even have to testify at a preliminary hearing.  He has no recording to account for their conversation.  No evidence of meth ever existing.
There is no evidence at all that a crime even occurred.  This is how YONET and the Yolo County District Attorney's office desire to spend taxpayer money at a time that they are crying poverty?
This is a farce.  There is no jury that is going to convict in this case, particularly now.  Technically speaking, perhaps the judge can justify holding Mr. Delgado to answer on the charges, but somewhere, somehow, someone has to put an end to this so we can all focus on real crimes and not what appears to be a completely fabricated matter that never would have occurred without the intervention of Officer Moe and YONET.
—David M. Greenwald reporting