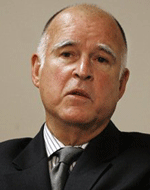 A piece of legislation that may have the most impact on the fiscal solvency of cities like Davis is Governor Jerry Brown's public pension reform plan.  Earlier this week, analysis from the nonpartisan Legislative Analyst's Office (LAO) showed a mixed review.
The LAO called the Governor's Proposal a "bold, excellent starting point" that "would help increase public confidence in California's retirement systems."
They write, "We view the Governor's proposal as a bold starting point for legislative deliberations – a proposal that would implement substantial changes to retirement benefits, particularly for future public workers."
"His proposals would shift more of the financial risk for public pensions – now borne largely by public employers – to employees and retirees," they add. "In so doing, these proposals would substantially ameliorate this key area of long-term financial risk for California's governments."
"At the same time, the Governor's proposals aim for a future in which career public workers receive a package of retirement benefits that would be (1) sufficient to sustain employees' standards of living during their retirement years and (2) more closely aligned with benefit packages offered to private-sector workers."
That is the good news, however, they believe that many details were left unaddressed in the plan unveiled by the Governor in late October.
"Despite the strengths of the Governor's pension and retiree health proposal, it leaves many questions unanswered. In particular, we do not understand key details of how his hybrid benefit and retirement age proposals would work," they write.
Moreover, while the plan appears to address CalPERS, it leaves "unaddressed many important pension and retiree health issues, including how to address the huge funding problems facing the state's teachers' retirement fund, the University of California's (UC's) significant pension funding problem, retiree health benefit liabilities, and other issues."
Moreover, they believe that raising current worker contributions to be a legal and collective bargaining minefield.
"The Governor proposes that many current public employees be required to contribute more to their pension benefits," they write.  "Our reading of California's pension case law is that it will be very difficult – perhaps impossible – for the Legislature, local governments, or voters to mandate such changes for many current public workers and retirees. Moreover, employer savings from these changes likely will be offset to some extent by higher salaries or other benefits for affected workers."
The LAO notes that the current structure of public employee pension and retiree health benefits has serious and substantial problems, including the tendency to defer retirement benefit costs to future generations, leading to unfunded liabilities that have spiraled in recent years, creating huge cost pressures for state and local government.
Moreover, under the current law, governments have almost no flexibility to alter the current benefit and fund arrangements, even as cities and other local governments are pressed to the crisis point by dwindling revenues at the same time they face huge cost increases.
The Governor's plan includes equal sharing of pension costs between employees and employers, the hybrid plan. This would include increasing the retirement age to 67 for non-safety and to a lesser number for safety employees, and requiring three-year final compensation to stop spiking for new employees, with benefits to be based on regular and recurring pay and limitation to post-retirement employment. Felons would forfeit pension benefits, there would be a prevention of retroactive pension increases and a prohibition on pension holidays for all employees. Also, this would prohibit purchases of service credit, increase pension board independence and have a reduction of health care retiree costs to state employees.
"It's time to fix our pension systems so that they are fair and sustainable over a long time horizon," said Governor Brown. "My plan raises the retirement age and bans abusive practices like 'spiking' and 'air time' while mandating that public employees pay an equal share of pension costs."
The Governor's office said, "When fully implemented, these reforms will cut roughly in half the cost to taxpayers for providing pension benefits for state employees. It will cut the risk to taxpayers for pension debt by more than half. Similar savings are expected across all systems."
Pension reform advocate Steven Greenhunt has a mixed assessment of the Brown Plan.
"Despite some encouraging details in Gov. Jerry Brown's recently announced pension-reform proposal, there's virtually no chance the state will seriously reform — or even seriously attempt to reform — a system creaking under the weight of up to an estimated $500 billion in unfunded liabilities," Mr. Greenhunt recently wrote.
"The proposal isn't bad. It doesn't go far enough to fix the problem even if implemented in its entirety, but it goes further than most pension reform advocates had expected from a Democratic governor who, to date, has governed as an extension of the public-employee unions that elected him to office," he said.  "But the plan probably is dead on arrival in the union-dominated Legislature."
In our view, these reforms fix most of the problems – at least down the line.  The unfortunate part is that we cannot implement those changes for current employees unless they agree to it.  Governor Brown conceded as much.
The short-term benefits are limited.  However, his administration said that over the next 30 years, the plan could save the state $4 billion to $11 billion.
The effect on existing public employees would be minimal.  However, critically, public safety employees would have to pay 2% more towards their pensions.
"I try to protect working people whenever I can," said Governor Brown, "but I'm also responsible to the taxpayer and making sure we have a solvent state government."
And that is the dilemma that we face.  The average state worker is not the problem here.  In fact, neither is the average pension receiver, who receives 2% at 60 and makes an average of less than $40,000.
"We can't forget that the vast majority of public-sector employees are middle-class workers, and their average pensions are far from exorbitant," state Senate leader Darrell Steinberg said in a statement.
By our count, in the next three years, the City of Davis faces about $7 million in additional costs for pensions and retiree health.  That is within a general fund that will likely be in the $35 to $40 million range, and that is during a time when the expected growth in revenue is supposed to be flat and will probably decline, barring unforeseen advances in the housing market.
To deal with those issues, the city will have to bargain with public employee groups that are, at best, distrustful of claims made by the city.
This situation was made all the worse when the city was flagged by the Public Employee Relations Board for unfair labor practices and jumping the proverbial gun in imposing impasse against Davis City Employee's Association, the city's largest bargaining group, comprised mainly of blue collar and other rank and file employees.
The Governor's bill would fix some of the problems and give the city the leverage and leeway it needs to fix compensation and prevent massive layoffs and cuts to city services.  But the biggest question is legality.
Since the Governor will put this to the voters anyway, perhaps a constitutional amendment would be the way to go, which would bypass issues of legality and allow state and local government to have the flexibility they need to survive the next five to ten years.
—David M. Greenwald reporting