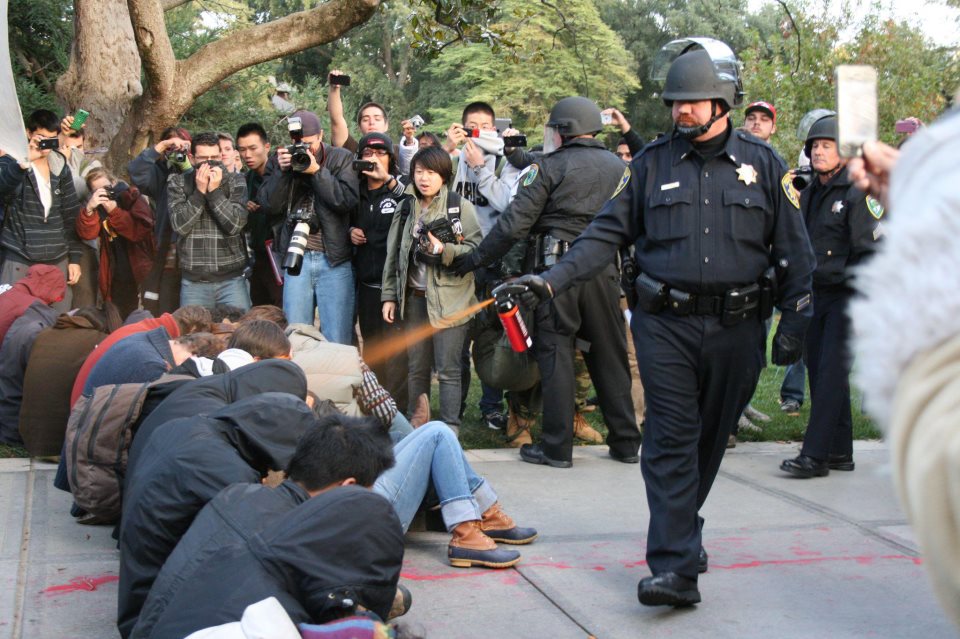 Just when it seemed that the Occupy movement was about to die out, a confrontation that was brewing all week exploded as police officers used pepper spray and other non-lethal means to expel protesters from an encampment on the campus Quad.
Officials report at least ten protesters arrested.
The protests began on Tuesday afternoon with officials reporting a crowd of about several hundred people on the Quad.
Dozens then marched to Mrak Hall, where about 50 people spent the night. Thursday brought another protest on the Quad, again drawing several hundred people, many of whom marched through the Memorial Union and Wellman Hall before returning to the Quad where, at midafternoon, the tents went up and remained despite warnings that overnight camping was prohibited.
"We have a responsibility to maintain a secure place for our students to learn, and for our faculty and staff to provide the excellent education we are known for," Chancellor Linda Katehi said.
The tents were, nevertheless, allowed to stay up overnight, and the confrontation began Friday afternoon. Several YouTube videos caught some of the exchange as students sat on Centennial Walk on the Quad and chanted, "Don't shoot students" as they confronted police in full riot gear.
It is unclear what necessitated the need to use pepper spray on the group that was simply sitting down nonviolently.
The crowd, after the pepper spray was applied, chanted, "Shame on you."  Students and protesters, as well as onlookers, were heard crying. Students and onlookers, dozens filming the incident, continued chants which included "Our University!" and "Leave our Quad!," while surrounding the police nonviolently and following them as they left the Quad.
Chancellor Katehi has issued a statement, "The group did not respond to requests from administration and campus police to comply with campus rules that exist to protect the health and safety of our campus community. The group was informed in writing this morning that the encampment violated regulations designed to protect the health and safety of students, staff and faculty.  The group was further informed that if they did not dismantle the encampment, it would have to be removed."
Her statement continued, "Following our requests, several of the group chose to dismantle their tents this afternoon and we are grateful for their actions.  However a number of protestors refused our warning, offering us no option but to ask the police to assist in their removal."
"We are saddened to report that during this activity, 10 protestors were arrested and pepper spray was used," she said.
"We deeply regret that many of the protestors today chose not to work with our campus staff and police to remove the encampment as requested. We are even more saddened by the events that subsequently transpired to facilitate their removal," the Chancellor added.
"We appreciate and strongly defend the rights of all our students, faculty and staff to robust and respectful dialogue as a fundamental tenet of our great academic institution.  At the same time, we have a responsibility to our entire campus community, including the parents who have entrusted their students to us, to ensure that all can live, learn and work in a safe and secure environment," she added.
Earlier in the week, Chancellor Katehi said that the university understands the frustration of students and faculty over tuition increases and budget cuts.
She added that, while the university respects everyone's right to free speech,  "We also expect our students, faculty and staff to behave with civility and appropriately in keeping with the Principles of Community."
Nathan Brown, an Assistant Professor in the English Department, sent an open letter to the Chancellor stating, "I am writing to tell you in no uncertain terms that there must be space for protest on our campus. There must be space for political dissent on our campus. There must be space for civil disobedience on our campus."
He added, "You may not order police to forcefully disperse student protesters peacefully protesting police brutality. You may not do so. It is not an option available to you as the Chancellor of a UC campus. That is why I am calling for your immediate resignation."
"Your words express concern for the safety of our students. Your actions express no concern whatsoever for the safety of our students. I deduce from this discrepancy that you are not, in fact, concerned about the safety of our students. Your actions directly threaten the safety of our students," he said.
For weeks, Occupy Davis protesters have taken to Central Park.  For the most part, the City of Davis has allowed them to remain in place.  Late last week, a group of city officials approached the Occupiers to express some concerns about health and safety, including the fact that a tarp was a potential fire hazard.
The city also politely told the group that they may need to temporarily move so that mowing and regular maintenance can occur.
The result of the city's lack of coercion is that Occupy Davis has been a fairly quiet and routine event, without the fireworks that have occurred elsewhere.
The heavy-handed approach of UC Davis officials and police officers will likely spawn more anger and outrage.  The movement will likely grow and the level of anger and animosity will increase.
One of the organizers, graduate student Nick Perrone, criticized UC Davis and the police for taking an overly-aggressive stance in their dealing with the protesters.
"The communication between police and our liaison was sparse," Perrone said. "They were not communicating well with student activists. We had no intention to antagonize the police."
In all likelihood, this response by UC Davis will backfire.  Already the public is recoiling from the images.  One commenter on the Davis Enterprise site called the photos "chilling" and asked whether this was an appropriate use of force.
Another called them "horrifying," stating, "The students were protesting peacefully, in a manner that would have been familiar to civil rights protestors throughout the past decades of American history. The police response, as captured in these images, was utterly extreme."
Others justified it, saying that the protesters put themselves in danger by failing to comply with UC Davis rules.
—David M. Greenwald reporting