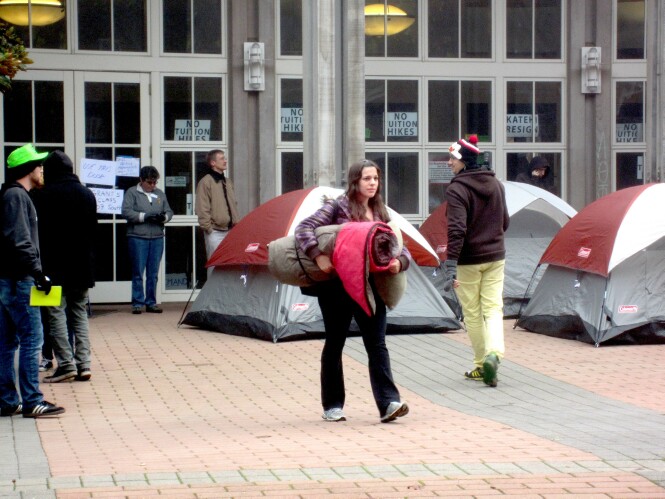 "We have three demands: 1)The immediate resignation of Chancellor Katehi; 2) A replacement of campus police with a 'student run safety team,' or on-campus police must be unarmed (this demand is still under discussion); 3)A freeze on tuition hikes."
At 6 pm on Monday, November 28th, 2011, a general assembly was held on the UC Davis campus, during which a unanimous decision was made, by a group of students, to occupy Dutton Hall for two weeks.
"We are occupying Dutton Hall in order to blockade administrative and financial functions of the university; and we are doing this until our demands are met," was a short explanation, given by a student active in the "Occupy Davis" movement, of the recent events that have unfolded with protestors and supporters of the movement.
On Monday there was a call for a general strike across the UC Davis campus. That same evening protestors marched to Dutton Hall and "occupied" the hall. During that time a teach-in, with attendance of over a hundred students, was conducted. Later, the general assembly was held, and the decision to blockade the hall was discussed, voted upon and passed.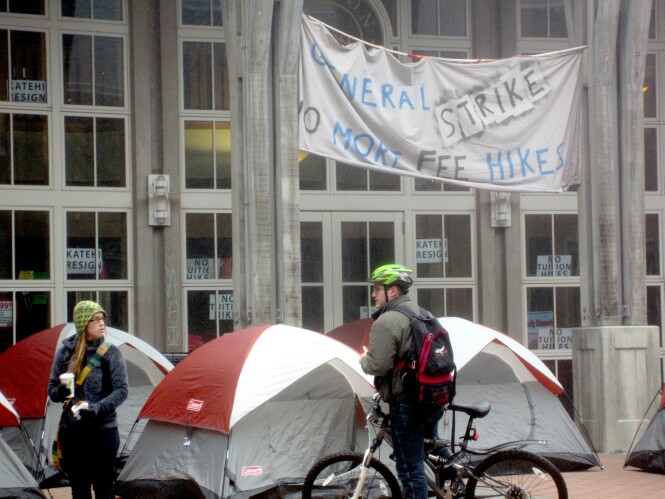 When asked the purpose of the general assembly meetings, one student protestor responded, "The general assembly is basically a meeting of students and faculty members where anyone is given a chance to speak, give ideas and voice concerns. It is quite effective and it is because of the general assembly meetings the possibility for future action is always open."
When asked how faculty and staff of Dutton Hall are responding to this, a student, who had stayed in the hall overnight, replied; "So far our interactions with all staffers and faculty members have been positive. Some professors came in and told us they use this hall to hold lectures and tests, and although we welcomed them to stay, they opted to relocate their classes, but we helped them put up signs and they commended us for being cooperative."
However, when asked about how he thought the administration and police feel about this, his response was less positive; "Our demands will continue until we see them happen, the reaction of the administration and police is irrelevant!"
Although student protestors seem hopeful, students not involved tended to express angry or confused sentiment pertaining to the "Dutton Blockade".
Reactions such as, "Seriously, this is negatively affecting me, the student you're supposed to be fighting for!"and "So wait, Dutton Hall? Why Dutton Hall? Is it all because of that tiny corner of the building labeled 'Financial Aid,' which by the way is the only reason I'm still in college!"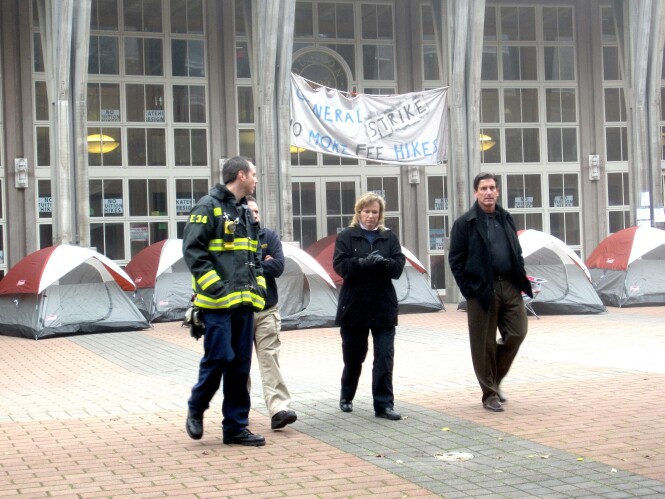 A protestor refuted statements, such as those mentioned previously, with: "Although administrative and financial functions are blocked, students can still come in and tutoring is still utilized."
Expressing concerns for the full-time faculty and staff of Dutton Hall, one student stated; "I think the protestors are being selfish; while they devised this plan, while they set up their tents, hoping to accomplish I'm not even sure what anymore, did the protestors ever stop for a second to think of the repercussions their blockade will have on the staff that works in that building. If they could stop being mad at everyone for just 2 minutes maybe they would realize that the staff and faculty of this campus, of that building are affected by the 'administrative reagent elites' just as much as the students are; the staff is overworked and underpaid!"
Staff members themselves were heard shouting phrases such as, "Whatever sympathy I had for the protest movement is now gone!" as they left Dutton Hall visibly frustrated.
This movement to blockade Dutton Hall has been the most debated event, from what I have heard and seen, in the series of events that have compiled the Occupy UC Davis movement. The hot topic of discussion: "Is it counterproductive to the message the protestors are trying to send, when they hinder the student population they are fighting for in such a manner? Are they upsetting 'their own?' When choosing a building you have to be strategic, was this building the most strategic move?"