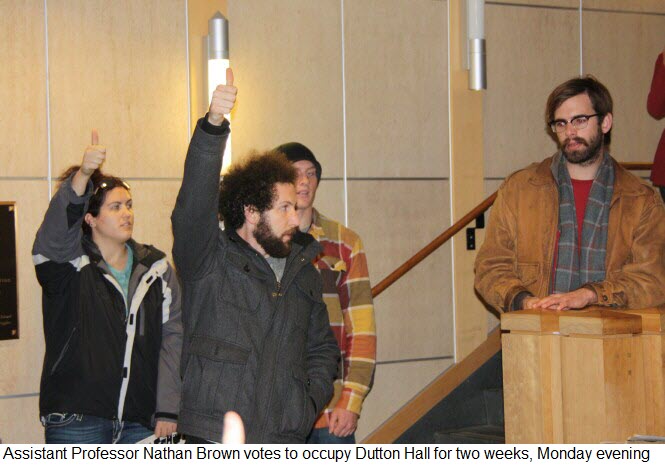 A group of about 50 students met yesterday evening and voted unanimously, after some vigorous debate, to occupy, hold and blockade Dutton Hall, which houses the campus' financial aid services and the university cashier, and is thus the intake point of student fees.
Students were frustrated over the continuing fee hikes that they fear are creating a transition toward a privatized university, and also frustrated over the closure of Mrak Hall to the public after protests last week.
The students, mixed with some faculty, staff and community members, voted to occupy the building, arguing that they had to stay on the offensive, and to continue to be visible at this moment when the students and public are paying most attention, and the media limelight is still on the university and its response to the pepper spraying incident from a week and a half ago.
Other students, however, questioned the move, arguing that if they inconvenience students it may serve to alienate the students from their cause.  The more mainstream students were alienated last year when protests turned into the pulling of fire alarms and the disruption of classes.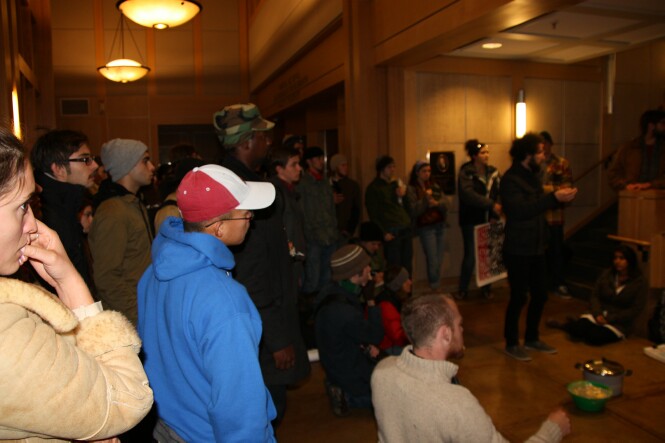 However, Professor Nathan Brown argued forcefully for a two-week strategic blockage of Dutton Hall at all hours, where the students would control access to the building.
The students first occupied Dutton Hall around 1 pm, forcing the early shutdown of the financial aid offices and the cashier's office, but other departments in Dutton remained open for business.
The students have three clear, and they believe achievable, demands.  First, Chancellor Katehi's immediate resignation.
Second, they want to see the UC Davis Police Department either disbanded or reformed.
And third, they are seeking a freeze in tuition rates.
Given the numbers at the time, it was unclear how this blockade would be a successful action, but they promised to return to Dutton Hall around 10 pm to occupy it overnight. By 11:30 pm, there were indeed several small tents set up in the lobby and the upstairs landing, and a number of students peacefully settling in for the night.
—David M. Greenwald reporting