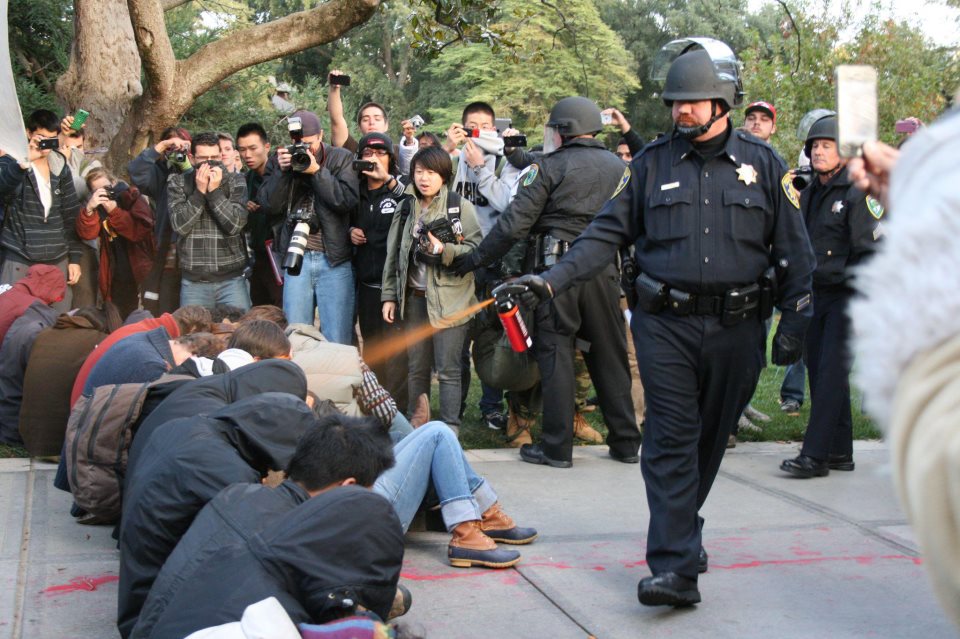 Saturday featured a flurry of activity as UC Davis had to rapidly backtrack in the wake of national and worldwide coverage, from CNN to the New York Times to the Huffington Post to the BBC.
University Officials initially defended Friday's action, saying that police had to use pepper spray after being surrounded by students – something that the videos clearly and definitively refute as it shows a rather orderly scene with students simply huddled on the sidewalk and an officer walking up and pepper spraying them.
By Saturday, Chancellor Linda Katehi had beat a hasty retreat, and although she steadfastly denied that she would resign, she also walked through throngs of students without so much as a word, following a late afternoon press conference.
"I don't think it's appropriate for me to resign at this moment," she said.  "I don't think I have violated the process of this institution. As a matter of fact I believe I have worked very had to make this campus a safe campus for all."
At the same time, she defended the policy of trying to remove the students from Centennial Walk, arguing that students could not set up an encampment and stay overnight.  "The intent was not to disperse the rally, the intent was to disperse the tents," she tried to argue.
Alumni from the University may recall in the 1980s students camped out on the steps of Mrak Hall for over a week, in protest of Apartheid, and there was no effort to remove them. Campus officials simply walked past them to get to work.
In the meantime, aware of the growing anger on the internet, the Chancellor did what public officials usually do in moments of crisis, she called for a task force to review the pepper spraying of protesters.
"The use of the pepper spray as shown on the video is chilling to us all and raises many questions about how best to handle situations like this," she did say in a statement.
The UC Davis faculty association called for the immediate resignation of Chancellor Katehi.
"The Chancellor's authorization of the use of police force to suppress the protests by students and community members speaking out on behalf of our university and public higher education generally represents a gross failure of leadership," they wrote.
Civil Rights Attorney Stewart Katz, who specializes in police misconduct and excessive force cases, called the actions simply "stupid, unnecessary, and mean-spirited."
"There just wasn't any need for them to do this," he told the Vanguard on Saturday, "They are students anyway, they have finals coming up.  How long are they really going to stay anyway?"
Yolo County ACLU Chair Natalie Wormeli said that the local chapter "is quite concerned by what appears to be excessive force used on the students who were exercising their First Amendment rights and were peaceably assembled."
"As the footage shows, the campus police, dressed in their dramatic helmets, which are designed to protect them from their noxious chemicals and any other non-lethal weaponry they were prepared to use, set the stage for a nonpeaceful ending to a student protest," she added.
The City of Davis police were not involved in the pepper spraying, but they were present at the incident, as video shows.  The city was likely inundated with calls and complaints, and late last night issued a statement clarifying their role.
"The City of Davis and the City of Davis Police Chief exercise no authority over the UCDPD. While Davis PD officers were called to assist UCDPD officers, they arrived late in the operation, were in a support role only, and used no force on protesters, including no pepper-spray," a statement from Davis Police Lt. Paul Doroshov read.
However, former Councilmember Lamar Heystek, in an open letter to council, questioned whether the City of Davis should even be involved in a support capacity.
"Despite this secondary role, our City peace officers were seen by millions around the world participating in the suppression of students who, while passively resisting, were actively engaged in exercising their constitutional freedoms to speak out," Mr. Heystek wrote.
"Secondary or not, it is our obligation as a freedom-loving community to clearly and formally articulate our values so that there be no misunderstanding," he said.  "Our City's law enforcement resources must not be deployed in cooperation – however ancillary – at the request of another agency that is engaging in morally questionable police tactics."
He called on the City of Davis to "seriously reexamine" their role in mutual-aid agreements in such cases.
A Davis Enterprise editorial called the pepper spraying an "overreaction."
"We add our voice to the growing chorus of members of the Davis and UC Davis communities who are deeply concerned about the pepper-spraying of protesters Friday on the university Quad," they wrote this morning.
"The images are shocking. The reactions in our community and online are of outrage, sadness, disappointment and shame," they write and while they call the creation of the task force "all well and good," they also recognize that with protesters planning to reassemble on Monday, it will require immediate leadership to avoid a repeat of Friday's events.
Only very few have defended this action.  One who did wrote, "The students and Occupy people have the right to peacefully protest, but they don't have the right to squat on property that doesn't belong to them. They were asked to leave and they refused, the police did their job. End of story."
Later that poster added, "Not a mistake, they nipped it in the bud before the students got entrenched in the plaza."
In light of what has transpired since, one could hardly say it was the end of the story or that anything has been nipped in the bud.
Frankly, trouble had been brewing some time.  The Vanguard was sent a communication from the Cal Aggie Christian Association.
The communication came prior to this incident and involved questions as to "why police in full riot gear entered Mrak on Wednesday minutes after students who had been asked to leave voluntarily were packing up their things and exiting the building voluntarily."
Assistant Vice Chancellor Griselda Castro told Reverend Kristin Stoneking that "the police were not supposed to be in riot gear and the administration was also not happy about their response," but she also defended the administration, calling them "overworked" and saying that they were "doing the best they can."
Remember, these are people making upwards of $200,000, $300,000 and even $400,000 – I think most of us cannot sympathize with these mistakes no matter how tired and overworked these overpaid public officials are.
The Reverend was also told, "The Chancellor is unavailable due to her triple booked schedule to move forward her agenda of globalization and internationalization of the university."
Remember, this all came out BEFORE the events of Friday and this, to me at least, shows that the Chancellor was very slow to react and did not prioritize handling this situation properly.
Wrote Ms. Stoneking, "While each of these responses is deeply problematic, perhaps the most concerning is that 'the administration's highest goal is safety.'  This rhetoric is echoed in the Chancellor's letter to the campus community after the pepper spraying, abuse and arresting of students peacefully protesting on the quad on Friday afternoon. "
"The ironies are overwhelming.  Instead of ensuring the stated 'highest goal,' the police are violating the safety of the campus community.  If the administration is dismayed about the response of the police, who is in charge?" she added.
Reverend Stoneking also noted that one of their interns, "Tom Zolot, has been a leader in the movement, spoke at the rally on Thursday and is now home healing from being pepper sprayed."
I have to question anyone who believes that this was handled properly.  I have spoken to a number of law enforcement officials – most of whom did not want to go on the record at this point, and who are appalled at the actions here and use of force.
The Vanguard has an interview request with the Chief of Police and others in the chain of command.  Since then, this event has blown up even further, so it is difficult to know to what extent this will occur.
As we suspected yesterday, the approach of the UC Davis officials and police officers will likely spawn more anger and outrage.  The letter from Kristin Stoneking is particularly concerning, because it suggests that either the UC Davis administration is not in control or they are deflecting blame to the police.
We wrote yesterday that the response by UC Davis will in all likelihood backfire.  We said that already the public is recoiling from the images.
In point of fact, a lot has changed since yesterday morning.  Now it is clear that not only has this backfired, but inevitably heads will have to roll because of the amount of national scrutiny and regional outrage.
There is simply no way around it now.  The university has screwed up, the only question now is how many people will have to answer for this and whether the Chancellor survives.  And right now, despite her statement, I believe that is very much in doubt.
—David M. Greenwald reporting