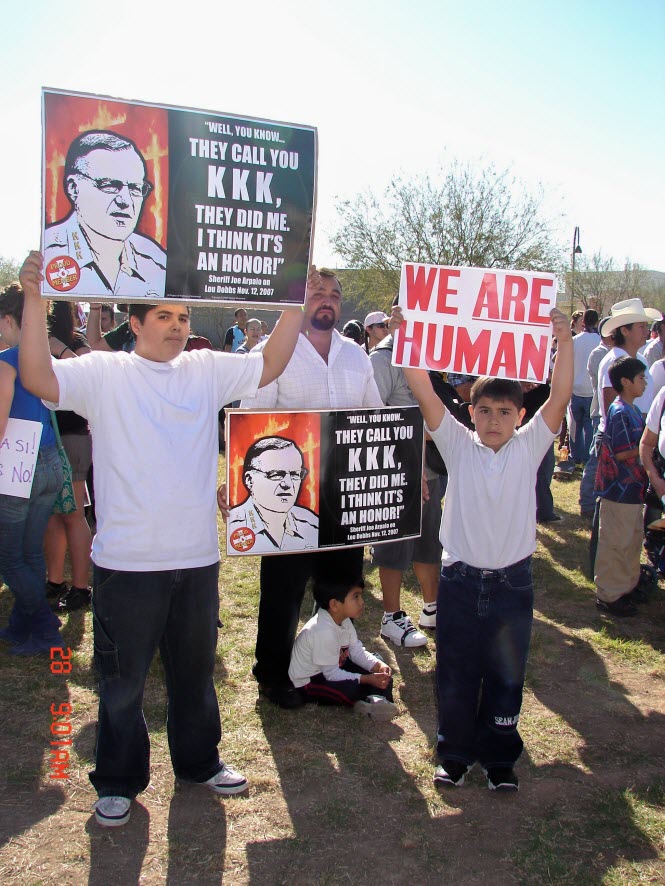 The long-time-in-the-making Justice Department report does not just implicate Sheriff Joe Arpaio, it eviscerates him with the force of which we have rarely seen in modern times.  The word this week is that the sheriff, who at 79 is not that young anyway, will retire rather than attempt to fight the allegations.
But there is potential fallout from this, in the form of the Republican Presidential Nominee.  The impact of Sheriff Arpaio is difficult to assess.  It is unlikely to have much bearing on the views of white, middle class voters – who may possess concerns about illegal immigration and its impact on public safety and other factors, but are squeamish as to the sheriff's tactics to combat illegal immigration.
However, Hispanic voters are a different matter and the sheriff's involvement with the most likely Republican nominee, Mitt Romney, is likely to have a huge impact on the presidential election – if it is a close election, which right now appears to be the case.
While Texas Governor Rick Perry ended up with Sheriff Arapaio's endorsement, others are not off the hook.
Reported the Los Angeles Times on Saturday, "In September, GOP hopefuls Mitt Romney and Michele Bachmann rushed to meet with Arpaio in Iowa. A month later, then-front-runner Herman Cain traveled to Arizona to see the sheriff."
They added, "Arpaio ultimately threw his endorsement to Texas Gov. Rick Perry, who rushed to the lawman's defense on Friday, suggesting that Arpaio was a victim of an Obama administration witch hunt."
The Washington Post notes in a recent editorial, "The support of Mr. Arpaio, sheriff of Arizona's Maricopa County, has not revived Mr. Perry's candidacy."
More ominous is this, "Hispanic voters may long remember the spectacle of the GOP's grandees preening like schoolboys for the favor of a figure best known for his contempt toward America's largest minority group."
Those on the right who concede the Hispanic vote do so at their own peril, as Hispanics have become a huge and growing voting group in many key states that are part of the new Southwestern Battleground – states like Arizona, Colorado, New Mexico, and Nevada.
George W. Bush recognized this fact and worked hard to keep good ties with the Hispanic voters in Texas, something that paid dividends, although he was not able to win the Hispanic vote, but able to keep it close enough not to throw key states to the Democrats in two very tight elections.
He did that with moderate and liberal policies on immigration, advocating work and even amnesty.  The Republican misfortunes, in 2006 and 2008, in part represent their rejection of the Bush administration compromise.
In 2004, President Bush captured an estimated 40% of Hispanic vote, which was a modern high.  By 2008, that number fell to 31% according to a Pew Research Center study following the election.
The Latino vote may have swung Florida, as Obama won 57% of the Latino vote in a state where Latinos have historically supported Republican presidential candidates, and President Bush carried 56% of the Latino vote in Florida in 2004.
Latino voters also increased their national presence in 2008, representing 9 percent of the overall vote, up from 8 percent in 2004.  They represented 41 percent of the voters in New Mexico, 20 percent in Texas, 18 percent in California, 16 in Arizona, 15 in Nevada, 14 in Florida, 13 in Colorado, and 9 in New jersey.
Mitt Romney is probably at this point, barring the emergence of another candidate, the most likely Republican nominee.  Not only did Mr. Romney attempt to gain Sheriff Arapaio's endorsement this year, but four years ago he was endorsed by the Sheriff.
In 2008, Sheriff Arapoia told Fox News Neal Cavuto, "He's a great guy, he did a good job in Massachusetts, especially against the illegal immigration problem. Great businessman, good guy, family man, intelligent – what else do you need?"
He added, "He's the one that got 25 troopers trained under ICE, actually Neal, I just had 39 enter a class, so we'll be training 160 to continue to fight against illegal immigration. But the governor – look at his history. Salt Lake – look at the games up there, what he did, look at his business."
He told Fox and Friends, "I like Governor Romney. He's done a great job in Massachusetts, my home state. I was a law enforcement official, I love his stance on illegal immigration, a family guy, a conservative, honest. Great business person, what else do you need? He'd make a great president and he will win."
In another interview, he was asked what he thought of Mr. Romney on border matters: "He's great. He started the training of his troopers under a federal agreement, which by the way the new governor did away with. I just started a training 2 days ago, I'm training 160 of my deputy sheriffs, I'm the only one locking up illegals in this state under the state law and he's great. He sticks his neck out. Massachusetts isn't the greatest conservative state in the universe."
In a close election, Sheriff Arapoia's endorsement from 2008 and the fact that Mr. Romney only three months ago was seeking his endorsement again could cripple his ability to at least hold his own on Latino votes.
As the Washington Post Editorial demonstration, "Mr. Arpaio isn't America's toughest sheriff. He's a rogue and a showman who has leveraged thinly veiled racism to his political advantage."
They add, "In the name of combating illegal immigration in a state that has seen a good deal of it, Mr. Arpaio has left thousands of Latino residents of Phoenix and its suburbs, legal and illegal, feeling hunted and harassed."
The Post addresses the 22-page letter in which the Justice Department, in an investigation that began under President Bush, concluded that there was "evidence that Mr. Arpaio's department targets Hispanic neighborhoods and drivers; that his office is rife with a culture of bias; that officers in jails run by the sheriff's department treat Spanish-speaking prisoners abominably, referring to them as 'wetbacks,' 'stupid Mexicans' and worse; and that his department has carried out retaliatory detentions and arrests against critics."
Writes the Post, "In response, Mr. Arpaio has played the victim, saying he is being used as "a whipping boy for a national and international problem." In fact, his policies and tactics have gone far beyond any reasonable response to the challenges posed by undocumented immigrants."
The Post adds: "On the basis of a detailed review of documents, Justice Department investigators found that Latino drivers in Maricopa County were four to nine times more likely to be stopped by sheriff's deputies than similarly situated non-Latino drivers. They found that a fifth of such stops were unjustified, in violation of the constitutional protection against unreasonable searches and seizures. They found that the sheriff's office routinely responded to 'intelligence' from citizens consisting of nothing more than reports that dark-skinned or Spanish-speaking individuals were congregating in a certain place."
It does not take much imagination to see how a campaign targeted to Hispanics, in those eight states with the most sizable Latino populations, can utilize Sheriff Joe Arapio as the embodiment of everything that is wrong with the GOP, from the Latino perspective.
Things could certainly change in the 11 months heading up to the election, but right now this looks to be a very close election and a strong and united Latino vote for Barack Obama and a motivated Latino constituency could swing the outcome of the election toward Obama again.