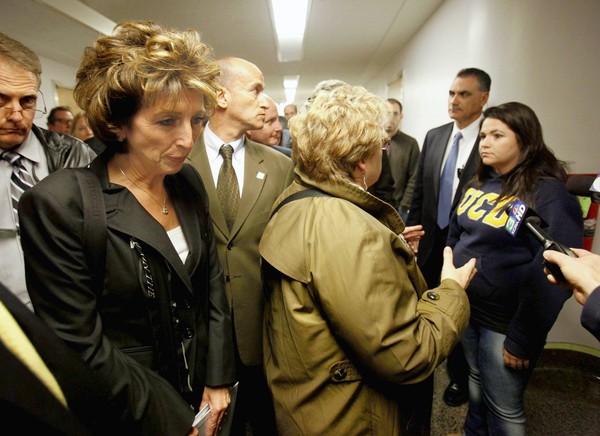 Wednesday featured a joint legislative hearing looking into UC and CSU system-wide policies and procedures regarding non-violent protests and campus police use-of-force rules.
Assemblymember Marty Block (AD-78), chair of the Assembly Higher Education Committee, and Senator Alan Lowenthal (SD-27), chair of the Senate Education Committee, called the meeting.
"It is the responsibility of the university to provide a safe environment for our students to learn and participate in activities on campus," Assemblymember Block said. "It is also the responsibility of the university to foster a climate that promotes free expression of ideas on campus. We as the legislature must ensure that the proper procedures are in place to protect both campus safety and student free speech."
"Something is wrong with a system where our children and students, struggling peacefully to have their voices heard, are answered by the spray of chemical weapons and the sting of a truncheon. It is imperative that we have a unified policy on the appropriate response to peaceful campus protests and on the use of force by campus police," Senator Lowenthal said.
Chancellor Katehi once again denied directing the police to use pepper spray, but acknowledged, "Something went terribly wrong that day" and that  "we need to understand why pepper spray was used."
"We need to know exactly what direction was given to officers in the field. We must determine if officers are trained sufficiently. We need to re-examine our campus policies and practices regarding crowd control and use of force," the chancellor said.
At the same time she was denying issuing the order, she took responsibility for what happened.
"As chancellor, I am accountable for everything that happens on our campus, and I accept responsibility for this event," the chancellor said.  "I also accept responsibility for taking corrective action so this does not happen again. I realize it does not undo what happened, but I issued an apology to the students who were pepper sprayed and to our entire UC Davis community."
UC President Mark Yudof in his prepared remarks said, "I am deeply distressed by images of University of California students being sprayed with pepper spray at UC Davis and jabbed with police batons at UC Berkeley. I of course never want to see pain inflicted on students."
Much of his time was spent discussing the steps that he had taken, including the naming of former Los Angeles Police Chief William J. Bratton to undertake an independent fact-finding investigation of the pepper spray incident and the formation of a task force that is being chaired by former California Supreme Court Justice Cruz Reynoso.
Police practices consultant Barbara Attard made the suggestion that they establish citizen oversight of police actions on campus that would supplement the administrative review already underway.  She noted that, to her knowledge, UC Berkeley is the only campus with an independent police review board.
She also said that the officers on the scene at UC Davis made serious errors in the lead-up to the pepper spraying incident.  They should not, for example, have allowed students to form a circle around them, knowing they were outnumbered.
"It appeared clear that there were not enough officers to take action that day," Ms. Attard said. "Officers need to be trained to know when they have enough officers to take actions."
At the same time, while acknowledging some of her own mistakes, Chancellor Katehi put the onus on lawmakers.
"I do not mean to diminish the significance of the pepper spray incident, but we all need to work together to make higher education more affordable and accessible, or there will be continued frustration from students: Both from those who protest, and from those who only want to go to class without distraction," the Chancellor said.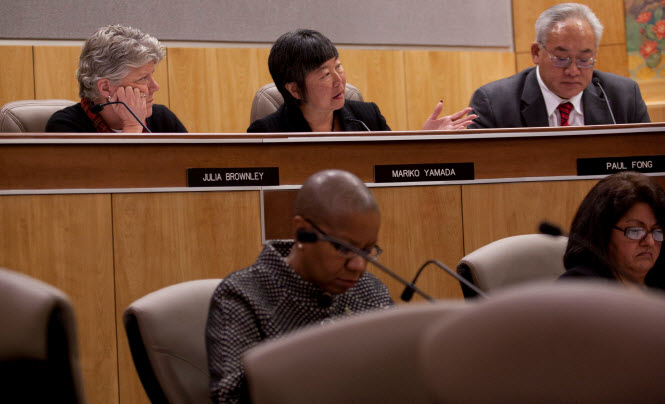 Student leaders pointed the finger as well.  Sean Richards, a student at Sonoma State and vice president of the California State Student Association, said, "It's plain and simple why this is happening.  We've tried lobbying for the last 10 years."
He added, "This is just the beginning of things to come if things in the Legislature don't change."
While lawmakers acknowledged that their fiscal policies, which includes slashing budgets while tuitions at the universities were doubling, were behind the demonstrations, they did not see how it could be avoided.
As Assemblymember Block argued, "Budget cuts have been horrible and frankly we are only dealing with the resources that the taxpayers of California give us."
"Without additional revenues to help address these shortfalls, we can expect that the frustration that our students and our campus communities feel about funding for higher education will only be exacerbated," Senator Lowenthal added.
Assemblymember Block asked Chancellor Katehi what she would have done differently that day.
Katehi responded, "If I knew the police could not remove the tents peacefully, we would not have removed them."
While lawmakers and campuses leaders were offering little of substance, the show was stolen outside of the proceedings as Chancellor Katehi was confronted by Jerika Heinze, one of the students who was pepper sprayed back at the November protest.
Ms. Heinze told the chancellor, "I've been contacting you every single day, calling your office, sending you emails, and your assistants said they passed the messages along, and you've never responded to me."
The chancellor responded that she had instructed her staff to set an appointment with her.  But Ms. Heinze would not be denied on this day and she flat out denied that this had occurred.
Ms. Katehi's chief of staff would pull her aside with more promises of an appointment.
But she would tell the media who had gathered to watch this spectacle, ""It's so frustrating. I just feel that I'm owed for her to look me in the face, look me in the eye and explain that she understands the position of the students … I mean, we're not dangerous people, we're students. I'm not a terrorist, I'm not an anarchist. I'm not any of those things. I'm just a college student doing research at the university."
Little was or could be resolved at this hearing.  The investigations are ongoing.  As we reported earlier, the Attorney General has punted the investigation into the pepper spraying back to Yolo County officials.
Following the meeting, Assemblymember Mariko Yamada, who sits on the Assembly Higher Education Committee and represents UC Davis in the legislature, issued a statement.
"Today's hearing was the first opportunity for legislative oversight following the troubling events on various UC and CSU campuses over the past few months," Assemblymember Yamada said.  "There are numerous investigations currently taking place, with more planned, about how and why these incidents occurred. Due process will determine our next steps."
"We must not forget these protests were born out of the outrage and hopelessness that many feel are due to the increasing disinvestment in higher education.  This is just one system among many that is under the constant attack of diminishing revenue.  These protests and issues will not change until we address the fundamental issue of funding for education," she continued.
"Use of force is not just a campus issue, it's a community issue. The question of force has been a concern in many underrepresented communities.  The occupy movement and the events at UC Davis are not isolated," Assemblymember Yamada added.
She concluded: "We must balance the discussion of public safety in the context of very difficult economic times and the widespread anger in our nation. Just as the protesters linked arms in solidarity, we need to link our arms and eventually shake hands to achieve a positive outcome and renew our focus on higher education, learning, and making our country and our state a better place."
President Yudof told the legislators, "My intention in these undertakings is not to micromanage our campus police forces. The sworn officers who serve on our campuses are professionals dedicated to the protection of the UC community."
"Nor do I wish to micromanage the chancellors. They are the leaders of our campuses and they have my full trust and confidence," he added.  "Nonetheless, the recent incidents make clear that the time has come to take strong action to recommit to the ideal of peaceful protest."
The President told the body that William Bratton and his team from Kroll team arrived on campus Tuesday, November 29th
It is President Yudof's expectation that Chief Bratton will report the results back in early January. His report will also be presented to Chancellor Katehi and to the task force chaired by former California Supreme Court Justice Cruz Reynoso.
"My intent in forming this task force is to allow the UC Davis community to take a fair and uncompromising look at what happened on November 18th," he stated.