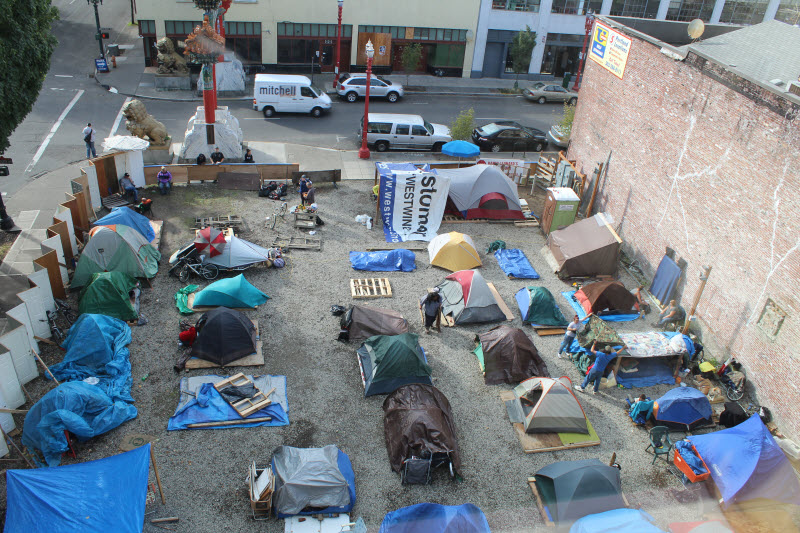 Throughout the Occupy Movement, I have heard some interesting comments, such as "The camps have become a place where the local homeless population has taken up residence." As if homeless people somehow do not have legitimate grievances with their government.
Worse yet, many cities have used statutes designed to prevent the homeless from camping in public parks and other public areas to arrest protesters.  I say worse yet, because missing in this discussion is one of the major disgraces of the latter part of the 20th century and early part of the 21st century – the rash of homelessness in our society, our acceptance of homelessness as normal, and the criminalization of homelessness by cities.
According to a 2011 UN report, up to 3.5 million people experience homelessness in the United States every year, and on any given night over 800,000 people are homeless.
Moreover, they note, "In some cities, homelessness is being increasingly criminalized. Criminalization includes fines, arrests and severance of social protection benefits or even access to employment."
That report focuses on the lack of access that homeless people have to public restrooms, while local statutes have at the same time enforced prohibitions against public urination and defecation – ostensibly to protect public health.
However, the UN Report argues, these statutes are "often discriminatory in their effects. Such discrimination often occurs because such statutes are enforced against homeless individuals who often have no access to public restrooms and are given no alternatives. Furthermore, there is an increasing trend in local governments to limit opening hours or close entirely public restrooms. Such decisions are contrary to the need to create an enabling environment so homeless individuals can realize their rights to water and sanitation."
A report from 2009 from the National Law Center on Homelessness and Poverty (NLCHP), in coordination with the National Coalition for the Homeless (NCH), has reported that most cities have used tactics in efforts to force homeless individuals off the streets.
These tactics include:
"Enactment and enforcement of legislation that makes it illegal to sleep, sit, or store personal belongings in public spaces in cities where people are forced to live in public spaces.
"Selective enforcement of more neutral laws, such as loitering, jaywalking, or open container laws, against homeless persons.
"Sweeps of city areas in which homeless persons are living to drive them out of those areas, frequently resulting in the destruction of individuals' personal property such as important personal documents and medication.
"Enactment and enforcement of laws that punish people for begging or panhandling in order to move poor or homeless persons out of a city or downtown area.
"Enforcement of a wide range of so-called 'quality of life' ordinances related to public activities and hygiene (i.e. public urination) when no public facilities are available to people without housing."
That report notes that of 235 cities surveyed, one-third prohibit camping in certain city areas, 17% prohibit camping altogether and half prohibit loitering or begging in public areas.
All of this becomes a pretext for the confrontation once again brewing in Sacramento, where police are moving to "evict" homeless people from an "illegal" campground along the American River.
The Sacramento Bee reported on Wednesday: "While most of the homeless appear to be complying with orders to pack up their tents and move somewhere else, some say they will stand their ground and face arrest because they have no place else to go."
And that is the fundamental problem – it would be at least understandable if everyone had enough beds to shelter people, but the Bee reports: "Recent efforts by city officials have added nearly 60 additional shelter beds for homeless men and women, but more than that number are camping at the American River site."
"We are going to try to get everyone out peacefully," said Andrew Pettit, a spokesman for the Sacramento Police Department told the Bee.
"Where are they going to go?" Mr. Pettit said. "We don't have the answer to that."
At best, it appears, they will be moving the homeless from one spot to another.  The Bee reports: "Pettit acknowledged that the campers will likely move to another wooded spot along the American River."
So what is the point?
Last week, the Bee's Associate Editor Ginger Rutland wrote a moving editorial after visiting the tent city.
She wrote: "When I visited, the place was surprisingly neat. Campers had erected a makeshift toilet. Their excrement, collected in big plastic garbage bags, is deposited in the restrooms at the Loaves & Fishes complex. They carry their trash out, too, to a Dumpster there."
She described many as people who had spent time in prison and were thus unable to get a job and others were mentally ill.
"The debate rages about what local governments should do to help the homeless. The people I met were not seeking government handouts. They just want what they call 'safe ground' – a legal place to camp, permission from authorities to lay their heads down at night, somewhere, anywhere they won't be arrested and their possessions confiscated," Ms. Rutland wrote.
She adds, "It's a cliché, I know, but as a Christian it's hard for me at this season not to think of the Biblical Mary and Joseph looking for shelter. If they had not found that stable and had slept on a riverbank instead, would the cops at Bethlehem have rousted them?"
"Homeless advocates who oppose safe ground complain that a legal tent city creates a two-tiered housing standard, one for the destitute and another for everybody else. But it's a false argument. For the people camping illegally, it's tent city or nothing," Ms. Rutland continued.
"Other opponents believe safe ground will only enable the homeless lifestyle, which – like no-questions-asked shelters and soup kitchens – perpetuates addiction and sloth," she continues.  "To them I say, think of safe ground as self protection. If Sacramento creates a legally sanctioned campground, with toilet facilities and a dumpster, the homeless don't have to trash the American River Parkway or sleep in alleys behind homes."
She concludes: "Finally, I too believe that tent cities are inadequate solutions. Ultimately, California and its communities need to support a strong mental health system and build permanent housing for the very, very poor who will always be among us. It can be one-room cottages, efficiency apartments, single rooms with communal baths and kitchens, but it must be safe ground, a place where the poorest of the poor can just be."
And that is the very problem we face.  We have inadequate resources.  We do not have real solutions.  And we do not even have makeshift ones, but we want to arrest and move the homeless because we consider them a nuisance, a burden, and perhaps even a reminder of our failings as a society.
—David M. Greenwald reporting