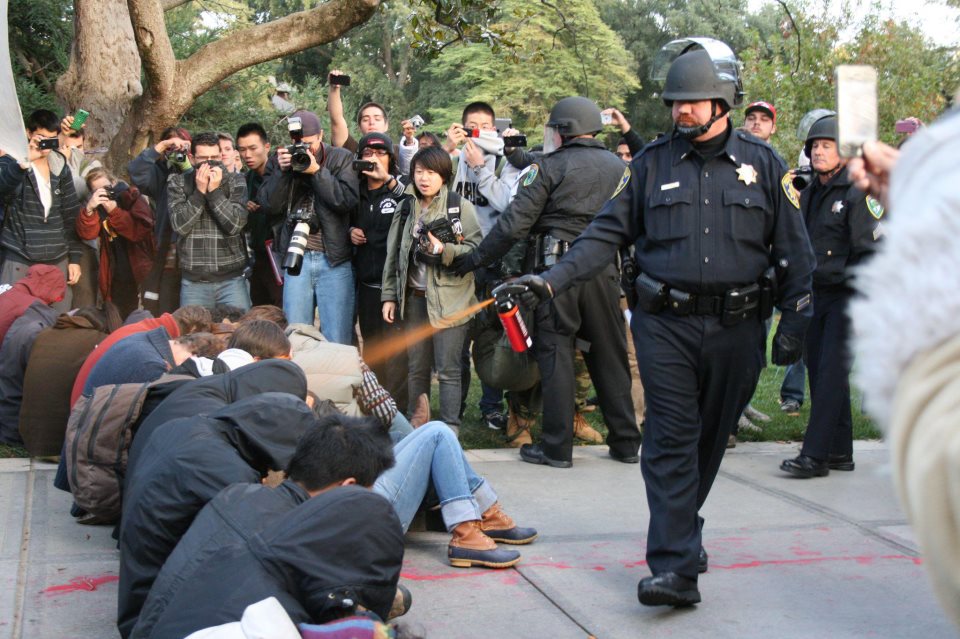 On Wednesday, with little fanfare or controversy, Occupy Davis left Central Park, having decided on Monday that there were other ways to more effectively protest.
"I think we've made a significant statement with the time we've been here already," Skyler Blakeslee told the Davis Enterprise on Wednesday. "Also, it's cold and it's wintry and it may be a good time to hibernate."
"Frankly this is the way it should operate," Councilmember Souza told the Enterprise. "People should have the ability to express their First Amendment free speech rights.
"But it was a little inconvenient for folks and the movement is moving to the next stage of its evolution."
Such was not the case elsewhere.  There were another 23 arrests in Sacramento this week at the city's Cesar Chavez Park.
There have now been 110 people arrested at the Park since Oct. 6. There are nine trials on the misdemeanor charge scheduled to start Dec. 13. The District Attorney refused to prosecute, but the City of Sacramento is pursuing the cases, which carry six-month jail sentences for a curfew violation.
Occupy Sacramento maintains the First Amendment does not end at 11 p.m. (midnight on weekends), and that free speech and freedom of assembly rights continue for 24 hours a day, despite a local ordinance banning First Amendment activities in city parks at night.
Meanwhile, there were mass arrests in Los Angeles last week, as hundreds of protesters were arrested.  According to news reports, Los Angeles police managed to "avoid fierce confrontations that marred sweeps in Oakland and New York."
"No tear gas was used in the shutdown of what was the nation's largest remaining Occupy camp. More than 200 people were arrested in the operation that involved 1,400 officers" the LA Times reported last week.
"They were like storm troopers. They encircled us," said protester Cheryl Aichele
The LA Times also noted, "The protesters largely kept to their promise of confronting the police peacefully. While some taunted police verbally and a few rocks were thrown, most protesters either left on their own or nonviolently submitted to arrest, with many going limp and forcing the police to carry them out."
"Mayor Antonio Villaraigosa appeared proud and relieved after the eviction, and thanked officers in a brief predawn news conference," the LA Times reported.
"I said that here in L.A., we'd chart a different path. And we did," Mayor Villaraigosa said.
Such was not the case in Oakland.
The mayor of Oakland had originally supported what was a month-long camp on the plaza in front of City Hall. However, in October, Police were called in to clear the area.
On October 25, protesters tried to reclaim their occupy site/ That led to clashes between the police and protesters, resulting in injuries, some of which were serious, and arrests.
The site was re-occupied by protesters and a general strike brought thousands of demonstrators to downtown Oakland for a day of action, including a march to the Port of Oakland, which was forced to shut down operations.
There are now investigations into the alleged police misconduct, that are being conducted by the Oakland Police department, the ACLU and the National Lawyers Guild.
Law enforcement once again cleared the protest encampment November 14. Mayor Quan's decision to allow the police intervention resulted in the resignation of the mayor's unpaid legal adviser, Dan Siegel, and Deputy Mayor Sharon Cornu.
Meanwhile, on Wednesday, police made a surprise raid in San Francisco, in which they cracked down on the Occupy encampment at Justin Herman Plaza at the foot of Market Street in downtown San Francisco.
San Francisco Police Chief Greg Suhr defended their response and the dozens of arrests made.
"We don't have any reports, at least at this time, of any of the Occupy people being injured," the police chief said Wednesday night.
According to the San Francisco Chronicle, "Some protesters complained of injuries, but it wasn't clear whether any were serious. Most expressed anger that cops gave them only five minutes to pack up their belongings and leave the plaza.
Read more at the San Francisco Examiner: http://www.sfexaminer.com/local/crime/2011/12/police-chief-defends-occupy-sf-response#ixzz1g37TSsUc
And of course we are all well aware of what happened on the UC Davis campus, when they tried to clear protesters the Friday before Thanksgiving.
What these cities have in common, aside from large occupy movements, is that they are headed up by Democratic mayors, who have not hesitated in attempting to shut down the occupy movement as it has become inconvenient.
This is something that is not lost on many in the movement.
"Thousands have been arrested in a nationally coordinated assault on the right of political speech and assembly, carried out mainly by Democratic Party city administrations," one sympathizer reported.
Last week, the general assembly of Occupy UC Davis passed a resolution denouncing the attack on UC Davis students and calling for a break with the Democratic Party – the first of its kind adopted at an Occupy protest.
"We, the students of UC Davis, condemn the brutal police assault and pepper spraying of fellow students, who were peacefully protesting on November 18," the resolution reads.
They note: "This attack is part of a nationwide – in fact global – crackdown on demonstrations against social inequality and the domination of politics by the rich. While the American government invokes "democratic rights" to justify wars abroad, it responds to social protests at home with riot police, tear gas and rubber bullets."
"Throughout the country, Democratic and Republican politicians – including the Brown and Obama administrations – are dismantling public education, cutting social services, and undermining all our basic social and democratic rights. Some of the most brutal attacks on Occupy demonstrations have been carried out by Democratic Party mayors," the resolution continues.
Many see a link between the movement and liberal politicians.  But for the most part, liberal politicians have kept their distance, other than to denounce the pepper spray attack at UC Davis.
Democratic mayors have often been on the frontlines of crackdowns against protesters. While the southern Democratic mayors and governors led the way in a different era, it was Mayor Daley in Chicago, whose response to protesters at the 1968 Democratic Convention led to the brutal crackdown, with protesters chanting that the "whole world is watching" and indeed it was, and that crackdown likely aided the demise of the Democrats nationally that year.
Democrats, in trying to avoid the stain of radicalism, are wasting an opportunity to capitalize on the energy, not just by those central to the movement itself, but those sympathizing with the movement who largely sat out last year's midterm elections.
Instead, the Democratic officeholders have shown once again that the establishment knows no party label and will fight at many costs to protect the status quo, even at a time when that status quo at both the national and state level is seen as failing its citizenry.
—David M. Greenwald reporting