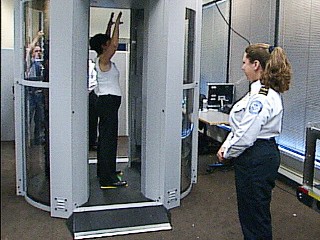 By E. Roberts Musser
The TSA is at it again, still engaging in "gate-rape" of the elderly.  The following are the most recent examples:
Inspectors pulled aside Ruth Sherman, age 88, to ask her about the bulge in her pants. Ruth tried to explain about her colostomy bag without success. She was escorted to another room where two female agents made her lower her sweatpants. The humiliated woman was forced to warn the agents not to touch her colostomy bag, because to do so would cause pain.

The very next day, at the same airport (Kennedy Airport), 85-year-old Lenore Zimmerman was pulled into a private room by TSA agents. This frail elder was asked to remove her back brace for screening as a result of refusing to go through a scanning machine because of her heart defibrillator. Unbelievably, Zimmerman was forced to raise her blouse and to lower her pants and underwear for a female TSA agent, a veritable "strip search".

Last June, the daughter of a 95-year-old woman claimed TSA agents refused to let her mother board a flight because her adult diaper set off alarms. According to the daughter, her mother took off the wet diaper because it had a suspicious spot on it, so she could be cleared in time for her flight. Alternatively, the TSA said it handled the situation properly, alleging agents never asked the daughter to remove her mother's diaper.

Sen. Claire McCaskill, Democrat Missouri, said she dreads running into a certain TSA agent when it comes time for a pat down at the St. Louis airport. Sen. McCaskill happens to have an artificial knee.
Upon preliminary review, the TSA is insisting it followed the agency's procedures in the above cited cases. Experts say such searches will only increase as our national population ages and receives prosthetics and various other medical devices, many of which cannot go through the screening machines. Prosthetic devices can set off metal detectors; catheters and ostomy/colostomy bags are visible on body scanners; and folks with pacemakers cannot be subjected to metal detectors or wands because it can interfere with electrical impulses generated by a pacemaker.
What is at serious risk here are a citizen's basic rights. It is a fundamental invasion of privacy when one has to take their clothes off in front of authorities at an airport. After all, citizens are not criminals, and should not be treated as if they were. The TSA has begun to realize that it has a serious public relations problem on its hands, after the invasive pat down of a young child went viral over the Internet. The agency has begun to tailor its screening procedures for different types of passengers. As of now, pat-downs for most children under the age of 12 have been eliminated. A pilot project of express screening for frequent flyers at four airports is being tried.
More importantly, the agency has formed an advisory committee of 70 disability groups. The idea is to help the TSA adapt its screening techniques to accommodate the frail elderly, young children, and other particularly vulnerable citizens. TSA chief John Pistole said the agency is attempting to train screeners to more swiftly identify medical devices to save passengers from embarrassment. But of course the TSA is trying to justify what it has done prior to this, by noting that terrorists and their targets can range in age. An example they use is of the recent arrest of four Georgia men, ages 65 to 73, on charges of plotting an attack with the deadly toxin ricin.
Clearly, no one wants terrorists to be able to game the system. But some sort of common sense needs to prevail. I myself have witnessed TSA agents subjecting frail elders in wheelchairs to very invasive pat-downs that seem completely unnecessary. Not only are the frisks extremely thorough, but somewhat rough. To make matters worse, the TSA agents themselves are generally quite unfriendly and intimidating. It certainly takes all the pleasure out of flying. I understand the need for safety in our skies, but I have to wonder if the TSA has gone a bit too far in its zealousness to protect us. Isn't there some way of prescreening seniors with medical devices, for instance?
I also have to wonder how effective the scanning machines are, if they can't even differentiate between an explosive and a colostomy bag? Has the public been sold a bill of goods that is largely ineffective, giving us a false sense of security, when other less costly and invasive methods might be more effective? For example, doesn't it make more sense to profile passengers ahead of time via computer, to weed out potential terrorists? It seems as if that avenue of endeavor is woefully inadequate.  Important data on potential terroristic activity doesn't seem to reach the airport until it is too late – long after a dangerous passenger such as the "underwear bomber" has boarded the plane and taken off.
Let's hope enough public pressure is brought to bear, that forces the TSA to take a harder look at instituting less intrusive security techniques. Not only will flying be more pleasurable, but a lot safer from a realistic perspective. I don't want the illusion of protection without the reality, especially if I'm going to be "gate-raped" in the process!
Lesson to be learned: Bringing public pressure to bear, like taking pictures with a cell phone of questionable behavior, can be a very successful means of affecting modifications in existing policy. If you don't speak up/photograph, nothing will change.
Elaine Roberts  Musser is an attorney who concentrates her efforts on elder law and aging issues, especially in regard to consumer affairs.  If you have a comment or particular question or topic you would like to see addressed in this column, please make your observations at the end of this article in the comment section.