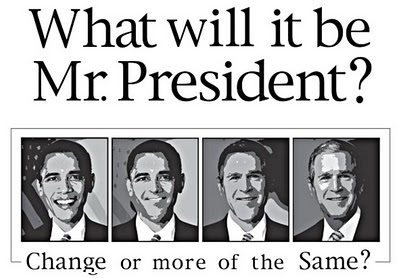 To say that, to many on the left, the first term of Barack Obama's presidency has been a profound disappointment is an understatement. While a victim, to some extent, of the realities of his times, President Obama had an opportunity to rectify eight years of questionable civil liberties policies and not only failed to do so, but codified some of the worst atrocities.
Nevertheless, to call him "the most disastrous president in our history in terms of civil liberties, as George Washington professor and columnist Jonathan Turley does, simply ignores the horrible track record we have in this country on such issues. Whether it is the Alien and Sedition Act, the Johnson Administration, the Nixon Administration, the looking the other way as J. Edgar Hoover ran roughshod over the rights of people, or the Bush II administration, Obama would have a high hurdle to cross to get to the worst.
Nevertheless Mr. Turley makes some strong points that President Obama not only failed to reverse some of the worst Bush II administration decisions, he actually codified and normalized them.
"President Obama not only retained the controversial Bush policies, he expanded on them," Professor Turley points out. "The earliest, and most startling, move came quickly."
"Soon after his election, various military and political figures reported that Obama reportedly promised Bush officials in private that no one would be investigated or prosecuted for torture," he wrote.
It is a view shared by those such as Anthony Romero, Executive Director of the American Civil Liberties Union who said a year ago, "I'm going to start provocatively … I'm disgusted with this president."
Asked why he was so animated, Mr. Romero responded in an interview with POLITICO in the fall of 2010: "It's 18 months and, if not now, when? … Guantanamo is still not closed. Military commissions are still a mess. The administration still uses state secrets to shield themselves from litigation. There's no prosecution for criminal acts of the Bush administration. Surveillance powers put in place under the Patriot Act have been renewed. If there has been change in the civil liberties context, I frankly don't see it."
Moreover, Professor Turley notes that President Obama has turned this into a non-issue which barely registers on the political radar – that would be the most alarming damge done by President Obama.
"Protecting individual rights and liberties – apart from the right to be tax-free – seems barely relevant to candidates or voters," Jonathan Turley writes.
He continues, "One man is primarily responsible for the disappearance of civil liberties from the national debate, and he is Barack Obama. While many are reluctant to admit it, Obama has proved a disaster not just for specific civil liberties but the civil liberties cause in the United States."
Mr. Turley rightly argues that civil libertarians have long had a dysfunctional relationship with the Democratic Party. He is correct that they are a captive voting bloc with nowhere to turn in elections.
But he adds: "Not even this history, however, prepared civil libertarians for Obama."
Mr. Turley is correct, many civil libertarians were ready to fight and work to regain the ground lost under George Bush following 9/11.
"Historically, this country has tended to correct periods of heightened police powers with a pendulum swing back toward greater individual rights," he writes.
Not only did they turn to President Obama, but candidate Obama captalized on the movement against Bush's civil liberties policies and "portrayed himself as the champion of civil liberties."
We can go down the list of "accomplishments" for Obama in this respect.
He announced in his first year that "no CIA employee would be prosecuted for torture."
He would later promise not to "prosecute any of the Bush officials responsible for ordering or justifying the program and embraced the 'just following orders' defense for other officials, the very defense rejected by the United States at the Nuremberg trials after World War II."
He failed to close Guantanamo Bay as promised.
He would continue the use of "warrantless surveillance and military tribunals that denied defendants' basic rights."
He would continue to assert the right to kill even US citizens accused of terrorism.
And as Mr. Turley notes, "His administration has fought to block dozens of public-interest lawsuits challenging privacy violations and presidential abuses."
All of that is egregious in the view of many civil libertarians, and even some ordinary people are appalled and alarmed at the excessive intrusion into private lives by government. But the worst, according to Jonathan Turley, is what Obama has "done to the movement itself."
He writes, "It has quieted to a whisper, muted by the power of Obama's personality and his symbolic importance as the first black president as well as the liberal who replaced Bush. Indeed, only a few days after he took office, the Nobel committee awarded him the Nobel Peace Prize without his having a single accomplishment to his credit beyond being elected. Many Democrats were, and remain, enraptured."
He calls it "almost a classic case of the Stockholm syndrome, in which a hostage bonds with his captor despite the obvious threat to his existence."
He notes, "Even though many Democrats admit in private that they are shocked by Obama's position on civil liberties, they are incapable of opposing him."
This actually is a point that expands far beyond this issue area. In general, those on the left are appalled at the Obama administration but they look at the cast of characters from Herman Cain's naiveté, to Gingrich's insidiousness, to Perry's stupidity, and Romney's ambition, and they see nowhere else to turn.
As Professor Turley writes, "Some insist that they are simply motivated by realism: A Republican would be worse."
On the other hand, "realism alone cannot explain the utter absence of a push for an alternative Democratic candidate or organized opposition to Obama's policies on civil liberties in Congress during his term. It looks more like a cult of personality. Obama's policies have become secondary to his persona."
Here I disagree. I think those on the left, until perhaps the last few months, have been beaten down both by a disastrous economy and a moribund presidency. It was not until the Occupy movement, with a brief period following the Wisconsin incident, that the left has actually awakened from a three-year slumber.
Writes Mr. Turley, "Ironically, had Obama been defeated in 2008, it is likely that an alliance for civil liberties might have coalesced and effectively fought the government's burgeoning police powers. A Gallup poll released this week shows 49% of Americans, a record since the poll began asking this question in 2003, believe that 'the federal government poses an immediate threat to individuals' rights and freedoms.' "
However, he now notes, "Yet the Obama administration long ago made a cynical calculation that it already had such voters in the bag and tacked to the right on this issue to show Obama was not 'soft' on terror. He assumed that, yet again, civil libertarians might grumble and gripe but, come election day, they would not dare stay home."
He argues that this calculation may be wrong.  He argues, "Obama may have flown by the fail-safe line, especially when it comes to waterboarding. For many civil libertarians, it will be virtually impossible to vote for someone who has flagrantly ignored the Convention Against Torture or its underlying Nuremberg Principles."
He argues that, but I do not see it happening. I think most on the left, even the civil libertarians, will take one look at the field of Republican pretenders and fall into line quickly. That is certainly what President Obama is counting on.
If Mr. Obama loses it will be because he lost the middle class and the independents, not the left civil libertarians.
Nevertheless, Mr. Turley concludes, "In time, the election of Barack Obama may stand as one of the single most devastating events in our history for civil liberties. Now the president has begun campaigning for a second term. He will again be selling himself more than his policies, but he is likely to find many civil libertarians who simply are not buying."