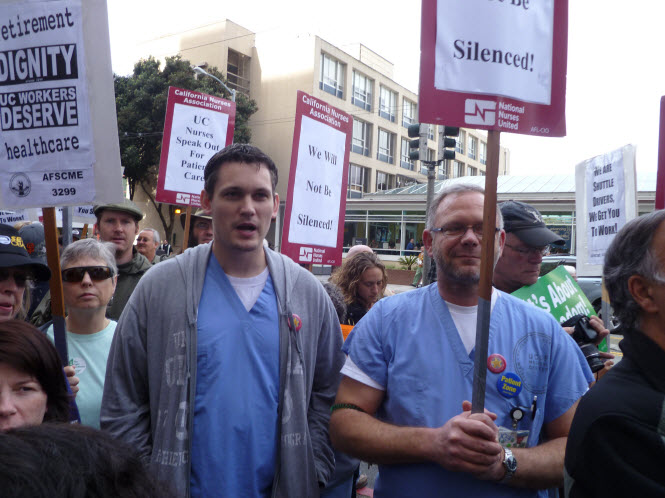 The End of the Road for David Crane – the Would-Be UC Regent
One thing that has become clear in the aftermath of the pepper-spraying incident at UC Davis is the need for new voices on the UC Board of Regents.  In his final appointment, Governor Arnold Schwarzenegger named David Crane.
Immediately, fierce opposition led University of California students, faculty and workers.  A year later, David Crane has failed Senate confirmation to the UC Board of Regents.
While he has served as a Regent throughout 2011, state law requires that he be confirmed by the Senate within one year of his appointment in order to serve the remainder of a 12-year term. Next week, the 365-day clock for Senate confirmation will run out for Mr. Crane.
What made Mr. Crane so controversial was his advocacy of the tactics of Wisconsin Governor Scott Walker, by questioning collective bargaining rights for California's public sector workers, including teachers, nurses, firefighters and university employees.
The opposition was led by the University of California Student Association (UCSA) and several public employee unions, who immediately began a campaign to ensure Crane was not confirmed and not able to serve a full term on the Board of Regents.
The UC Student Association said: "Particularly at a time when collective bargaining rights are under attack around the country, students find it disturbing that Mr. Crane would choose this time to raise questions about this fundamental and essential right for public employees."
Nelson Cortez, a UC Santa Cruz student and board member of the UCSA added, "It is deeply troubling that students were not informed before this decision. The needs and views of students and workers must be prioritized in the appointment of UC Regents. That clearly was not done with Regent Crane's appointment, and therefore UC students are opposed to his confirmation."
Senator Leland Yee, a frequent critic of the University of California, also led the charge against this appointee.
"Students deserve to have someone who will fight for them and ensure their needs are addressed," said Senator Yee. "Considering recent efforts to privatize the University of California, yet another millionaire investor for a Regent is the last thing students need to protect their public university. I am looking forward to Governor Brown's appointment to this important post."
Mr. Crane's final day with the UC Board of Regents is Tuesday.
Reported the LA Times earlier this week, Mr. Crane "has been a burr under the saddle to legislators, criticizing them for inaction on pension reform and making cuts in state funding to universities, which have forced large increases in tuition."
Mr. Crane argued, "It's virtually impossible for anyone to get confirmed if they keep pointing out that the legislature is privatizing UC."
Supervisor Campaign – Art Pimentel and Paul Petrovich
We will have more on the new challenge by Woodland Mayor Art Pimentel to Supervisor Duane Chamberlain tomorrow.  But Dino Gay, who co-publishes the Woodland Record, posted some interesting comments about Mayor Pimentel and his connections to developer Paul Petrovich.
Mayor Pimentel cited Mr. Chamberlain's opposition to the Gateway I and Gateway II projects.
"Both of those he's opposed continuously," he said, "I feel that that is the wrong approach especially when he's representing such a large portion of the city of Woodland."
However, the Woodland Record notes that, on December 22, Mayor Pimentel took the "lead in clearing a path for Petrovich projects."
Writes Mr. Gay in the Woodland Record:
"2010 proved to be no fluke, as it was business-as-usual in 2011 for our council led by Art Pimentel (the council-appointed honorary mayor). Pimentel and fellow council members Skip Davies and Martie Dote made sure that their previous work was not in vain as Petrovich gained advantages for his Third and Main multiplex project and gained approval for his Gateway II annexation with the Pimentel/Davies/Dote vote."
"A January 18 Woodland Record article describes how his property – known only as AP 057-170-04 in closed session agendas – is just the tip of the iceberg when it comes to Petrovich projects in Woodland. Woodland Record readers are reminded in the article that Pimentel received a disproportionate amount of contributions for his 2008 city council campaign from Petrovich – under four different LLC aliases – and his employees."
It is worth noting that Davis has struggled with a development from Mr. Petrovich, as well.
In July the Vanguard reported that four businesses at Oakshade Plaza in South Davis have either closed or moved in recent months.
The Vanguard spoke to David Robert, who owns the Davis Creamery and also sits on the Business and Economic Development Commission (BEDC).
Mr. Robert told the Vanguard that his lease over at Oakshade was costing him $5800 per month for a 1200-square-foot space, and in South Davis it simply did not have the foot traffic for him to be able to turn a profit.
"It was absolutely ridiculous," he said.  "It's not like it was Bourbon Street in New Orleans."
"He [Paul Petrovich] was very unwilling to work with anyone even during the economic downturn," he said.  "He didn't care because he had a signed contract and it's just business."
Meanwhile, Mr. Gay posted on the Vanguard that because of gerrymandering, the district largely "excludes full rural representation."
Mr. Gay writes, "Duane [Chamberlain] has been aced out of the district for which he campaigned to represent."
"The former 5th District included Winters and about 40% of Woodland. The BOS voted to diminish rural interests and the interests of Duane. Duane now represents about 70% of Woodland," Mr. Gay notes, "but I can tell you that Duane will still have support from Woodlanders who still see the town as an agricultural community."
Meanwhile, Mr. Gay added, "Pimentel has consistently shown that he favors Petrovich and his development projects, both in the heart of the historic downtown and in the massive and unnecessary Gateway annexations."
He continues: "Pimentel and his two cronies on the council ignored a thousand supporters of what would have been the locally-developed State Theatre Renovation and Expansion project in favor of Petrovich's multiplex project in the redevelopment area. I believe you are correct when you characterize Pimentel as disingenuous to his constituents. He has proven he doesn't listen to community members, only a developer named Petrovich."
Presidential Candidate Gingrich Blows His Own Foot Off
We knew as soon as Newt Gingrich ended up near the top of the polls for the Republican Presidential Nomination that he would act quickly to shoot himself in the foot.  What we did not know is how quickly or thoroughly he would be able to do so.
It turns out little has changed since Mr. Gingrich imploded back in 1996 – he is still perfectly capable of being a one-man circular firing squad.
In early December, nearly every national poll showed Mr. Gingrich leading the Republicans by a double-digit margin over his nearest competitor Mitt Romney.  Almost overnight that lead is gone.
The worse news is that people just do not like Mr. Gingrich.  A Harris Poll released yesterday show that almost half of the voters do not like Mr. Gingrich personally, another 43 percent said they do not like his record as speaker of the House (1995-99) and 43 percent disagree with his political opinions.
Those are pretty astonishing figures and difficult to overcome.
At the center of the fall is Mr. Gingrich's own missteps.  One of the most notable missteps was when he told Face the Nation that "judges who make a decision that a president believes violates civil liberties should be reviewed and possibly dismissed by the other two branches."
"I'm suggesting that when there are decisions … in which they're literally risking putting civil liberty rules in battlefields, it's utterly irrational for the Supreme Court to take on its shoulders the defense of the United States," he said. "It's a violation of the Constitution."
He would later attempt to brush off concerns such as those raised by Michael Mukasey, a former federal judge and attorney general in the administration of President George W. Bush, who during an interview with Fox News called Gingrich's plan "dangerous, ridiculous, totally irresponsible, outrageous, off-the-wall and would reduce the entire judicial system to a spectacle."
"I think many lawyers will find this a very frightening idea," Mr. Gingrich said. "They've had this run of 50 years of pretending judges are supreme, that they can't be challenged."
Erwin Chemerinsky, dean of the UC Irvine School of Law, in an LA Times Op-ed noted that, while there is really nothing new here, "bashing 'liberal' judges has been a staple for Republican presidential candidates at least since Richard Nixon ran in 1968 with a campaign against the Warren court. It is ironic that conservatives continue with such attacks even as there is a conservative majority on the Supreme Court and its rulings overall are far more to the liking of conservatives than liberals."
But he added, "There is a difference to this year's political rhetoric about the courts: It is more mean-spirited and it shows a stunning ignorance of the Constitution and American history."
"Perhaps these attacks on the federal judiciary are just part of the exceptionally poisonous rhetoric of these divisive times. But it is scary to think of the possibility of a president who largely rejects judicial review, gives no apparent importance to judicial independence, pledges to defy Supreme Court rulings or wants to remove federal judges based on disagreement with their rulings. And yet these are changes that candidate after candidate in the Republican race has been talking about," he added.
It is perhaps not a coincidence that, after making a series of such utterances, Mr. Gingrich would plummet in the polls.