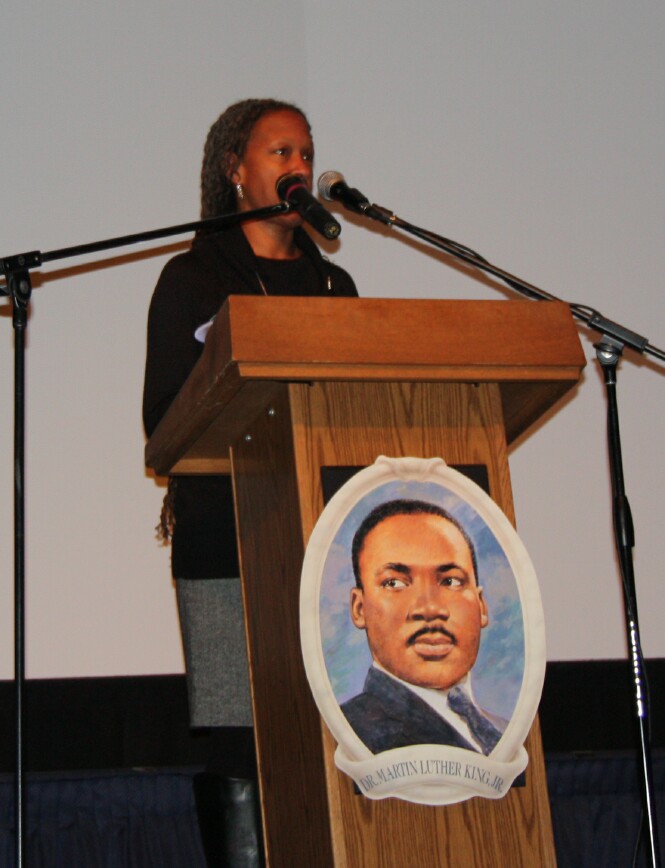 Lecia Brooks from the Southern Poverty Law Center came to Davis on Monday to speak about the legacy of Dr. Martin Luther King Jr, as well as to talk about contemporary issues of race in our society.
The Southern Poverty Law Center came into being in the early 1970s by two white natives of Montgomery, Alabama, Morris Dees and Joe Levin.
"Morris talks about having Klan members in his family," Lecia Brooks told the audience, "and Joe, though he is Jewish, grew up experiencing and living out white privilege."
"But these two white men decided to found the Southern Poverty Law Center in 1971 because they didn't believe that Alabama would live up to the Civil Rights Act and the Voting Rights Act," she told the Davis audience.  They continued Dr. King's legacy in the legal arena.
One of their big early victories was suing the YMCA in Montgomery, which Ms. Brooks said, "instead of living up to the Civil Rights Act, and integrating public spaces, they just decided to close."
They also sued the state of Alabama to force them to integrate their state troopers, because Alabama for a time simply refused to hire additional state troopers in an effort to integrate.  "The state of Alabama said, well we just won't hire any black state troopers," she said.  "We won't hire any state troopers if we have to hire black ones.  We had to take that case all the way to the Supreme Court to force Alabama to desegregate the state troopers."
She spoke both of the progress that has been made but also the work that has yet to be done.
"The SPLC is hard at work, trying to advocate for the rights of marginalized people in our society," she said.  "But are we there yet? We've been doing what we've been doing since 1971, but have we realized the dream yet? No."
"And we have Dr. King's immortal words to help us gauge our progress in whether or not we've achieved that dream."
It was here that the local community and leaders within the community came together, in the form of a panel discussion joined by Ms. Brooks, to discuss racial issues in Davis today.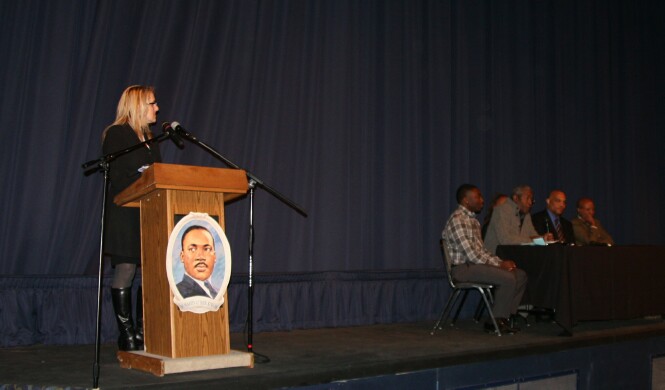 The panel was moderated by Mayor Pro Tem Rochelle Swanson and, in addition to Ms. Brooks, there was: Osahon Ekhator, a former member of ASUCD Senate; Desmond Jolly, a retired agricultural professor and longtime UC Davis resident; Superintendent of DJUSD Winfred Roberson; and Professor Tilahun Yilma, professor of veterinary virology at UC Davis.
"I keep on my phone the quote, 'Injustice anywhere is a threat to justice everywhere,' Mayor Pro Tem Swanson said, "but as we go on and look forward to what we can do in our own community, I always think about the judging people by the content of their character and it's beyond race and something that we're challenged to do, there are so many groups that feel marginalized because of their beliefs, their orientation, the color of their skin, their level of education"
She added: "I could stand up here for an hour and that would be my challenge to the community to stop and really think about how you're engaging each other."
The panel first responded to the question as to what MLK Day means to them.
Professor Yilma stated that he has been in Davis since 1965 and "I have seen very significant improvements that have happened from the sixties to date."
While he sees this as a special day, he also sees that there is a long way to go.  "One of the things I want to bring your attention to is that 33 percent of African-American are in prisons.  We spend close to $50,000 a year in California to keep them there.  So we have plenty of money to spend to incarcerate people but we don't even have $2000 to go school."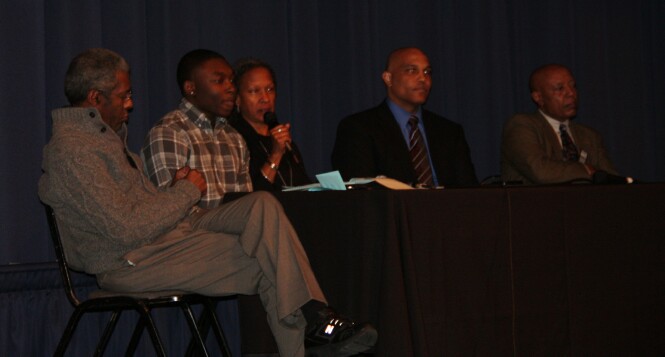 Superintendent Winfred Roberson noted that you look at the students from Patwin who came to sing and all of the people on the stage, "You at that at face value and everything looks fine.  And it does because we have made significant progress as a nation."
He sees education as a civil right, he said.  But while we have made progress, he said, "There is an achievement gap that exists.  The students of the same color, same background in school yet that find that their achievement isn't at the same levels.  So, as I reflect on Martin Luther King Day, that stares me in the face as we begin to deal with the complexity of that issue."
Desmond Jolly related the story of a colleague who told him that when the first Chinese professor was hired at UC Davis, "he could not find a place in Davis that would rent to him.  The university had to actively intervene to find a place for this Chinese professor."
"Well today, the majority of the students on the campus are Asian-Americans," he said.  "They have no problem finding a place to live.  That's due to the civil rights movement."
He also related a story of a female who was told she could not become a doctor, so instead she became a nutritionist and eventually a provost.  Today, the majority of students in the medical field are women.
"That's what King Day means to me," Professor Jolly said.  "I look not just at the failures.  African-Americans have not been participating meaningfully in achievements in the post-apartheid society, but there are reasons for that.  But women, Asians, other groups have benefitted tremendously."
"So inadvertently perhaps, perhaps advertently, Dr. King's work has opened up the society to a whole wide swath of people in terms of being able to realize their dreams," he said.
"I came to this country in 1994 from Nigeria," said Osahon Ekhator, the youngest member of the panel.  "My mom and dad both had to go to college all over again because they were told that their degrees didn't really count.  So I watched my parents struggle and fight a steep uphill battle and succeed."
"Now that I'm in college, King Day brings me make to poignant memories in my childhood that exemplify the aims in his dreams," he said.
Lecia Brooks was asked about the most pressing civil rights issues of today.  She responded, "One would be income inequalities and disparities, immigration, the rights of lesbians and gays," she said.  "Racism is an ongoing issue."
"College cities, college campuses often have the stereotype that they're a lot more liberal and a lot more easy for everyone to mesh and coexist," Mr. Ekhator responded to a question about the racial climate in Davis.  "That's what I thought too before I got here."
He said that the campus does a really good job of "seeming" to coexist and mesh.  He related that as soon as he got a new car from his parents, he was pulled over seven times by the police.
In an incident overshadowed by the pepper-spray incident, "The campus newspaper published an opinion article entitled 'Jungle Fever' that reduced black males to animals, objects," he said.  "It was horrible.  It was like a safari guide as to how to get a black man."
He did say, "At the same time, my time here at UC Davis has not been bad, because there are structures and there are communities and the different student groups at UC Davis that work together to fight these injustices.   They're strong and they're only getting bigger and better."
Desmond Jolly again noted the progress of Asian-Americans in the community and on campus.  "In that sense, Davis has become much more tolerant and much more accepting of diversity."
"For young black men unfortunately, I think it's still a problem," Dr. Jolly told the audience.  He related that his son was stopped frequently by police in Davis, "almost every Friday and Saturday night."
"Davis has become much more open and tolerant about diversity," he said, "But there are still pockets of resistance.  I think the locus of that might be the police department and perhaps, in some degree, in the schools."
He also noted that when he sees African-Americans working in businesses in Davis, he feels "uplifted like somehow it's not a hostile business place."  He said, "Occasionally, I see a black person working in a business in town and I think wonderful, why aren't there more?"
Superintendent Winfred Roberson told the audience, "The achievement gap has to do with the academic performance of students in the relationship of students of color to white students."
He issued a big thanks to the school board, which he said, "has the tenacity and the will to close the achievement gap."
"It seems simple but it is not easy," he said. "There are a lot of underlying structures that hinder the achievement of students of color."
He said his research suggests the need to look at what he called, "internalized and transferred racism."
"I think many of our students of color have internalized or they begin to believe and act upon the negative messages that they've received about themselves and their group which causes them to give up, which causes them to lose hope, and causes them to doubt that they're as intelligent as their white peers," Superintendent Roberson said.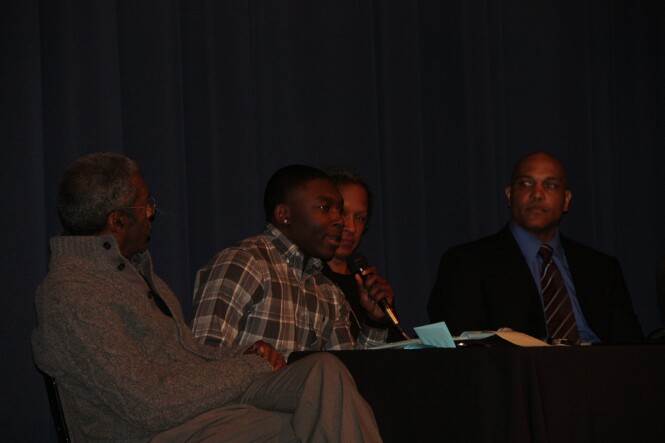 "This undermines their ability to do well," he said.  "We're having conversations, serious conversations about what we need to do as adults to make sure that every student is valued and feels valued."
Professor Yilma spoke to the issue of bias in sentencing policies and noted an article that pointed that, while the US had only five percent of the population in the world, it has 25% of all incarcerated individuals.
"When you have 33 percent of African-Americans at one time or another in prison, and it costs $50,000 a year in California to incarcerate someone," he said an added, citing Senator Webb from Virginia, "there are two explanations… either we have the most evil citizens of the world or there is fundamentally something wrong with what we're doing when we incarcerate so many more citizens in prison."
"Isn't it interesting that if a young person wants to go to college we cannot afford to give him $2000 or $3000 a year," he said, "but we can spend $50,000 a year to incarcerate him."
"There is something fundamentally wrong with that," he added.
The take-home message of the day was powerful, because it is not that we have not made progress, it is simply that we have not progressed enough or progressed evenly.
It goes back to Ms. Brooks' comment about the People's Campaign March, which was largely deemed a failure because those involved "had grown weary of protesting and [were] frustrated by the lack of immediate change."
The conversation began but will not end on Monday, as we all paused in our lives for a few seconds to ponder the legacy of a society that told people that they could not do the same things as others, for no reason other than the color of their skin.
—David M. Greenwald reporting