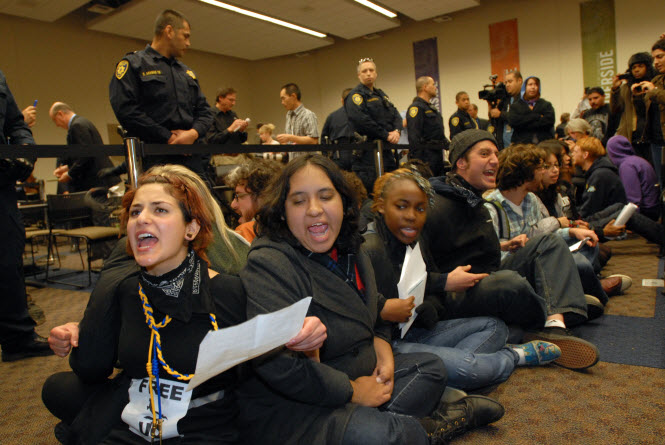 While the protests dominated the news regarding the UC Board of Regents meeting last week, they met to discuss savings from cost-cutting and development of new revenue to fill a looming budget gap.
During the two days of meetings, senior administrators outlined for the board the latest state funding proposal and discussed a variety of initiatives now under way, including efforts to pare operational costs and enhance revenue opportunities from new inventions.
"Last month we took another $100 million cut in state support for a total 2011 budget reduction of $750 million. That's a 25 percent cut from the previous year's funding," said chair Sherry Lansing. "Believe me, this board is working diligently to find alternative funding strategies and creative solutions to this budget crisis."
According to a release from the UC Newsroom, "Efforts include a complete overhaul of how UC delivers human resource and payroll services to faculty and staff, and a program to help faculty with early-stage discoveries attract the venture capital necessary to bring products to market."
Administrators, in speaking about various budget strategies, stressed that state funding remains a critical part of UC's financial equation, particularly as it relates to tuition levels.
To that end, talks are ongoing with the governor's office and the Department of Finance over a possible multi-year funding plan, said Patrick Lenz, UC's vice president for budget and capital resources.
The plan, which is still highly tentative, would be contingent on passage of Gov. Brown's tax initiative on the November ballot and would also require support from state lawmakers, a factor that Regent Russell Gould called "critical" to its success.
Together with modest fee increases and UC's other revenue initiatives, the multi-year plan could bring stability to the university's fiscal outlook and assure that tuition remains affordable and predictable, said Lenz and Nathan Brostrom, executive vice president for business operations.
Brown has proposed a state budget for fiscal 2012-13 that includes no additional cuts to the university beyond the $750 million it sustained this year. His plan also includes $92 million in flexible spending that could be used for UC's retirement program.
Regents commended administrators for securing an acknowledgement that California has a fiscal obligation to the university's retirement plan.
The state pays the employer share of retirement costs for the California State University and Community College systems, as it once did for UC. For the past several years, UC has called on Sacramento to give it equal treatment.
"The governor has re-established the principle that California has a responsibility to contribute to UC retirement costs," President Mark G. Yudof said. "This is a step in the right direction, and we applaud it."
In the meantime, this week, frequent critic of higher education executive pay Senator Leland Yee responded to a decision by the California State University system to cap executive pay raises to 10 percent, among other minor changes to their administrative compensation practices.
"While I am pleased to see CSU Board of Trustees finally recognize that their past executive compensation practices were completely unacceptable, their new policy just doesn't go far enough," said Senator Yee.  "Those making hundreds of thousands of dollars should not receive double digit pay increases during bad budget times or when students are forced to foot the bill."
The Senator has introduced legislation to prohibit pay raises for top university administrators during bad budget years or when student fees are increased. The bill will also stipulate that incoming executives can only receive five percent more than their predecessors.
Last year, when the CSU Board of Trustees raised fall tuition by 12 percent, they also awarded the new president of San Diego State a $400,000 salary – $100,000 more than his predecessor.
In July 2011, the University of California Board of Regents raised tuition by 9.6 percent (on top of an 8 percent increase already approved for the fall semester), while also giving the head of the UC San Francisco Medical Center a nearly $200,000 raise, bringing his yearly base salary to $935,000, as well as a retention bonus of $1 million over four years.
Senator Yee, who voted against the state budget cuts to education, has long fought the executive compensation decisions by UC and CSU. In 2007, Senator Yee passed SB 190 to ensure compensation decisions were made during a public session of the Regents and Trustees. Prior to the law, UC and CSU often made such decisions behind closed doors without public input.
Senator Yee's bill will also prohibit incoming executives from earning more than 105 percent of their predecessors' pay. UC and CSU have historically given new administrators more than double digit pay hikes. In May 2009, the UC Board of Regents approved a $400,000 salary for UC Davis Chancellor Linda Katehi, which equated to a 27 percent hike from her predecessor.
Later that year, then-Governor Arnold Schwarzenegger vetoed the Senator's previous attempt to stop executive pay hikes despite overwhelming bipartisan support in the Legislature.
"The exorbitant executive pay practices of the CSU Trustees and UC Regents are appalling and reinforces the perception that they are completely out of touch," said Senator Yee. "UC and CSU are public institutions designed to serve California's students and not to be a cash cow for executives."
"Once and for all, it is time to stop these egregious compensation practices and restore the public trust," said Senator Yee. "I am looking forward to passing this bill and Governor Brown signing it into law."
"Time and time again, rather than protecting the needs of students and California families, the Regents and Trustees line the pockets of their top executives," said the Senator. "While these public administrators are making more than the President of the United States, many Californians are struggling. We deserve better."
—David M. Greenwald reporting