Keynote Speaker Relates Poor People's Campaign to Occupy Movement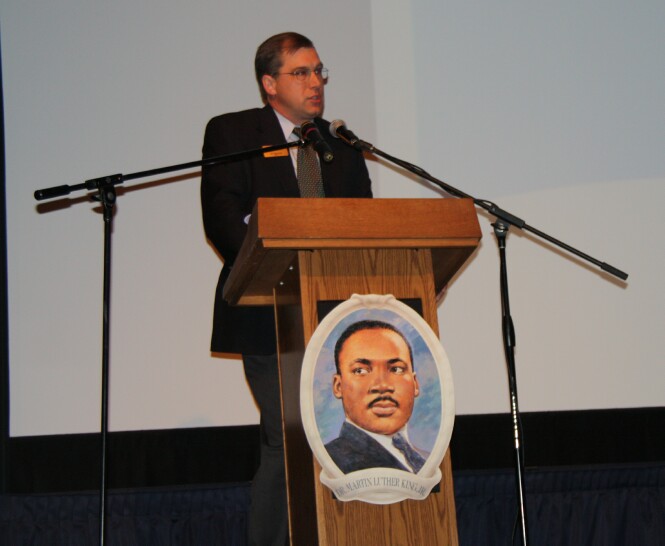 Mayor Joe Krovoza used his comments, opening the 2012 MLK Day Celebration in the City of Davis, to condemn the pepper-spraying incident that occurred last November.
"Intolerance does continue, the reasons for us to gather continue as well," the mayor said to a capacity crowd at the Varsity Theater on Monday. "War still distracts us from creating social justice, at home it still drains our resources.  There are many ways in which we will continue to fight intolerance and [fight for] social justice creation in Davis."
"Last year I discussed Martin Luther King Jr.'s legacy and talked about what it meant to me and to our community," Mayor Krovoza said. "I observed that what we protect here in Davis and across the country is the echo of Dr. King."
"We seek to make sure that the echo does not follow the laws of physics, but rather that we work here in our community to amplify and amplify his message over and over."
"I do want to note with a bit of apology and sadness, that in November our community did become a symbol," he said, "unfortunately a symbol for a violent response to a non-violent protest."
"We acted inappropriately towards students who were seeking to make sure that public education truly remains public," he continued.
"The goal of making sure that public education truly remains public is absolutely at the core of creating an equal and just society," Mayor Krovoza said.
He continued: "I think it's therefore with that backdrop that I would like to ask all of us here today, that for one more reason, the reason of our community being the focal point, we redouble our efforts to create the quality in our community to understand our students and all of our populations in Davis and to reach out and fix those inequalities that we can."
The message of the mayor was not lost on keynote speaker Lecia Brooks, from the Southern Poverty Law Center, who flew to Davis from Alabama to talk about not only about the legacy of Dr. Martin Luther King, but also contemporary issues.
Lecia Brooks talked about one of the last campaigns that Martin Luther King Jr led, the poor people's campaign, where the organizers not only pushed for freedom and equal rights, but also crafted an economic bill of rights.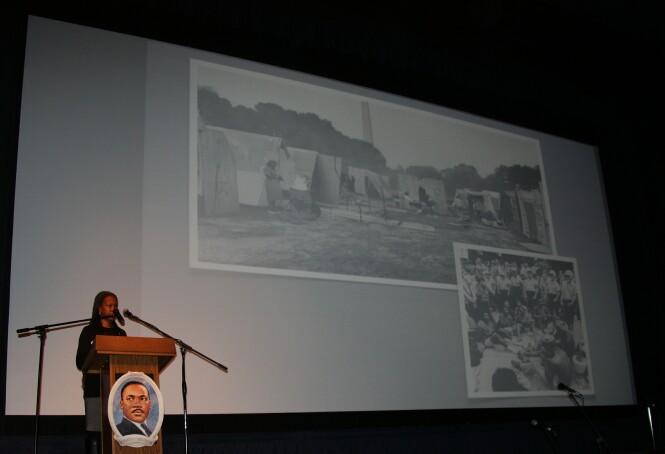 "They had some demands, they wanted the government to prioritize helping the poor with an anti-poverty package that included housing and guaranteed income for all Americans," she told the audience at the Varsity Theater.
"As we know, Dr. King was assassinated in Memphis, Tennessee before that march took place," she said.  The march went on anyway, and they would set up 'Resurrection City.' "
It was a settlement of tents and shacks.  "They stayed there for weeks," Ms. Brooks said.  "It is important to note that this was the last time the Washington Mall was occupied."
"Although 50,000 people participated in the People's Campaign March, it was deemed largely a failure.  The people who deemed it a failure were the ones who participated because they had grown weary of protesting and frustrated by the lack of immediate change," she said adding, "Sound familiar?"
"Thankfully though, many were encouraged and inspired by the activism and the real change that took place during the modern American Civil Rights Movement," Lecia Brooks continued.  "I believe this inspiration continues today in the activism that we see taking place around the country and, dare I say, the non-violent protests that took place at UC Davis."
"I applaud the students at UC Davis, and I also applaud the mayor and you-all for, like, recognizing that something went wrong," Ms. Brooks said.
She added that it took a tremendous amount of time for the nation to recognize the wrongs of the Jim Crow era.
"How long did it take Governor Wallace to acknowledge any wrongdoing?"  she asked, adding, "So thank you."
—David M. Greenwald reporting