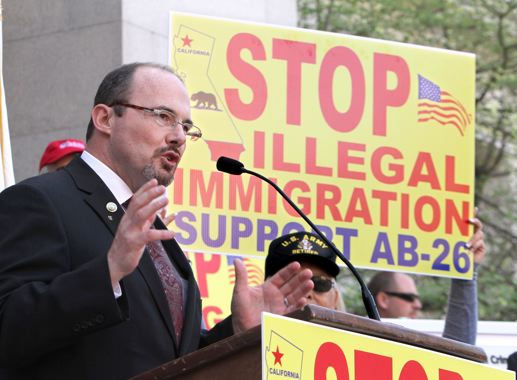 You might ask, who is Tim Donnelly and why are we writing about him in an off-topic column? The answer is that he is a right-wing Republican Assemblymember from Southern California, who somehow managed to be involved in several completely unrelated news stories in which he utterly and completed failed.
It all started on Wednesday, when the freshman legislator was boarding a flight to Sacramento at the Ontario Airport when he was stopped and cited by airport police.  Why?  He was carrying in his bag, a .45-caliber Colt Mark IV that had four rounds in its magazine and a spare magazine with five additional rounds.
Assemblymember Donnelly is a big supporter of gun ownership.
Possession of a loaded firearm is a misdemeanor, punishable by a maximum sentence of one year in jail and a $1,000 fine.  According to published reports, transportation of firearms is permissible on flights but they must be unloaded, contained in a proper case, and checked into the baggage department.
On Friday, the Sacramento Bee reported that Assemblymember Donnelly does not have a permit to carry a concealed weapon.
Reported the Bee: "Californians with a concealed weapons permit cannot carry a loaded gun onto an airplane. But whether Donnelly had the right to carry a loaded weapon anywhere is a separate question that was not definitely answered Wednesday."
The Assemblymember would later dodge questions.
"It's already been spoken to," Assemblymember Donnelly said. "It's certainly not something that I feel that I need to address. I really don't feel that there's anything more that I want to add to that story. I tried to be very forthcoming and put all the information out there … so, I'm just going to leave it at that."
Meanwhile, this was not the only story on the assemblymember. The Crestline Courier News reported on Thursday, "Frustrated by what he sees as a partisan rejection of his plan to cut prison costs and overcrowding, Assemblyman Tim Donnelly is pledging to take up the fight again when the legislature reconvenes this month."
"I'm going to push a bill to deal with some of the unintended impacts of AB 109," Assemblymember Donnelly said.
Under AB 900, the CDCR had the authority to send prisoners to other states, believing that they could house them at far lower costs than in California.
However, AB 900 had a sunset date on July 1, 2011 and Mr. Donnelly's bill "would have continued it indefinitely and revoked inmates' right to insist they be returned to a California prison after five years' confinement out of state."
He argues it "costs about $26,000 a year to pay for the care of one of the exported prisoners, but $53,000 to provide the same service for inmates in California prisons."
Assemblymember Donnelly is also an outspoken critic of illegal immigration.  He told the paper that he "remains interested in legislation to transfer illegal alien state prisoners to lockups in their own countries. Doing so, he has long contended, would cost California taxpayers far less than housing them at in-state prisons."
He argues, "State corrections officials claim 9 to 11 percent of the system's approximately 170,000 inmates are illegal aliens." The assemblyman said the number "could easily be double that," because the state's estimate is based on how the prisoners themselves define their immigration status.  Whatever the number, he said, it "costs California taxpayers about $980 million a year to keep illegal alien inmates behind bars, and the federal government only reimburses the state 5 percent of that cost."
That leads us to the final story on Assemblymember Donnelly.
Back in October, the Dream Act was finally passed, which allows all undocumented students who came to this country prior to age 16 and who attended high school in California to apply for Cal Grants and other financial aid.  Under previous circumstances, such students were eligible for in-state tuition.
"Going to college is a dream that promises intellectual excitement and creating thinking," Governor Brown said in October. "The Dream Act benefits us all by giving top students a chance to improve their lives and the lives of all of us."
Critics like Tim Donnelly have been fighting the implementation, threatening to put the matter up for a vote.  However, in further evidence that California's fear of illegal immigration is not what it once was, this week, Assemblymember Donnelly had to inform supporters that the campaign had failed to qualify for the ballot.
According to the Sacramento Bee, "The effort garnered 447,514 signatures, not the required 504,760 valid voter signatures required to place the matter before voters."
In a statement, Assemblymember Donnelly said, "This is disappointing news, but it is no less of a warning to Governor Brown and every Democrat legislator who voted to create a new entitlement program for illegals while the state still has a budget deficit of over $9 billion, and cannot even meet its obligation to legal California students."
"Today only marks the end of one battle in a war to reclaim our voice in our Legislature," he added. "This one loss will not dampen our resolve."
But in fact, it marks the end of a week of utter failure by the right-wing legislator.
—David M. Greenwald reporting