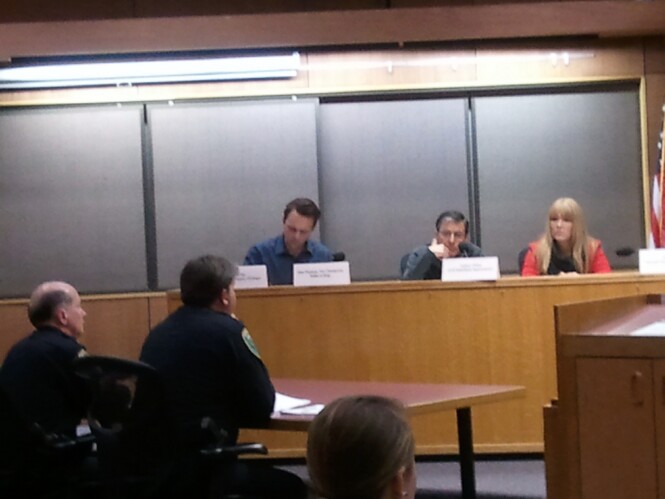 The City of Davis and the police department have a lot of work to do if they want to get student buy-in for the proposed alcohol preclusion act.  Following a lengthy discussion, where students consistently expressed concern with the ordinance and distrust for the intentions of the police, the Student Liaison Commission, comprised mainly of students with a few voting members from the public at-large, voted to oppose the ordinance.
The final version of that motion did incorporate language that left issues open and encouraged future discussions.
John Youmans, commission member from the public-at-large, made a friendly amendment to add language that the body would like to see more discussion among the various groups in the community.  He argued, "More talking needs to happen rather than is this just right or wrong."
That substitute motion got formalized into language that was originally used in addressing the open container ordinance.
First, "Both the campus community and the City of Davis should take, and mutually support, actions which address problem alcohol consumption that is associated with irresponsible and unlawful behaviors, high risk and underage drinking, and public health and safety concerns."
Second, "The City of Davis has a responsibility to consider the perspectives of community and campus student organizations to assure that laws restricting public alcohol consumption are fairly developed and consistently enforced to engender broad based community support."
And third, "Student groups and their representatives have both a right and a responsibility to work with City law enforcement and government officials to assure that all perspectives regarding an Open Container Ordinance are articulated and to assure that local regulations are well promoted, understood and respected."
That motion passed unanimously, with Kemble Pope representing the Davis Chamber of Commerce abstaining, explaining that he had no direction from his board on how to vote on this matter.
The chair of the UC Davis Student Liaison Commission and President of ASUCD, Adam Thongsavat, told the body that while he liked Captain Darren Pytel, he still is bothered by this proposal and stands by his initial comments against it.
"I cannot vote for this in good faith," he said. "In terms of relations this takes everything that the police and the City of Davis have done and stirred it up."
"I'm 22 years old," he said, "if I were 20 years old, I would look at this as overarching city government trying to parent my life."
He cited Picnic Day 2011 as an example where the various stakeholders, including the students, worked together to produce "a pretty good result."
He asked the city and police to work with the students to help draft a better solution that addresses their concerns.
Captain Darren Pytel of the Davis Police Department explained that the police department had wanted the City Council to hear the proposal first but that "we really did expect that it would be sent out to work with this commission" and end up in front of the fraternities and sororities, where there could be discussions about how to proceed.  "That was anticipated and now we're going through the process," he added.
Rebecca Sterling, a former ASUCD Senator and current UCD Relations Chair, said that this ordinance came as a shock and she believes that students should have been involved in the conversation from the start.
Yara, a current ASUCD Senator, had issues with the term "reasonable cause," arguing she would feel more comfortable with something like "objective symptoms."  She stated flatly, "Our biggest issue is there is distrust between students and police.  This really did not help at all."
She cited a good relationship last year between the Police and Greek Life as the result of pre-Picnic Day conversations.  The result was that no one from Greek Life was arrested at all.  She said that they had built a good relationship but "I think this completely destroys that.  It's going to cause more issues because I wouldn't call the police on my party if all my friends are going to get breathalyzed on their way out.  I would probably stay at a party that was getting out of hand, too."
Carly Sandstrom, the ACUCD External Affairs Chair said, "Having this act increases the gap between the student and the police population.  It doesn't help with wanting to communicate with their neighbors – if you're going to have a party – because, regardless, you can get fined."
One of the issues that came up was that this ordinance is modeled after one in Del Norte County which has a very different population base than Davis.  It does not have a university or that kind of environment.  It also does not specify a blood alcohol level but rather makes reference to having consumed any level of alcohol.
Captain Pytel explained, "What we're trying to do is establish if a person consumes alcohol and it's more than just a drink, it's probably going measure .01 percent…  What we didn't want to do is have a minor at a party consuming alcohol and trying to gauge am I .01, am I .02, if I'm at two beers am I .05, and then guess."
"What we're trying to do is stop minors, those under 21, from going into a party and consuming alcohol," he said.  "There is no legal way for a minor to have gone into a party and received alcohol.  It's illegal for anyone to contribute that alcohol to them."
Captain Pytel said the gap in the law is that there is no law against a minor consuming alcohol in a private place.  Moreover, he said there has been a change of behavior, whether they have become more sophisticated in their approach to drinking.
"Minors aren't just going into a public place carrying alcohol anymore," Captain Pytel said.  "Everyone's gotten smarter than that.  They're drinking alcohol in a private place where they know that they can do and they know law enforcement's not going to go in… cite them, arrest them, and take their alcohol.  So everyone's changed their drinking behavior."
Currently there is no ordinance that makes that illegal, so all the police can do is deal with them when they get out of hand.  He also pointed out that implied consent does not apply in this case.
He said that when people apply to get a driver's license they are signing a contract that says that people will consent to take a breathalyzer test if there is probable cause to believe that someone has over a .01 blood alcohol level.
"We actually can say here's a breathalyzer, blow," he said but pointed out, "We actually can't force a person to blow into a breathalyzer, that's impossible.  So if a person refuses to blow, then administratively the Department of Motor Vehicles suspends a person's driver's license for a year.  There's a sanction for not consenting to that sort of test."
There is no implied consent for this ordinance, "so we cannot compel a person."  So if a person refuses, and the police can demonstrate through evidence – observed actions and behaviors – that an individual is over the .01 blood alcohol level, then a judge could still impose the ordinance on the individual.
Captain Pytel argued that this ordinance does not give police the ability to stop anyone on the street who is under the age of 21.  "They have to be displaying some objective symptoms that they have alcohol in their blood," he said.  "That's tough to do.   Because the average person who is at .01 is not going to be displaying objective symptoms.  It's going to take someone who has had quite a bit more alcohol before they begin displaying such symptoms."
John Youmans said, "There seems to be a lot of mistrust that this is pointing at them and nobody else."  He continued, "This is pointing right at them and they don't like it.  I have to believe it's probably true they have a valid point."
He asked Captain Pytel for an estimation of how many people they plan to cite.
"I don't know for sure," Captain Pytel replied.  He cited current laws involving minors and alcohol at parties where it is illegal for the person throwing the party to furnish alcohol to minors and suggested that most people cannot think of a single person cited under these laws, despite the fact that they are violated all the time.  "That's a current ordinance we have.  It's perfectly legal and perfectly enforceable.  But I have to admit, it's very hard to enforce that one."
He added that, unless people are out causing a problem, they are not likely to draw attention to themselves and unlikely to be cited under this new ordinance.
John Youmans, "For me it's hard to be against [the ordinance] because it makes sense.  But there's a real credibility issue – an us versus them issue that the community needs to get over before the city council acts."  He added, "I'm really perceiving that from this talk we've had."
With the students unanimously voting to oppose the ordinance, the matter now will come back before council.  They must act on it within 45 days of Picnic Day if they wish for it to be in effect on Picnic Day.
However, at least at this point, it seems questionable that the council would want to go forward without support and buy-in from the students.
—David M. Greenwald reporting