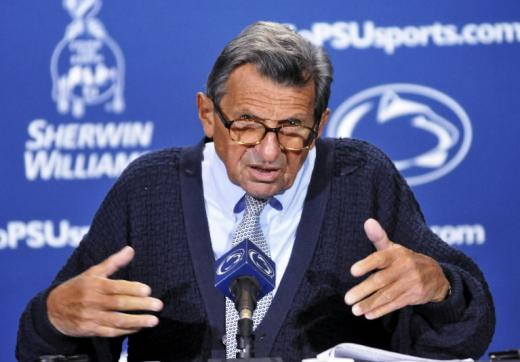 By E. Roberts Musser
The following are interesting tidbits emanating from the Penn State University sex abuse scandal (in which former football coach Joe Paterno only reported molestation allegations of a minor, by one of his defensive coordinators Jerry Sandusky, to his immediate superiors but not to law enforcement):
Paterno repeatedly clashed with the University's former chief disciplinarian Vicky Triponey.  According to Ms. Triponey, Paterno believed she had "no interest [or business] holding… football players accountable to community standards.  The Coach is insistent he knows best how to discipline his players… and I think he was saying we should treat football players different from other students in this regard."  Triponey ultimately resigned her post over "philosophical differences".

The alleged victim who initially triggered the child molestation case was forced to leave school because of being severely bullied.  He was ruthlessly criticized by fellow students, who were inappropriately responding to the firing of Joe Paterno.

Former FBI Director Louis Freeh has been assigned to lead the Penn State investigation into the child sex abuse scandal.  Freeh intends on going as far back as 1975 in the records, the entire time Second Mile has existed, a youth charity the alleged molester Jerry Sandusky started on the Penn State campus.

Two new cases of child sexual abuse against Jerry Sandusky have been filed.  It would be the first charge to involve children.  Thus far all the victims are now adults.  One of the new victims is a member of Sandusky's own family.  Sandusky waived his right to a preliminary hearing, which moves him directly toward a trial on sex abuse charges.  Sandusky is out on $250,000 bail while awaiting trial.

Second Mile, the charity founded by Jerry Sandusky for at-risk youth, is beginning the process of disbanding.  It will transfer its programs to other charities.  It has launched its own investigation into the claims of child sex abuse.

The 84 year old wife of Joe Paterno was reportedly asked to leave an on-campus swimming pool where she normally exercises regularly.  Supposedly she was told she could no longer use the facility.

The University is facilitating a number of town hall meetings, to answer the many difficult questions swirling around the University and its conduct in regard to the alleged molestation of children on campus.  Reactions are mixed, ranging from: irateness at the University officials for failing to report child sex abuse; to rage over allowing Paterno in having so much power; to anger over the firing of Paterno himself.  There have been strong suggestions from members of the audience that all of the Penn State Board of Trustees resign en masse.

During a lengthy interview at his attorney's home, Jerry Sandusky claimed he never spoke to Paterno about any suspected misconduct with minors.  Sandusky also said he never abused a child and that his work with children was "misunderstood".

Eighteen months after an investigation into Sandusky's questionable contact with young males, he was denied a volunteer coaching job at a central Pennsylvania college after a background check was completed.

Questions are now being raised about whether Sandusky's wife knew about his alleged pattern of molesting young boys.  Mrs. Sandusky called the sex abuse allegations baseless and continues to believe in her husband's innocence.

Penn State will no longer license images or the name of former coach Joe Paterno.

The 84 year old Joe Paterno refractured his pelvis following a fall in his home.  He is also undergoing chemotherapy and radiation for treatable lung cancer.  Thus far Paterno seems to be recovering well.

Mike McQueary was a key witness in the child sex abuse case and a former Penn State assistant coach. He testified during the preliminary hearing of two Penn State administrators, who supposedly failed to report the alleged abuse as required.   McQueary went on record as saying he witnessed what he believed was a rape of a 10 year old boy by Sandusky in a Penn State locker room.  However, McQueary told a different story to a friend, insisting he did not actually see the rape itself.

Mike McQueary waited a day after allegedly seeing child sex abuse before reporting it to Joe Paterno.  Paterno waited another day before notifying the University's athletic director, who then contacted the University's Vice President.  Paterno told a grand jury that he waited as long as he did because he didn't want to interfere with anyone's weekend.

New England Patriots offensive coordinator and quarterback coach Bill O'Brien has been selected to take Joe Paterno's place as head football coach at Penn State University.  Jay Paterno, Joe Paterno's son and a quarterback coach at Penn State under his father "Jo Pa" for 17 years, spoke with O'Brien.  Both "reached the conclusion" that Jay Paterno would not be a part of the new football staff at Penn State.  Jay Paterno is uncertain of his employment future and what he wants to do from here.

Another son of Joe Paterno, Scott Paterno, complained that his father's ouster was not handled well.  He points out that his dad was given no notice, nor hearing before termination.

For the first time since his firing, Joe Paterno decided to speak with the media.  He said he "didn't know which way to go" after McQueary told him of seeing Sandusky engage in child sex abuse.  Paterno claimed McQueary "didn't want to get specific" about details of the molest.  Paterno further added, "I didn't know which way to go… And rather than get in there and make a mistake…", and then trailed off in his comments to the reporter.
Lesson to be learned: Sometimes the cover up is as willful, deliberate and grim as the crime itself.  When in doubt about child sexual abuse, report it to law enforcement.  Any private or public entity caring for children/young adults should always make sure that all its members are subject to oversight and discipline – subject to at least, at a bare minimum, community standards.  I would argue private/public entities heavily involved with tending to children should be held to an even higher standard of care.
Elaine Roberts  Musser is an attorney who concentrates her efforts on elder law and aging issues, especially in regard to consumer affairs.  If you have a comment or particular question or topic you would like to see addressed in this column, please make your observations at the end of this article in the comment section.