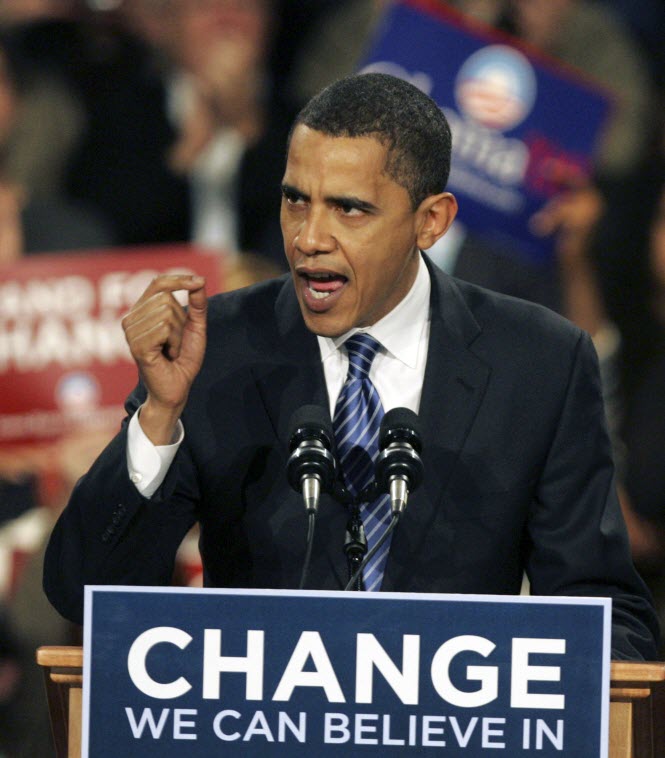 It is a provocative headline, but there is some truth behind it as well.  There are political scientists who believe that political campaigns do not matter.  What matters is the state of the economy prior to the election.
This week, a model, one of many in existence "created by David Rothschild and Patrick Hummel, predicts that Mr. Obama will carry 303 electoral votes this fall."
The article appearing in CNET argues, "In reviewing the last ten presidential cycles, the researchers say that their model correctly predicted the eventual winners in 88% of the 500 state elections that took place. Between now and mid-June, they they assume that personal income growth remains average for a reelection year and that the president's approval rating remains at or above its current 48% range."
"One of the interesting findings of the research is, quite frankly, that you can predict outcomes of elections with pretty amazing accuracy pretty far away," Rothschild said.
The article reports, "The researchers found that an increase or decrease in unemployment trend lines was a much more powerful predictor of election results than the unemployment rate itself. In particular, a key data point was the state-by-state growth in income in the first quarter of the election year. With the main economic indicators trending up, albeit at historically depressed levels, they say that's an encouraging harbinger for an Obama victory."
"The net effect of campaigns are meaningful but not massive," Mr. Rothschild said. He said that the economy's first and second quarters (in an election year) "more strongly correlate with a president's reelection chances."
A few months ago, most prognisticators believed that the sluggish economy would make it difficult for President Barack Obama to win re-election.
However, the growth in the jobs market has changed a lot of that prognosis.
It is one reason that you will see an increased debate over whether or not the economy has improved.
That debate already emerged on the Vanguard this week.
One poster noted the discrepancy between the continued low tax revenue of local and state government and an improving economy.
They argued, "Don't you find it suspiciously convenient that the economy has suddenly/miraculously 'turned around' in a few short weeks?"
This leads them to suspect malfeasance: "Anyone who knows about gov't statistics, knows to what huge extent those statistics can be manipulated."
Rich Rifkin, part-time columnist for the Davis Enterprise, made the comment on the Vanguard, "I expect left-wingers to be stupid and partisan when it comes to not understanding or accepting macroeconomics. As a centrist with degrees in economics, I am more surprised–perhaps I should start watching Fox News–that right-wingers would be so dumb and partisan."
He pointed toward the Dow: "It has moved up to almost 13,000 points in recent days. On July 1, 2010 it closed at around 9,732. That 3,300-point move up in the Dow did not occur because of Obama's words. It has moved up as our economy has improved–notably because over the last 2 years inventories have reduced dramatically."
"What I expect in the next 12-18 months is this: a big increase in the tax revenues paid to the state governments and to the federal government," he said.
Mr. Rifkin is likely correct, as government revenue is actually a lagging indicator, in part because taxes are collected primarily from previous quarter's earnings.
In response to the notion that this change is sudden, as though timed by the election, Don Shor noted, "The economy is not 'suddenly' on the upswing. I follow retail sales numbers; they have been steadily, slowly improving for about two years now. Unemployment numbers have been steadily, slowly improving for 3 – 4 consecutive quarters. What baffles me is why you think this is sudden."
This week, President Obama's approval rating, also a lagging indicator, pushed to the break-even mark in at least one poll.
The economy is clearly recovering, but I am hesitant to put the November election in the bag for President Obama just yet.  This week, the GOP has turned to the gas price issue, and gas prices are likely to push toward $5 a gallon by Memorial Day.
The economy remains fragile, and crises loom potentially in the Middle East and Europe.  Such factors have disrupted this weak recovery in the past.
Still, all seems more robust.
Unlike some of my former Political Science colleagues however, I believe that more than just the economy matters.  I believe that campaigns also matter.
For some time, I have believed that 2012 would prove to be 2004 all over again.  Democrats in 2004 thought they had it won.  The economy was growing, but not strongly.  The war was unpopular and President Bush was listless.
However, what emerged was a weak field of candidates and the strongest candidate emerging from that field, despite twists and turns, was the guy who appeared strongest at the start, John Kerry.
Senator Kerry would prove to be a poor candidate, quickly allowing his greatest strengths – his war record – to be used against him.  It is remarkably similar for Mitt Romney, and not just because they ironically share the same state.
The electoral map worked against John Kerry from the start, and he needed to win the big state of Florida, which Al Gore believed he had won in 2000, or the state of Ohio, in order to win the election.  When he could win neither, he was toast.
Nate Silver, who parlayed his FiveThirtyEight blog into a gig with the New York Times, argues that the forecast models suggest "that Mitt Romney is likely to fare better than Rick Santorum in the popular vote against Barack Obama."
The problem is that it is not that good, and his advantage is not what you would think.  "Specifically, the model would give Mr. Romney a 40 percent chance of winning the popular vote against Mr. Obama given G.D.P. growth of 2.5 percent this year," but only a 23 percent chance for former Senator Rick Santorum.
Writes Mr. Silver: "Mr. Romney's comparative advantage in the model is based on a set of four objective indicators of candidate ideology, which suggest that Mr. Santorum is further from the center of the electorate on balance – an unfavorable factor historically."
Mr. Silver argues that, once you look at the states, you realize that the electability gap is not all that great.
He argues: "Specifically, it estimates that Mr. Romney's more moderate ideology is worth a net of about 3 points in the popular vote – so an election that Mr. Santorum would win by 4 points, Mr. Romney would win by 7. The reason it looks bigger in terms of their respective odds against Mr. Obama is because the election is still projected to be fairly close over all, in which case any small advantage or disadvantage can be meaningful."
The problem that Mitt Romney now faces is the map, and he is running poorly in the Midwest.
"In the recent Pew poll, Mr. Romney trailed Mr. Obama by 11 points in the Midwest – worse than his overall 8-point deficit. And he got just 42 percent of the vote among whites whose families make less than $30,000 per year, worse than the 46 percent that John McCain got in 2008," Mr. Silver reports.
If President Obama wins all of the Midwest states other than Indiana, and all of the Democrat base states that his party won in 2000 and 2004, President Obama would have 266 electoral votes or four shy of what he needs.  Then he would just need one of the states that Democrats won just once in 2000, 2004 or 2008, and that includes Nevada, New Mexico, Colorado, Missouri, Florida, New Hampshire, Virginia or North Carolina.
Democrats will breathe a sigh of relief at these analyses, while Republicans will note the tenuous nature of the assumptions and perhaps question the concept altogether.
I agree with the Republicans here, by the way, there is too much that can happen between now and November to change the dynamics.  Just look how much they have changed in only three months.
But Republicans should be scared – Mitt Romney is about the least compelling Republican candidate since Bob Dole.  He is awkward about his $21 million in annual wealth.  He is big money at a time when big money is looked at with distrust.
I know the Republicans thought they had this race won already, but look no further than 2004, this is the same scenario in reverse.
—David M. Greenwald reporting