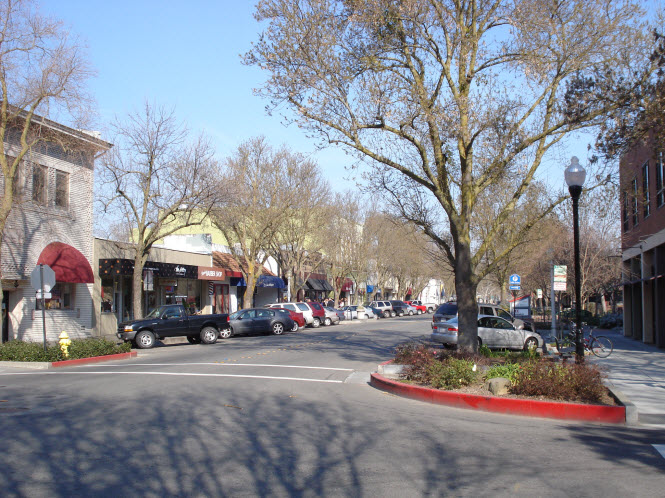 When Kemble Pope sent me his comments from last Tuesday's council meeting, which began with an economic summit, I figured his comments would be controversial. What I did not guess was that his comments would trigger a lengthy discussion of Davis economic development policies.
In the coming election, it is a foregone conclusion that issues like water, the budget and the environment will be front and center.  Development is omnipresent, though somewhat diminished, since the days of Measure J votes and dwindling non-Measure J land parcels.  But perhaps a sleeper issue is economic development.
In recent years we have seen a much stronger and more serious push toward economic development as Davis realizes that the days of relying on auto sales are numbered.  Davis approved big-box development in the form of Target, and likely will not revisit that issue.  The city is using its remaining RDA funding to build a Hotel-Conference center where Caffé Italia currently resides, hoping to bring in precious tax money from that.
But the next frontier is clearly university spin-offs.  The university, under the leadership of Linda Katehi, when she is not battling for her career with the pepper-spray debacle, is pushing to increase its profile – and bring in over $1 billion in money for research and development that can be spun into precious native and indigenous history.
What we are seeing is a push from the business community.  In part, it is embodied in new Davis Chamber of Commerce Executive Director Kemble Pope, who perhaps brazenly and perhaps with good justification laid down the proverbial gauntlet last week when he called for the ouster of the city's economic development team.
Wrote Mr. Pope: "Let's plan now for the loss of Redevelopment Agency funding. Failure to plan really is planning to fail. Please ask for help from the community now to make the necessary budget adjustments so that we can minimize services lost."
He then added, "To that end, consider dissolving the City's entire Economic Development department and eliminate all staff positions related to the department. Set a date certain in the month of March and these organizations will come back here and present a succession plan to take over those responsibilities."
To us this was a call to action, suggesting that the economic development folks had been too cautious and not aggressive enough in moving forward a plan.
I stand by my comments that most everyone supports economic development in this city.
However, leaders in the business community are increasingly getting frustrated and impatient by the lack of quick movement on these issues.
This is embodied within the comments by Davis Downtown Business Association Co-President Michael Bisch, who challenged my comments on Sunday where I said, "Everyone supports, I think, business development. We support the idea of high-tech spinoffs from the university and figuring out better ways to capture the valuable point-of-sales tax revenue."
Mr. Bisch quickly responded, "To put it bluntly, this comment is divorced from reality. There are any number of loud voices in the community that do not share this view."
He added, "There are many more voices in the community, even on the council, who share the view, but work at cross purposes or do not act to further the objective at all."
"I mentioned at the economic presentations this past Tuesday that it will be extremely difficult to effectively engage in economic development without addressing 3 aspects of our local political culture:  1) Community Sustainability (environmental, social, and economic) 2) Intolerance of creativity and innovation  3) Barriers and constraints to fostering a robust local economy."
The problem here, I think, is not that some people support economic development and others do not.  The problem that Mr. Bisch is actually citing is that there is no agreed-upon path toward getting to where we want to go.  There is no consensus on what the future vision should be.
I would say, as I said before, "I agree that we generally need to figure out ways to expand our business community."
But Mr. Bisch would respond: "Such ways are figured out on a daily basis; unfortunately, they generally are met with a hail of criticism 'NO' crowd and apathy and flip flopping by the council."
This is the problem, I think, in that Mr. Bisch believes that as the business community sits around talking mainly to themselves and comes up with visions and proposals as to how they see things, going forward, that they have not taken into account that there is a broader community that has conflicting values.
Put simply, there are those who support business but oppose any expansion of the city into the periphery.  This is the issue involved in the re-zoning of ConAgra without testing in some measurable way whether the citizens would support, through a Measure J vote, some sort of peripheral business park.
There are those who wish to bolster the downtown, but are reluctant to see the downtown expanded upward.
The bottom line is that the impatience on the part of the business community, while understandable, needs to reflect more recognition that they may not have the support of the masses of people who vote for councilmembers.  And so if they get frustrated that the city is not moving fast enough, they need to understand why the city is not moving fast enough.
In the past I have proposed to Mr. Bisch and others a form of dialogue on these pages to enable the business community and the political community and other folks in this city to exchange ideas and visions.
I do not see consensus yet.  What I see is a lot of hard work by those in the city and those in the business community to come up with a vision, but little outreach into the world of the soccer moms and softball dads.  Little outreach into the environmental community that remains strong.
That is not to say that I do not share the frustration of many with the effectiveness of city staff on a whole host of issues, including many that I laid out last week.  But to really move forward requires a much more shared vision than I think is in existence now.  It requires patience and more hard work.
I see a lot of frustration in the words of people like Michael Bisch and Kemble Pope.  I understand where that comes from.   I am less certain that in the long run it will serve them well.
The bottom line is that to do what you think needs to be done will take the city councilmembers and the public to buy into it.  Try to see what will happen when you attempt a Measure J vote and you will see what you are really up against.
—David M. Greenwald reporting