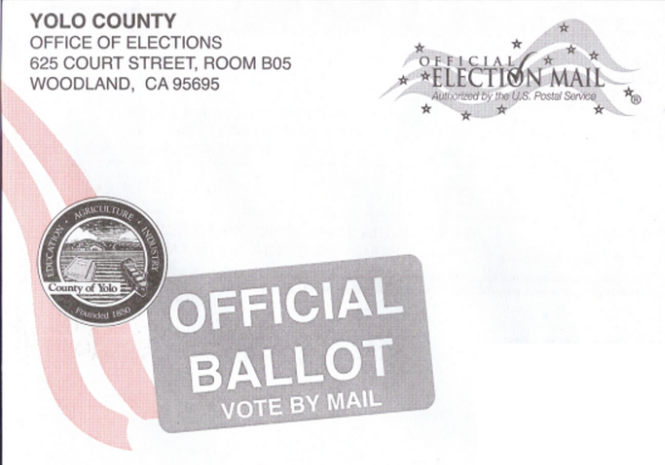 Ballots arrived this week for the March 6 Davis Schools Parcel Tax all-mail special election.  As they did, there were a few more letters to the editor in the local paper in opposition to the parcel tax.
While each of four letters that we evaluate makes their own points, none of them come to reconcile how the district will manage next year with $10 million less in its operating budget, which would represent a cut of about 14% from this year's budget.  The district is already having to make do with $3.5 million less due to ongoing structural issues, but if you add the $6.5 million that Measures Q and W currently fund, that number jumps to $10 million.
No one mentions that number or attempts to reconcile it.
Raymond Venner argues that school district funding is ample: "The Davis school budget is $63 million without Measure C funding ($69 million with C), which is ample if they put student academic achievement first."
He argues: "Acting like a typical government monopoly that it is, the public school bureaucracy always sacrifices students first (fewer days, fewer hours per day, curtailed Wednesdays), always leaving untouched lucrative pension and health care benefits and other perquisites [sic] and leaving untouched the many ancillary programs and the numerous administrators siphoning resources from the classroom."
Unexplored, of course, is how much money these "lucrative" pension and health care benefits are.  One of the points we have made over the years is that teacher's health care is actually quite a bit less than for city employees.
Moreover, you run into the fundamental problem that you have to negotiate benefits.  Teachers may take concessions this year, but if they do not, you have no choice but to do things like cut the number of days in the school year or layoff teachers.  Is it ideal?  No.
The writer does not acknowledge that the cuts to administrators came back in 2007 and 2008.  This is five straight years where the school district has had less money coming in than the previous year.
He adds, "Rather than searching for improved student learning at less cost, the school members instead search for clever ways to extract ever more taxes from local citizens.  Its latest scheme to exempt Davis senior citizens from this tax hike is a disingenuous effort to impose the tax on younger adults who, being busy with work and children, tend not to vote."
Actually, this extracts the exact same amount of money from local citizens, it simply is a tax extension.  I am all for ways to search for improved student learning at less cost, but I don't see any ideas proffered by Mr. Venner.
Frederick Becker argues that he is going to vote against Measure C, though he claims he is not "not hostile toward the public schools or children, and I don't believe the fiction that the system wastes taxpayer dollars!"
In fact, he argues, "I have proudly supported public education as a foundation of our democracy throughout my adult life, regardless of whether my own children were beneficiaries. Our schools have long been asked to do more with less, and starving them financially will not miraculously make our students better educated."
His problem is that he thinks that parcel taxes are "fundamentally unfair."  He writes, "They add to the financial burden of those who already bear the heaviest share or who are least able to pay."
He goes on to argue: "Prop. 13 is the direct cause of the fiscal crisis that is strangling our schools and other essential public services. It is the reason I pay more in property taxes than many neighbors who have lived here much longer. It is why Davis resorts to Band-Aid funding schemes that trade on guilt while deluding us into thinking we can correct a persistent budget deficit."
He adds, "We are part of a nationwide movement that demands that the rich and privileged contribute their fair share to the country's well-being. Before I vote to put any more of my tax dollars into the education kitty, I want to see our elected officials and civic leaders join with other communities to put real heat on Sacramento to scrap or radically alter Prop. 13."
"In the interest of fairness, fiscal integrity and our children's future, they can do no less," he adds.
Rick Entrikin argues that "Measure C is flawed from start to finish" citing that he is "torn between trusting the school board or the Measure C opponents."
He argues: "Having read all of the ballot arguments, it appears that the No on Measure C folks are being totally honest, by raising legitimate concerns over the actual rates we will be charged. On the other hand, the school board and ballot signatories supporting the tax claim that if we vote 'Yes,' we will simply continue to pay an existing tax."
He is obviously ignoring the part where the Measure C opponents have conjured up some faulty flaw in the vote-by-mail process that they keep repeating, no matter how many times it has been discredited.
He argues, "The voter information packet, however, gives the school board the leeway to increase our taxes as much as they want, whenever they wish – a blank check!"
I am not following him here.  The tax authorizes the levy of the same amount of taxes per parcel as the previous two parcel taxes combined.  It also authorizes them to account for inflation with an adjustment.
Mr. Entrikin writes: "However, the school board, either through arrogance, deception or a mere oversight, has placed Measure C on the ballot that caps our rates at the current level for the next five years, without any 'inflator' of any kind."
This is untrue.  If you read the full ballot text it makes this point clear: "To account for the impact of inflation on the cost of delivering the classroom programs and student services supported by the education parcel tax, the Base Annual Tax as set forth above shall be adjusted annually, commencing as of the 2013-14 tax year, for inflation by the change in the 'Consumer Price Index for all Urban Consumers California (1982-84=100)' published by the U.S. Department of Labor, Bureau of Labor Statistics."
The text continues: "In the event this index is no longer published, the Board of Education shall adopt a comparable index of general price levels as it shall reasonably determine. The Board of Education shall cause the Base Annual Tax to be levied at the adjusted amount, or at such reduced adjusted amount in any year in which the Board deems such reduced adjusted amount sufficient and appropriate to meet the District's budgetary needs, or believes such reduced adjusted amount is appropriate in reaction to State budget changes."
The language here is very specific and is clearly contained in the full text of the ballot initiative.
Mr. Entrikin may also want to read the impartial analysis by County Counsel Robyn Drivon, which states:  "If the measure is successful, the District's Board of Trustees would be authorized to levy a parcel tax for a period of five (5) years, from July 1, 2012 to June 30, 2017, at an annual rate of up to $150 per dwelling unit for all multi-dwelling unit parcels within the District and $320 per parcel for all other parcels within the District. Commencing in the 2013-2014 tax year, the rates as set forth above shall be adjusted annually for inflation by the change in the 'Consumer Price Index for all Urban Consumers California (1982-84=100)' published by the U.S. Department of Labor, Bureau of Statistics."
Mr. Entrikin only cites from the abbreviated language on the ballot, not the full ballot language, when he argues, "Therefore, by their own ballot language, the school board has been banned from increasing the Measure C school tax in any way for the next five years.  This is not a technicality; it is a fact."
He argues: "If the school district tries to collect more than the $150 or $320 per year, on anyone's property taxes, the parcel owner should refuse to pay, and sue the district immediately."
They can do that, but they will lose.
Finally, we have Thomas Randall, one of the authors of the argument against the measure, arguing, "A special election to hold a single-subject election should never be called by any governmental entity unless there are legitimate circumstances that exist to justify its timing."
He goes on to write: "This is because special irregularly scheduled single-subject elections generally do not attract as many voters as regularly scheduled elections do. They are an unnecessary waste of additional public resources, time and funding."
"Unfortunately, the Davis school board has set the election date for Measure C as a special stand-alone election date of Tuesday, March 6, as opposed to the statewide presidential primary election date of Tuesday, June 5, when many other races of additional local interest, including the Davis City Council, will be decided," he argues.
Of all of the arguments that they come up with, this one is actually valid.
But then he dips right back into the discredited arguments: "I applaud the content of Jose Granda's recently published letter that describes the heightened potential for fraud and other mishaps involving stand-alone single-subject elections (especially the all-mail-ballot type)."
As we have noted a number of times – there is no there, there.  The elections office has the same protections in place for mailed-in ballots as they do ballot box ballots.  That has been pointed out to Mr. Randall numerous times, but he keeps repeating the same lie.
He also argues, "I also call attention to the recent local court case to strike down certain parts of the sample ballot argument against Measure C; it was an unusual act of politically motivated censorship by the court."
Apparently Mr. Randall does not realize that there is no right to make false arguments on the ballot.
I would like to see some of the opponents figure out how the district is going to survive with $10 million less in money.  I  know that is too much to ask for, but it would make for an honest debate.
—David M. Greenwald reporting