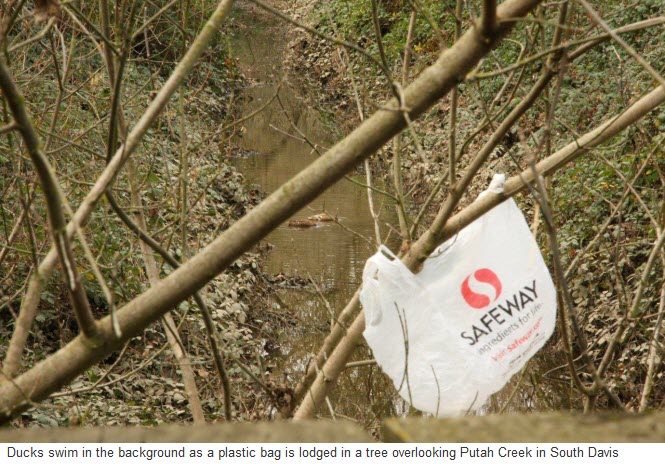 We often think politics are contentious here. It is not that they are not contentious, but sometimes we lose perspective that Davis and Yolo County are not nearly as unique as we think they are.
Opponents of the plastic bag ban have treated this as though it were a novel idea perpetrated in weird Davis when in fact, if anything, Davis is behind a trend that will ultimately see the elimination of the use of plastic bags – it is really only a matter of time.
However, in the interim this figures to be a heated issue.  As we have previously reported, San Luis Obispo County has beaten Davis to the punch with their Integrated Waste Management Authority, enacting a plastic bag ban by an 8-5 vote.
Now an attorney, Stephen Joseph, has filed a lawsuit on behalf of the "Save the Plastic Bag Coalition" – you really cannot make this stuff up.
He is arguing that the Waste Management Authority did not complete an environmental impact report, as the suit says they are at the least required to do.
"The board adopted the ban Jan. 11 after a heated four-hour meeting at which scores of people testified pro or con. Hundreds of others also made their feelings known through letters, phone calls, emails and personal contact," the San Luis Obispo Tribune reports.  "Under the terms of the joint-powers agreement that created the waste management authority, the 13-member board needed eight votes to approve or reject the ordinance. It received eight in favor."
A report in that local paper notes that in 2007, San Francisco became the first city in the nation to ban the free distribution of plastic bags, but other cities and counties have since followed suit with Seattle, Portland, Ore., San Jose, Los Angeles County, Washington, D.C., Santa Monica, Long Beach, Carpinteria and Fairfax having enacted some form of ban or limitation on the use of plastic bags.
The report also notes that the "Save the Plastic Bag Coalition," which is apparently not just limited to San Luis Obispo County, has also filed suits against Marin and Santa Cruz counties and the cities of Manhattan Beach and Long Beach.
They also note: "Environmental groups have accused the coalition and Joseph of being fronts for the plastics industry, which Joseph has denied."
Mr. Joseph characterizes the coalition formed in 2007, as a non-profit environmental organization.  Though he does acknowledge in one document found on his website, "Save The Plastic Bag Coalition ('STPB') was formed in 2008. STPB's membership includes (but is not limited to) companies and individuals engaged in the manufacture and distribution of plastic carryout bags and polyethylene reusable bags. Our membership includes Command Packaging and Crown Poly. They manufacture plastic carryout bags and polyethylene reusable bags that are marketed, sold, and distributed in San Francisco, including but not limited to plastic carryout bags provided to consumers by supermarkets, grocery stores, and food establishments (including but not limited to restaurants) in San Francisco."
Their website makes note of numerous lawsuits that they have taken part in.
Meanwhile, earlier this week, San Francisco approved plans to expand their plastic bag ban.
Shoppers in San Francisco will have to pay 10 cents per bag and more retailers are now banned from handing out plastic bags under a proposal approved Tuesday by the city's Board of Supervisors.
The City already banned large grocery stores and pharmacies from using plastic bags, and the new proposal extends that ban to restaurants and to gift shops, hardware stores, boutiques and other retailers.
The 10-cent charge would apply to any type of bag, such as paper, that stores give customers at the checkout counter. The stores would keep the money, the Associated Press reported.
"The intent was never to nickel or dime anybody," Mayor Ed Lee told the San Francisco Chronicle on Monday. "But if it takes 10 cents to remind somebody that their habits are in their control, I think that's something we're willing to consider doing."
Opponents such as Save the Plastic Bag Coalition argue that plastic retail bags are a tiny percentage of all litter in San Francisco.  They cite a May 2007 City of San Francisco Litter Survey Report that found that "plastic non-retail bags were 1.9% of total large litter and plastic retail bags were only 0.6% of total large litter."
They argue, "The solution to litter is to pick it up. In many parts of the San Francisco, the city does not pick up litter at all. Residents and business should be protesting vociferously about the state of city streets. There is also a lack of litterbins and overflowing litterbins."
They argue: "You cannot ban your way out of a litter problem.  That is a false solution."
The proposal, which would go into effect in October, has the backing of major portions of the business community, with support from the San Francisco Chamber of Commerce, the California Grocers Association and the city's Small Business Commission.
Mayor Lee supports a complete ban on plastic bags, though some small businesses expressed concerns, "arguing that the tougher policy would drive away customers with higher costs and give fuel to critics who say San Francisco's nanny-state politics are bad for business."
The mayor has said that he and several supervisors "are committed to modifications if the law [weren't] working as intended."
According to the Chronicle, "Stores that don't comply with the law would be fined $100 for the first infraction, $200 for the second and $500 each time after that. The Department of the Environment would oversee enforcement."
There are proposed exemptions, such as bags used to hold such goods as loose nails, dry cleaning, bulk candy and nuts, fresh flowers, meat and fish.
Mayor Lee argued that "as environmental awareness grows and more cities adopt bag bans and fees, public behavior will change."
That is really the hope that those supporting a plastic bag ban have.
—David M. Greenwald reporting