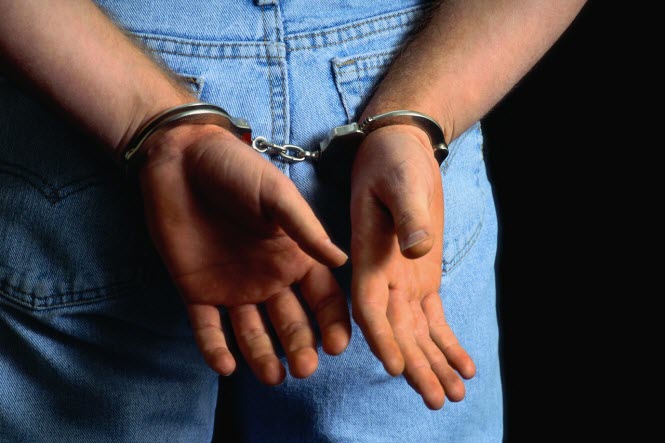 When five defendants – four of them juveniles under the age of 16 were arrested in January of 2011 for assault and robbery, the Yolo County District Attorney's office refused to drop the gang charges.  Because the gang charges remained in place, the DA's office was able to continue their direct filing of the juveniles.
Direct filing is when the prosecutor is allowed to try a juvenile as an adult, and Proposition 21, passed in 2000, increased  the ability to do that.
Eventually, the case that could have settled on the base offenses went to trial and the case blew up in the face of prosecutors as the defense was able to question the field show-up technique of witness identification.  Moreover, the gang charges – thin to begin with – did not hold up.
The jury ended up acquitting all defendants of the gang charges and three of the defendants of all charges.  Without the gang charges, the two defendants convicted of partial offenses were remanded back to juvenile court.
It has been long suspected that Yolo County works hard to direct file on juveniles – however, the data had not been forthcoming, despite several efforts by Yolo Judicial Watch to get reliable data on the matter.
That has now changed with a report released this week from the Center on Juvenile and Criminal Justice, which looks at a county by county analysis of prosecutorial direct file practice.
From our perspective, the most significant finding is that Yolo County is shown to have the highest direct file rate in the state.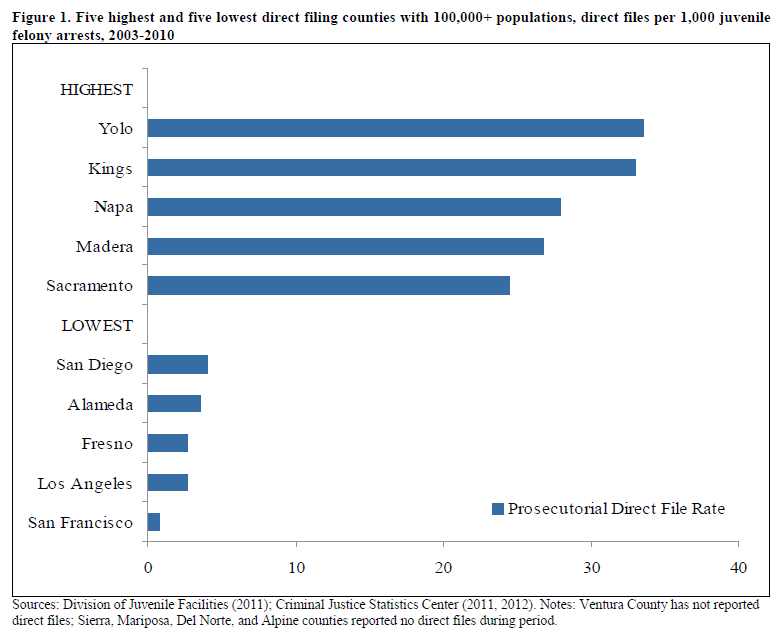 The overall study "examines county by county prosecutorial direct file practices between 2003 and 2010 to determine whether Proposition 21 (2000) has resulted in more commitments of youths to state institutional facilities than would have occurred otherwise."
The findings overall are not favorable: "The Center on Juvenile and Criminal Justice (CJCJ) finds that at least two-thirds of direct files do not result in state DJF [Division of Juvenile Facilities] or adult prison terms."
"Prosecutorial direct file has not proven an effective means of securing state prison sentences for youthful offenders compared to previously existing mechanisms, such as judicial transfer after juvenile court fitness hearings," the report goes on to find.
"While CJCJ was unable to determine the exact numbers of direct file cases that resulted in transfer from DJF to state prison at age 18, the number appears small and has declined sharply over the last three years. In addition, frequent usage of direct file appears to have no effect on crime compared to infrequent usage," the report continues.
Indeed, the overall increase in direct file rates results from a select group of counties, "whose prosecutors utilize direct file significantly more than the state average. This increase in direct file rates is not correlated to county juvenile court commitments to DJF."
Furthermore: "The data suggests there are 7 counties that continue to heavily rely on the state system through both high rates of juvenile court DJF commitments and prosecutorial direct filing and may require significant local capacity building if DJF were to be eliminated."
Daniel Macallair, the CJCJ Executive Director explains, "The passage of Proposition 21 (2000) provided California's district attorneys with unprecedented new powers to increase the number of youth subject to adult court prosecution. The rationale used to support this policy was based on the belief that the imposition of harsher treatment and lengthy adult prison sentences would deter future criminal behavior."
"Despite an overwhelming body of new research showing that exposing youth to the adult prison environment actually exacerbates criminal propensities, the use of direct file in California has expanded over the past 10 years," he argues.
"However," Mr. Macallair continues, "as this study reveals, once youth are transferred to adult court, two-thirds are not receiving state prison sentences, but instead are receiving lighter sentences in county jails where they have access to fewer services than youth who remain in the juvenile justice system."
"Perhaps one of the most troubling aspects in the use of direct file revealed in this study is the vast disparity between counties in its application. The data reveals that a small number of California counties are responsible for the vast majority of adult court transfers and that the practice is unrelated to population or crime rates," Mr. Macallair adds.
The report goes on to demonstrate, "Although rates of direct file roughly doubled statewide during 2003-2010, county prosecutorial practices again showed great variation, from an 1170% increase in direct file rates in San Joaquin County to a 44% decrease in nearby Merced County."
The report finds the increase in direct file rates statewide is attributable to a select group of thirteen counties, "whose prosecutors utilize direct file significantly more than the state average."
More telling: "With such sharp divergences among prosecutorial direct file practice, one would expect to see strong impacts on the areas direct file advocates claimed the procedure was supposed to affect: (a) more youths would be committed to DJF or transferred to adult prison after age 18; and (b) reductions in juvenile crime in high direct-filing counties due to incapacitation of offenders and deterrence."
However, neither of these trends transpired, the report finds.
"Overall, the counties whose prosecutors utilized direct file the most were not the counties showing the highest rates of commitments to DJF by both adult and juvenile court, nor, taken as a whole, did their trends in commitment rates vary from those of counties that direct-filed minimally."
For example, the ratio of county juvenile and adult court DJF commitments versus their use of direct file showed that Fresno (10 DJF commitments per 1 direct file), San Francisco (17:1), and Los Angeles (19:1) counties reported very few DJF commitments per direct file, while Yolo (283:1), Marin (275:1) and Orange (235:1) counties reported significantly more DJF commitments than direct files.
The report concludes: "At least two-thirds of direct files do not result in state DJF or adult prison terms. Prosecutorial direct file has not proven an effective means of securing state prison sentences for youthful offenders compared to previously existing mechanisms such as judicial transfer after juvenile court fitness hearings."
—David M. Greenwald reporting