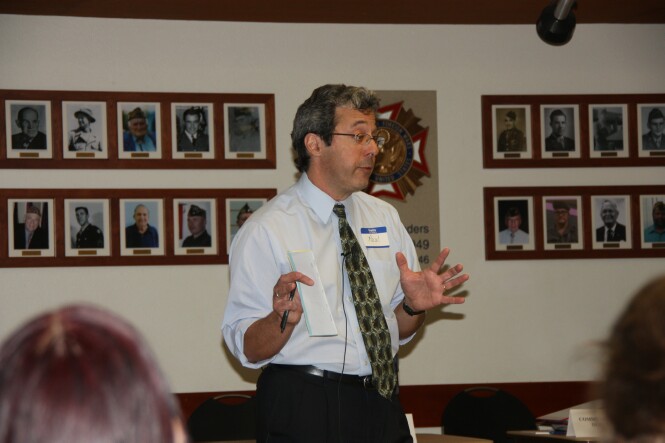 On the surface it seemed like a strange move.  One that many did not see coming.  Woodland hiring Davis' finance director, who only six months previously had been the interim City Manager for Davis, and was passed over for promotion by the city council's hiring of former Manteca City Manager Steve Pinkerton.
Put into the all-important sports analogy terms, it would be like the Dodgers not hiring their pitching coach who had served as interim manager, and then after the season ended, the Giants going ahead and hiring that pitching coach to manage their club.
But sports analogies do not get us all the way, either.  Paul Navazio is complicated person and a great intellect, but ultimately, in my opinion, not a great fit to be city manager in Davis, which practices public immolation of its public servants for sport.
Still, it was only an hour before the announcement that he was dodging a Vanguard question, in a two-by-two with the Chamber of Commerce.  At that point he gave no hint that just 15 minutes after the completion of that meeting he would send a message to the Council, the City Clerk's Office, the City Manager and the City Attorney, announcing that he had accepted the City Manager position in Woodland effective, April 23rd.
Supervisor Matt Rexroad was immediately skeptical, but Davis residents responding on his Facebook account were overwhelmingly positive.
While I would prefer not to bash Mr. Navazio's going out of town, I have obviously had very different experiences with him than others have had.
On a positive side, he is very capable, he knows his stuff and he is probably the smartest city employee. But while he has a pleasant and calming demeanor, my chief irk with him was that he would say one thing in private but the exact opposite in public.
He put forth budgets that he knew were overly-rosy because he was being political and mindful about undermining the position of the council majority.
In short, without the dutiful work of Paul Navazio, it would have been difficult for the council majority to have ignored the train wreck that he himself knew was coming.
It was May 31, 2011, that he finally would publicly admit that his budget assumptions were too rosy.
Of course, we knew this earlier.  In 2009, Lamar Heystek took on Paul Navazio by developing an alternative budget framework that took more conservative growth assumptions, and asked for deeper cuts.
Mr. Navazio's revenue assumptions called for a modest but immediate increase in revenue.
Mayor Pro Tem Saylor would later criticize Councilmember Heystek, saying he preferred to use Mr. Navazio's "real numbers" rather than "making them up."  He would later deride his colleague, calling his maneuver a stunt.
The reality is that, despite that criticism, Mr. Heystek's numbers proved to be more correct than the city's finance director's numbers.
With a new council in place, Mr. Navazio would pull out virtually the same tactics he had used previously, but this time council was not going to buy it.
Mayor Pro Tem Rochelle Swanson last year said that " 'pessimistic' needs to rule the day.  We need to be pessimistic now, rather than sorry later."
Paul Navazio in his discussion talked about the need for incremental funding increases throughout the five-year period for road maintenance, but he did not budget them.  He admitted that the city is not allocating nearly enough for road re-pavement.  But he still showed a positive revenue balance in the out years.
As Councilmember Sue Greenwald put it, the current assumptions did not assume any kind of cost-of-living adjustment, and the pension increases assumed estimates that PERS had given under current assumptions.
This is only part of the problem.  One of our big problems for years was that the city's deferred maintenance and other unmet needs was not counted against the budget, but rather put into a separate "unmet" needs category.
In 2008 for instance, this enabled the council to boast that they had a balanced budget with 15 percent reserve, while it was clear one of the reasons that they achieved this "feat" was due entirely to deferring costs of infrastructure, road repairs, and other needs to a future date – costs that were nontrivial, amounting to perhaps $13 million, depending on what was included in that category.
"A number of years ago, I pointed out that we were essentially balancing the budget by calling our deficit 'unmet needs,' " Councilmember Sue Greenwald said.  "As we've mentioned, they've accumulated and we've said that… we wanted to know what services we could restore.  I don't think that's a very accurate way to describe it.  We are not restoring services, we are trying to catch up with unmet maintenance needs that are getting really severe."
The critical question came back to how to fund local infrastructure and how to account for it in the budget.
"We're evading the big issue," Councilmember Greenwald warned. "The budget is not a realistic budget.  We're still saying that the budget is on its way to being balanced by having this enormous category of unmet needs."
"In the end we're going to have to spend money on our roads, on our sidewalks, our bike paths and we have to start putting it in the budget and we have to start spending it," she stated.  "We need to start being more realistic because what I've heard tonight is more kicking the can down the road."
Councilmember Greenwald then moved to direct staff to come up with a budget that reflects the true deficit, which includes a concept of the city's unmet needs.
City Manager Steve Pinkerton said, "You want a budget that reflects our physical needs, both ongoing and the deficit."
Councilmember Greenwald said that we need the budget to reflect both unfunded liabilities and unfunded needs and a way to pay them down, just as the city has a plan to deal with unfunded health liabilities
As Councilmember Greenwald put it, it was disingenuous to have these mounting costs and suggest at the same time our budget was balanced.
How this will work, of course, remains to be seen.
At the same time that Councilmember Sue Greenwald was critical of these policies, she was oddly supportive of Paul Navazio, making arguments for him to be named as full-time city manager.
She also would defend the failure of Mr. Navazio to meet the council-directed $2.5 million in cuts this year.
Councilmember Sue Greenwald, during September's discussion on the budget, defended the finance director: "Paul [Navazio] did prepare the specific reductions we asked for…  Paul said he prepared a list that did exactly what we asked for… to basically cut $2.5 million from the general fund and a list of positions to be reduced."
"So he did do what we asked for, but he just didn't think it was wise – obviously it would have a profound effect on employee morale if we didn't want to just do the layoffs.  I can understand that, since Paul has the job of both presenting these figures and keeping people working."
"If we wanted it, he could do it.  I don't think it's the right idea now," she said.
"I think presenting to the council to sort the various options we've evaluated is the necessary next step," Paul Navazio told the council in September.  "I think what we were struggling with internally…is kind of that [the] next level is the implementation and implication for actually implementing those.  What might be easier to implement in terms of short term savings, might not necessarily be where the council ends up wanting to be in terms of organizational structure."
Mayor Joe Krovoza was more critical about the lack of apparent progress in the three-month time frame that the council gave Mr. Navazio.
The mayor said, "While we don't have $2.5 million in cuts here, we don't have two, we don't have 1.5, we don't have one, we don't have 500."
"We have spent three months," he said, pointing out, as well, that even the Finance and Budget Commission had the better part of two months to look into recommendations for cutting $2.5 million from the budget, "to at least start to bring us some movement on this issue."
On a personal level, I like Paul Navazio, as he is professional, he works hard, and in a lot of ways he is sincere and had some very good ideas for re-shaping the city.  But too often he was never able to rise above the background noise to implement those changes that he knew needed to occur.
At the same time, there has always been the nagging feeling in the pit of the stomach about Mr. Navazio.  From the very start, he appeared to be a guy that would say what the person in the room wanted to hear.  I had heard this from others, but saw it myself, as well.
His budgets were always overly-rosy, as we noted, with the example from Councilmember Heystek's alternative budget.
The bigger problem is that I have long suspected that Mr. Navazio is hiding numbers on the real impact that pensions and the unfunded liability will have on the budget. 
It is very tempting to try to excuse some of Mr. Navazio's budget projects by arguing that he was essentially forced by those in power, namely Bill Emlen and Don Saylor, to paint an optimistic picture of the budget.  I think that is where the sympathy from people like Sue Greenwald comes from, knowing that, at least in private, Mr. Navazio was someone who would give her the truth.
However, we can forgive him for his rosy budgets under Bill Emlen and Don Saylor, but it is difficult to forget his initial 2011 budget or the fact that little to no progress had been made on the budget passed by the council in June 2011.
The city's roads and the amount of deferred maintenance are now at critical levels, the city fumbled the impasse with DCEA and the city's fire merger has collapsed. While some of these are not the fault of the finance director, they do illustrate the need for the city to have acted more concertedly on those $2.5 million in cuts.
Despite all of this, I think Woodland will be a much better fit for Paul Navazio than Davis was.  They operate with far more consensus, less public scrutiny and far less acrimony than the Davis community.
Moreover, he will get a chance to advance his career, while keeping his kids in the same schools and his family intact – something that was always important to him.
I will watch with interest how he operates in Woodland.  I will also watch with interest what Davis does for a finance director.  I am again inclined to hire from outside the city, as a way to continue changing the culture.  Even if that costs more, that is the right thing to do.
—David M. Greenwald reporting