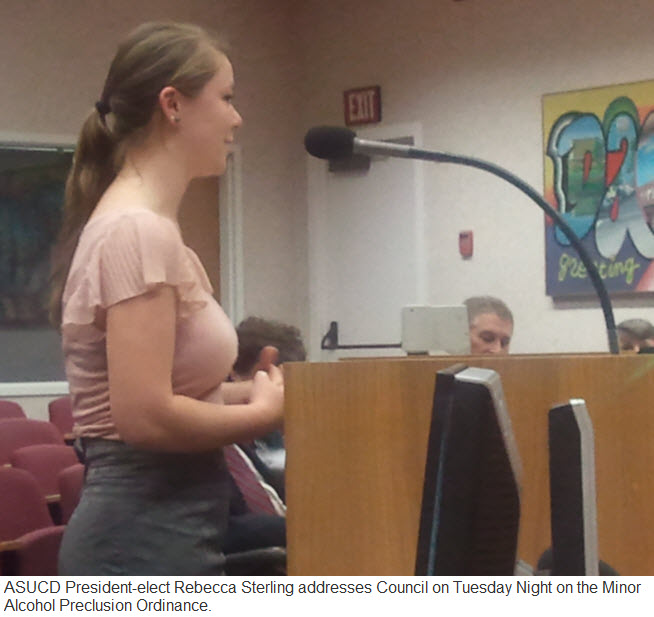 Police Chief Landy Black was back before the Davis City Council to push for passage of the Minor Alcohol Preclusion Act, that would make it an infraction, payable with what would ultimately be a 240 dollar fine for an individual under 21, to be caught having consumed enough alcohol to register a .01% blood alcohol content, in the City of Davis.
However, Mayor Joe Krovoza's motion to adopt the staff report died for a lack of a second and the remaining three members, in the absence of Councilmember Stephen Souza, were not ready to pass the ordinance, citing the lack of support and buy-in from students who had assembled, as well as concerns about the civil liberty implications of the ordinance.
Following the lead of Mayor Pro Tem Rochelle Swanson, the four councilmembers unanimously backed a plan that would send that matter back to the Student Liaison Commission for ninety days.
This is not about more outreach, the Mayor Pro Tem clarified.
"This isn't just tasking the police department to kind of go out… [and do] a second round," Mayor Pro Tem Swanson said.  "I would like to task the commission and task the students and task the folks with the schools to actively sit down and realize this is crafting language for something to come back.
The item as originally presented would be a "a potential solution to curbing unlawful nuisance drinking and rowdy partying behavior, as well as punishing those who choose to ignore the law," by making "it unlawful for any person under 21 years of age to have a blood alcohol content equal to or greater than .01%, by weight, on any street or highway, or in any public place, or in any place open to the public."
The staff report argued that, while the state regulates most issues involving alcohol, it does not completely regulate the private consumption of it.
The council at that time passed the first reading of the ordinance, under the understanding that the UC Davis Student Liaison commission would weigh in and the matter would come back before the council.
In late January, the Student Liaison Commission, comprised mainly of students with a few voting members from the public at-large, voted to oppose the ordinance.
According to the staff report, the police have done the kind of follow-up they needed to do prior to the introduction of the original ordinance.
However, on Tuesday night, a number of students continued to oppose the ordinance, despite acknowledgments about the outreach work the chief and his department did.
ASUCD President-elect Rebecca Sterling thanked Chief Landy Black and Captain Darren Pytel telling them, "Recently there really has been outreach to students to try to gain more of a student input into this ordinance than was originally sought out."
However, she remains opposed to the ordinance.
"I think that this is not tackling the real issues as has been addressed," she said.  "The amount of money that this is going to cost the student body – if a student gets this kind of ticket – as a student our fees are skyrocketing and students are in debt, students are facing so many loans, this is not conducive."
"This is also creating divisive lines that we are struggling with between our students and our police," she added.
Another ASUCD Senator, Bradley Bottoms added, "Especially over the last several years that students views on police relations has changed."
"With the pepper spray incident especially, I feel like there has been a major shift and students are no longer seeing police as allies and starting to see them more as the other, which I think is a really dangerous situation considering how I was growing up, I always thought that police were there to help us," he said.  "I think if this goes forward, more students are going to feel targeted."
Erica Padgett, an ASUCD Senator said, "I understand the intentions of what this is trying to do and I fully believe that we need to work together and make it better.  However, the impact of this will actually in my opinion be detrimental to the relationships between the students and the police."
"Even though we don't have 100 students in here," she added, "We have several elected officials within our student government and they represent literally THOUSANDS of students at our university.  That is huge…  I get frustrated that my voice is not being heard because it's not just me, it's a lot of the students at our university."
Carly Sandstrom, the External Affairs Commission chair referenced the fine and said, "$230 for a student is a ton of money."  She noted that students are required to have around a 4.0 GPA to enter UC Davis – "These are not students that are causing a huge nuisance in the Davis Community.  Where there is such a nuisance, I think that there are already policies in place to tame those who are causing that nuisance."
A former ASCUD Senator added, "To me this is not about allowing a number of underaged students getting away with drinking…  To me it's about feeling at home in Davis."
Gina Gindi, the ASUCD City and County Affairs Director said that they had polled a large number of students on this issue.  She reported that 96% of the participants in their survey were in opposition to the ordinance.
"It also showed that half of the usual people that walk home from parties in small gatherings would now choose to find a ride home, drive themselves or sleep at the party location," she said.
"I believe that there is some very serious negative consequences that will come from the passing of this ordinance," she added.
Many of the students said that, despite the changes to the ordinance that would protect those students who call 9-1-1 in an emergency situation to be relatively immune from the ordinance, most felt that it would still discourage 9-1-1 calls from students in an unsafe situation when they had been drinking.
While students focused on the issue of college students, Trece Peterson from Davis Police Department, Sheila Smith the Vice Principal from Davis High, Michelle Famula from the university, and community member Elaine Roberts Musser all expressed serious concerns about drinking among those 13 to 17 years of age, both from the standpoint of nuisance as well as health issues.
Mayor Joe Krovoza said, "Probably the most concerning thing about the ordinance to me is the prospect for abuse – in that I mean that people would be singled out and stopped when there isn't cause to do so."
He asked the chief what would be the best protection that we have against this possibility.
The mayor mentioned the reasonable suspicion criteria.  "I would assume that if someone is walking down the street, it's four a.m., they're minding their own business on the sidewalk… that is not reasonable suspicion to do anything under this ordinance."
He wanted to know if this council "could add more language to protect against the ordinance being abused outside of its intent."
Chief Landy Black took some offense to the notion that they would use this ordinance to abuse the rights of students.
"The standards by which we would operate under under this ordinance, are the same standards that we currently use," he said.  "We have a clean department that is well-trained, well-educated and familiar with how to do things in a way that don't violate people's rights.  We stand on the principle of the Constitution."
"The issues that everyone has raised here is almost offensive to a good police officer," he said.  "We pride ourselves on being good police officers.  We don't violate people's rights."
"The circumstances of an individual walking down the street and just being picked out because of their youth to blow in a PAS device is absurd," he said.  "We have far more better things to do than to look for young people walking down the street."
City Attorney Harriet Steiner noted that there is a large body of law as to what constitutes reasonable suspicion.  To use the standard of reasonable suspicion, she argued is to use a standard that both officers and the courts are familiar with.
"To set up a separate standard for this ordinance as opposed to all other ordinances would make it I would think more likely that we would have an issue or more likely that we would use a standard that we would have a harder [time] using across the board and making it fair to everyone," she said.
She added that she would recommend using the same standards we use for everything.
While the council has not yet implemented this ordinance, it is clearly heading in that direction.  What has emerged however is that the students, representing 18-20 year olds, are concerned about police encounters while the issue for young minors, those ages 13-17 and perhaps younger, is very different and represents a very real health threat.
In the coming months, perhaps it will be possible to separate these issues and deal with very different sorts of concerns.
—David M. Greenwald reporting