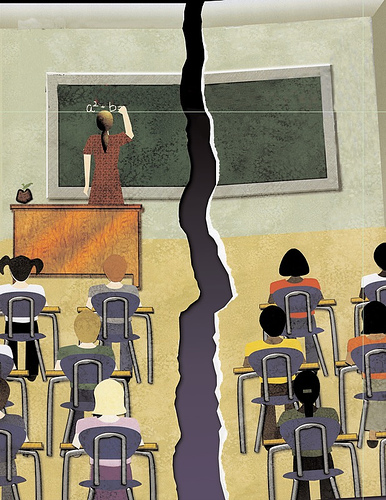 The Vanguard covered the school board's March 8 special meeting at Harper Junior High, where they listened to opposition from parents, particularly parents of Pioneer Elementary School students, to a recommendation possibly splitting the elementary schools.
On Thursday of last week the board gave specific direction to the superintendent to follow up, in the form of three options.  First, they asked the superintendent to look into the extension of Spanish immersion that would go from K-6.  It is currently K-3.
Second, they are looking at dual immersion at Montgomery.
Finally, they are looking at the allocation of resources.  Superintendent Roberson indicated that they have already changed the principal, as well creating a community liaison position at Montgomery.
"We are looking at some other tweaks that could be done with personnel to assist the program there," Superintendent Winfred Roberson said.
Board President Susan Lovenburg felt the meeting was a positive overall.
"Everyone who attended the meeting received the presentation of data and weighed the pros and cons of the various strategies considered.  They listened as their neighbors expressed their hopes and fears," she said.
"Every person left that meeting better informed of the facts and with greater understanding of the diversity of views," she added.  "I can only believe that will build tolerance and a willingness to work together toward solutions."
"To consider effective programs for all of our students, we need to look at the evidence and the likelihood of successful outcomes, and that's what we asked our staff to do in the coming weeks," Board Member Gina Daleiden told the Vanguard.
"We do not yet know if a form of dual immersion is the right program for our district, but we do know that there is a body of evidence ( with some indications of success) behind various models of this program, and so the Board directed staff to investigate dual immersion (different than full immersion) to better understand this option," she added.
On Friday, Superintendent Winfred Roberson told the Vanguard that he does not believe there is a problem with prejudice at play here, though he was very critical of at least one comment made at last week's meeting where a parent said that she told Spanish speakers to speak English while volunteering in her daughter's classroom.
"The District's position on that is that we don't support it," Dr. Roberson told the Vanguard.  "Our job is to help students to transition and become proficient in English but we don't tell students that they don't speak Spanish because we teach Spanish in our schools – it's one of our foreign languages."
"I had a chance to talk to the principal about the comment to address that.  We love our parent volunteers but we have protocols in what's said towards our students," he added.
Overall, he told the Vanguard he did not have data that would suggest prejudice.
"What I see are parents who are really being protective of their school, of their neighborhood program," he said.  "I don't know what's behind it -I just think it's natural for parents to want to protect something that they're familiar with."
Board President Lovenburg told the Vanguard, "I was impressed by the mostly respectful dialogue."
"These are difficult societal issues grappled with by communities all over the state and nation, and there are simply no easy answers.  The inequities are more immediately apparent to the Montgomery community who live with them on a daily basis," she said.
"The Pioneer community does not yet feel the same imperative.  Their response is to resist changing what they view as a favorable environment for their children," she added.  "I have empathy for both school communities."
Some of the demographic issues have to do with residential patterns within Davis.  Many have noted the location of some of the affordable housing, a factor likely to be exacerbated with the development of the New Harmony affordable housing project in South Davis.
Winfred Roberson noted that that portion of Davis, adjacent to the Montgomery school, is one of the least expensive parts of the city.
There are a number of factors overall that have contributed to the trends that have emerged, including the choice and distribution of programs across the city.
"I can't say that any one [factor] in particular would be the sole blame or cause of it, but there are multiple factors that have led to it," he said.
Others have suggested that the district has created some of these problems through liberal transfer policies and school choice options, coupled with specialized programs that vary school to school.
"Choice has really been one of the hallmarks of Davis," he said.  "What we are looking at… is how they impact our program enrollments.  I don't have enough information right now to say this is the problem.  But it's something we're looking at."
Despite the troubles, Superintendent Roberson and the board believe that they are making progress to solve these concerns.
Board Member Gina Daleiden told the Vanguard, "A more thorough look hopefully will include some site visits and talking with experts, staff and parents in other school districts who have implemented a version of the program with both successes and challenges."
She added, "If we're serious about continuing to address the achievement gap, we have to look at the evidence, research and experience behind approaches.  When we have this information, then it can be a fuller conversation with our parents and staff about options, and we can better evaluate the fit for DJUSD."
She noted, "We also asked for some information about how we might expand the Spanish Immersion program at MME, what the benefits and impacts would be for the school site(s) and students, if it would preclude other options down the road, etc."
"The final piece of Board direction was to ask the teachers at MME if they had additional requests for resources or ideas for program exploration," Ms. Daleiden stated.
—David M. Greenwald reporting