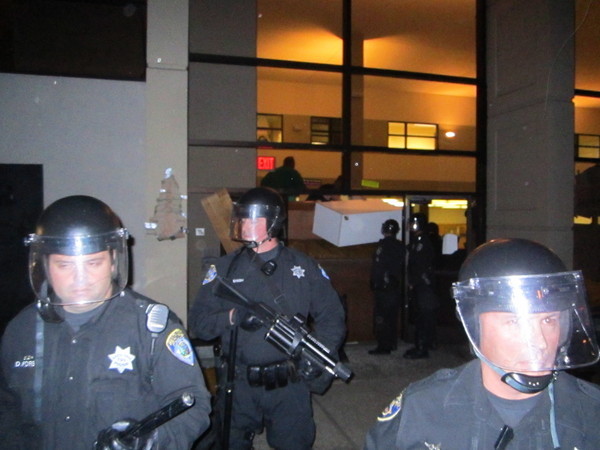 It is not a secret that, in their endeavor to bring the world their story, journalists expose themselves to risks similar to those which confront the individuals they are covering. Look no further than the journalists who have been kidnapped and murdered covering war and other activities in the Middle East.
At the same time, while covering a war zone, one has to know there are risks and accept them.  Covering the occupation of a bank, perhaps less so.
But that is precisely what two photojournalists face who claim they were working, in the capacity of being journalists.
Alex Darocy and Bradley Stuart Allen were among eleven people charged with two felony counts of vandalism and conspiracy, and two misdemeanor counts of trespassing. The charges stem from the takeover of the building at 75 River St. in Santa Cruz late last year.
They have pled not guilty, the Santa Cruz Sentinel reported on March 9.  According to their attorneys, they have done work for a number of outlets.
The Sentinel reports, "Allen has worked as a freelance photojournalist covering social issues for more than a decade… His attendance of Occupy protests in Santa Cruz were in the capacity of a photojournalist, with the sole purpose of documenting events through his photography, he said.  Likewise, [Attorney] Girgarjian says his client was documenting a news event."
"Alex is an established photojournalist and we're in the position that he was there in that capacity," his attorney said.
Mr. Allen and his attorney have reached out to the National Press Photographers Association, of which Mr. Allen is a member.
Mickey Osterreicher, general counsel for the organization, told the paper that he "has been dealing with similar situations around the country as dozens of journalists have been swept up in mass arrests at protests."
"I think the normal tension between the police and the press has been exacerbated by the Occupy movement," he said, adding that the organization is hoping the court will dismiss these charges.
That group issued a statement last week, and they are "asking a California judge to reconsider felony charges against a freelance photographer arrested while covering the Occupy Santa Cruz protests."
The charges against Mr. Allen "must be weighed against his First Amendment right to cover a newsworthy event", the Reporters Committee-NPPA letter told California Superior Court Judge Ariadne J. Symons.
The group specifically asked the judge, "in the interest of justice," that the charges against Allen be dismissed or, at a minimum, that the felony charges be dropped.
A court "considering punishments for exercise of the right to gather news should weigh the public interest in obtaining information against competing interests," the letter argued. "And if the First Amendment freedom of the press means anything, surely it encompasses a journalist's right to be free from the threat of serious criminal charges for simply reporting on the activities of those who did engage in the alleged unlawful conduct."
"The fact that a photographer, or any journalist, can be arrested and charged with a felony simply for being present to report on unarguably newsworthy events is beyond troubling: it's chilling," said Reporters Committee Executive Director Lucy A. Dalglish. "The constitutional right to convey information overwhelmingly in the public interest should be given considerable weight when considered against state and local trespassing statutes."
As the letter noted: "A free, unrestrained news media are essential to informing the enlightened public opinion that is the hallmark of democracy."
Mr. Allen told KPFA Evening news on Sunday, "I had no idea that there was going to be an occupied building. I covered this occupation as a breaking news event."
"District Attorneys Bob Lee and Rebekah Webb [Young] are now arguing that my coverage of the events, alone, and publishing them on my website and Indybay.org, in and of itself, was an act to promote trespass. That my coverage alone of a news event was a conspiracy to promote trespass. So they are now criminalizing media," he said.
According to KPFA, late last week, the Judge dismissed the vandalism charge, but the judge found that enough evidence exists to try Allen and codefendant Alex Darocy on charges of conspiracy and trespass.
—David M. Greenwald reporting