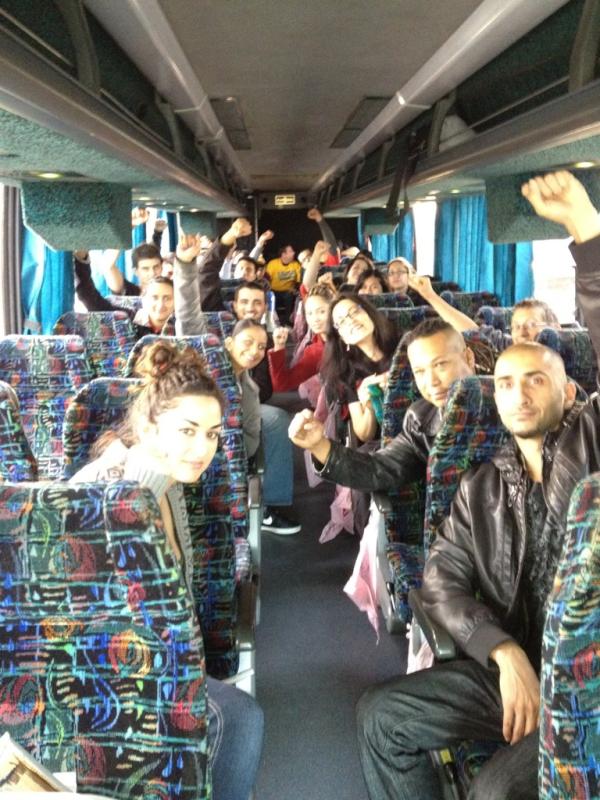 Today, thousands of students and workers will converge on the Capitol in Sacramento, where students and others will call for the one percent to pay to re-fund higher education.  The day is about building on the victories of the fall and holding off future tuition increases in the UC system.
ReFund California, "a state-wide coalition of homeowners, community members, faith leaders and students working to make Wall Street banks pay for destroying jobs and neighborhoods with their greedy, irresponsible and predatory business practices," has organized the day's events at the Capitol.
Charlie Eaton, speaking at a press briefing this morning and representing ReFund California, said "Today is a really exciting next step after the events of this fall."  The group made headlines last fall when they sponsored a week of protests, arguing that it was time for the one percent to pay to re-fund public education.
Mr. Eaton argued that it is time that members of the UC Board of Regents, many of whom are members of the one percent themselves, begin to support making the one percent pay for refunding public education.
"It may huge news," he said, "when police beat students at UC Berkeley and pepper sprayed students at UC Davis.  But students stayed resolute, they stayed non-violent, and they really changed the debate around funding education in our state from a debate about whether we should have cuts or taxes to a debate about who should pay."
"It's no secret for about the last ten years in California," he added, "it's students and workers who have paid."  He cited 300% tuition hikes and massive cuts that have cost jobs for workers.
While the workers and students have suffered, Mr. Eaton argued, "At the same time, corporations have not been paying – the one percent has not been paying for education.  They've had tax cuts."
Bank of America and Wells Fargo – both of whom have people on the Board of Regents at UC – have paid zero percent in net taxes, he argued.
"Now we need the folks in Sacramento to stand with us and support making the one percent pay," Mr. Eaton said citing the millionaire's tax as the "concrete alternative" for making the one percent pay.  "It's really time for the politicians in Sacramento to stand up with us and support that."
The budget talks begin this week and there will be consideration of another 24 percent tuition hike at UC.  "The funding levels in this budget will force those kinds of tuition hikes," he said.  "So we're asking the governor to drop the talks with our universities about a 24 percent tuition hike over four years and to instead support the millionaire's tax and support a broader budget to make the one percent pay to refund jobs, education, workers, social services."
Claudia Magana, President of the UC Student Association and student at UC Santa Cruz, said "Students have had enough.  We have been fighting fee increases every year, budget cuts.  We're paying more and getting less.  That's why the frustration has built up."
"I think today is very symbolic of the unity of all three systems coming together, making their statement, and trying to hold our legislators accountable while also making a statement to California as a whole to know that it's important to say, invest in California's future and provide educational opportunities for all in California," she added.
She supported the notion of a "shared burden," where education would be funded through the initiative that is coming up.
Van Jones, President and Co-Founder of Rebuild the Dream, "I am here for one reason, I am very proud of this young generation and very ashamed of my own."
He said his generation is throwing the current generation under the bus.
"We are pulling the ladder up behind us and we have got to start putting the ladder back down for these young people," he said.  "We have young who are graduating every spring off a cliff into no jobs in the worst economy since the Great Depression with unbelievable amounts of student debt.  It's not fair to them."
"I am so proud that these young people have begun to try to change the conversation and bring us back to what made California great," Mr. Jones added.  "California is great because we invested heavily in education and infrastructure.  All the things that have made this state such an easy place to do well and to get wealthy."
"It is time for wealthy people in California who have been drinking from the well to start replenishing that well.  You can't just take take, take from California and not give back," he said.  He argued that the millionaire's tax would put six billion dollars back into education.
"This is not about punishment or charity, it's about a return on investment," he argued. "If you do well in California, you should do well by California and you should be willing to reinvest in this great state that has done well for you."
Chucho Mendoza, Cal State Fresno student and ReFund California organizer, is driving up with 165 students from Fresno today.
"In the central valley we are very concerned about the conditions of education," he said.  "Not only are we paying more for education with tuition increases but we're also suffering budget cuts that's impacting our quality of education."
"For the farm working families of the central valley, it's going to become more and more of a hassle to support their sons and daughter to have that access to an equal education," he said.
Kathryn Lybarder, President of AFSCME (American Federation of State, County and Municipal Employess) Local 3299, said that a good portion of the members of her union are among the lowest paid workers in the UC System.
"What we have seen at the university and higher education institutions is what has happened in the world around us," she said.  "We have seen a growing gap between the rich and the poor."
Students and their working parents have been asked to pay more for tuition she said, and so too have the workers been asked to take cuts amid budget cuts.
One of the changes that has occurred is that workers are being asked to wait five years before retiring.  She noted that many of her workers had knee and shoulder surgeries as they have worked over a period of time.
"So when you ask us to wait to retire… what you are asking is for us to donate our bodies to save us from an economic crisis that we didn't create," she said.  "Many of us may not be able to work until we're 65 because our body's given out.  That means that we retire much poorer in retirement and that burden then falls on the California taxpayer to support us."
"This is not an exaggeration, this is just the economics of asking working families to take the hit," she added.
She argued that, while the workers like the security of the budget deal from the standpoint that it locks in pensions, she argued that the fee increase it locks into place is unacceptable.
"It not only hurts the students today and threatens their futures,[ but] it hurts our ability as working families to then be able to pay for college," she said.  It also puts the future of the workers' children at risk.  "I have two kids who are talking about wanting to go to Cal one day, it threatens my ability to give them the kind of future that I think they should have and hurts the economy of California for all of us."
She argued that the millionaire's tax is a step in the right direction and it puts the burden of restoring the economy on those who have continued to profit from the crisis and have the greatest resources.
Charlie Eaton argued that things have begun to change in the debate over funding, as the terms of the debate have changed from cuts to funding.
"We as a movement realized that we can't just keep saying, don't cut us.  Rather we need to change the debate to who should pay and talk about how students and workers have paid so much in the last ten years and in the economic crisis that Wall Street and the one percent caused," he said.
He noted we have had 300% tuition increases and "at the same time, student debt is higher than credit card debt in this country."
"When students finish – if they're able to finish," he added, "they leave school with very dim job prospects and they leave school with very little hope that they can get the jobs that would enable them to pay off that massive amount of debt."
—David M. Greenwald reporting