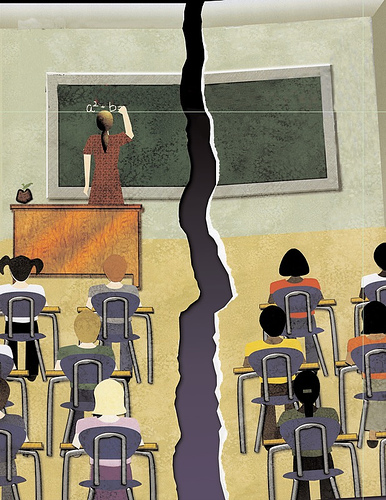 It was a meeting attended by over 250 parents, teachers, and community members at Harper Junior High.  The parents, particularly those at Pioneer Elementary School, expressed strong opposition to one recommendation which would combine the two schools – Pioneer and Montgomery – and divide the students by grade level.
Betsy Hyder, the PTA President at Pioneer spoke of "unintended consequences from particular strategies."  She was not part of the committee who made these recommendation, by choice, saying, "We wanted our parents to be able to speak freely there as parents."
A separate group was created who "instituted a survey" that had 252 respondents.  These surveys were both written and online, and half of the written responses also had comments.
"What you should know is that two-thirds were impacted by a split," she said.  "The bottom line is that only 11 percent agree with the idea of splitting and sixty-five percent, as far as an unintended consequence are considering – definitely would or would consider – leaving Pioneer."
"I think the message I could carry on behalf of a very established, stable, program," she said.  "What Pioneer has, took time to build.  It has to be built.  It's not something that could be given away…  There was nothing that indicated that Pioneer wasn't willing to be flexible… only that if the corrective factor that's needed is so big… perhaps we've broken something that's important in the district as a whole."
Jenn Barth spoke on behalf of a grassroots community group on the issue of declining enrollment at Montgomery, "Over the past ten months it has become apparent that declining enrollment at Montgomery is merely a symptom of a much greater challenge."
"The real challenge facing Montgomery and our a district as a whole is determining how to insure [stet] that all of our children have fair and equal educational opportunities to allow them to reach their full potential."
She added, "When we learned that one of the potential strategies being considered was to split our school we became convinced that this would not only irreparably harm Pioneer but would harm neighborhood schools district wide."
"Splitting schools does not grow confidence and community support," she argued, "It burdens families with young children on separate campuses.  Most importantly it unfairly penalizes children with limited resources and access to transportation.  The very children whose needs we are trying to address."
Israel Ramirez described himself as a former ESL student and a Civil Rights Attorney.  He said he believes that splitting the school is a terrible decision, and argued that the GATE program, "the way that students are selected right now is discriminatory."
He described the process involved for selection into the GATE program beginning with a test that is given to all students, "but if a teacher decides that some students have risk factors, for instance, if they're from a lower socioeconomic status background, or if the student is an English as a Second Language, or if the student has a learning disability… they're given a second test."
It is that second test that Mr. Ramirez objects to, arguing, "When that second test is administered what is actually done by the district, and this is unbelievable, is that they require the students with risk factors… to score higher than the students with non-risk factors.  The system doesn't work."
A student with a low-SES risk factors, he argued, have to score higher.
Another parent said that at Montgomery, "we have a wonderful diversity that should be the envy of all other schools in Davis."  He argued that gives all our students a great opportunity for learning and increasing "our social intelligence by interaction with a lot of different types of people."
He said, having said that there are some groups who are not getting the same benefits in terms of education as some of the other students.  He supports approaches aimed at decreasing that disparity, but said, "I would ask you to view with suspicion approaches that are primarily aimed at engineering demographic changes."  He suggested, "They will possibly have unintended consequences down the road and you won't even know that for many years."
Alicia Matson said, "Teachers teach, schools provide resources but ultimately it is up to the parents to see that their children meet academic standards.  Inserting a child into a well-performing school district does not automatically equal a child who will perform well academically."
"So not all parents have the ability to give their children that boost and it falls to the schools," she continued. "However it's not reasonable to overwhelm elementary schools with that need."
She suggested busing as a way to distribute that need across the district more equitably so that "no one school's resources are overwhelmed."  She went on to say that while it would not address the gap, it might address the "flight."
Another parent spoke in opposition to dismantling the Pioneer school.  He argued that declining enrollment is the symptom rather than the underlying problem that needs to be addressed – the problems that are causing a decline in enrollment at Montgomery.
"A small group of parents should not have been tasked with solving an educational problem, changing Pioneer will also have unintended consequences," he said.  "From reviewing the report I did not see any accepted theory or study that showed that moving kids from one campus to another would improve their educational experience, nor did I see a plan to help low achieving students in Davis which should be the real concern."
"It may artificially help a school's performance by dispersing children, but I did not see how moving children would have a positive impact on their educational experience," he added.  He recommended taking no action this year, and task educational professionals rather than parents with coming up with real solutions in the future.
Cameron Smith, a parent from Pioneer, argued that the demographic projections showing a relatively stable student population over the next ten years at both schools.
"I don't really see any point in trying to split a school," he said.
He said that he grew up in agriculture, and works in agriculture today with migrant families.  He said, "I think that the money that we would spend in this shuffle to do all of this stuff would be better spent in those programs helping those kids."
He talked about a scholarship program with disadvantaged kids, and said if you watch the interviews of these kids, "Not one of them says diversity – it was diversity that helped me.  They come up and say that it was I learned English and I learned to assimilate faster and that is what helped me get through.  That's what helped me get to college."
Some of the most pointed comments came from Monique Mogulsky (sp) who is a parent and volunteer at Montgomery.
She said, "The quality of education at Montgomery isn't very good."
She argued that the API scores which show that we are not doing so poorly is primarily due to the excellence of the staff.  She asked how many people were there at Montgomery and how many wanted dual immersion.  And then she asked how many staff would have to leave if the district implemented full dual immersion.
"That's the cost of a dual immersion program," she said.  "You're going to lose our staff and you'll likely lose a lot of people."  She added, "The community doesn't want it, the staff can't embrace it, they'll have to leave."
She added, "You said it will meet a range of needs, but it won't meet the needs of my children I know that for sure."
She was particularly disturbed by what she characterized as a program that was primarily Spanish speaking with a secondary language of English.  "The biggest gift you can give these English language learning students is to teach them English, so that they can embrace this culture as a whole, get good jobs, and advance themselves in their lives."
"The thing that I find in my daughter's classroom is telling children every time I'm in there, you gotta speak English when you're in the classroom.  You can't speak Spanish when you're in the classroom.  It's not appropriate.  You need to be learning English now, this is your chance.  I don't care what you speak at home, I don't care what you speak when you're outside the classroom, in the classroom it has to be English."
"Until they get that perception… they're not going to learn.  And putting them in a program that emphasizes the fact that it's good to be speaking Spanish when you're in school isn't going to make it better – it's only going to make it harder for them to learn in the future," she concluded.
Connie Steele, on the other hand, was opposed to prematurely throwing the split off the table and spoke to the need for diversity and the lack of diversity that she saw at Pioneer.
She noted at Montgomery there were 81 Spanish speaking students, whereas at Pioneer, a larger school there were only nine.
"The same discrepancy exists for lower socio-economic students," she added.  "There is so much talk about fixing Montgomery's problems but I feel we have two schools that are broken.  The two obvious outliers in our district are found in one small area in Davis – and each is becoming more segregated as time goes on."
"As a parent, I want my children to spend their days at a school that reflects the wonderful diversity of our Davis community," she said.  "It troubles me that I hear no concern about the lack of diversity at Pioneer.  This to me is just as unacceptable as Montgomery's overwhelming percentage of at risk kids."
A mother of five described what 55 percent low socio-economic looks like to her.   She said that she is the one PTA room rep, the only volunteer in the class, the only driver or chaperone for a field trip, "Everybody at Montgomery is wonderful but their plates are so full."
"When you have a class of 14 either English learners or low socio-economic  students and you're trying to teach the whole class – it's such an uphill struggle," she added.
"The school cannot continue the way it is," she said, "We have no volunteer basis – except for Spanish immersion – our PTA is probably 75% Spanish immersion parents."
She said that while the kids' academic needs are being met, "Our second grader has one peer in his class and he lives in Natomas.  He has neighborhood friends."
She argued that the district should not have two schools so close together that have such different populations of students.
Diane Mackelhern, whose kids go to Pioneer, said she supports dual immersion and expansive GATE at Montgomery, "as opposed to creating grade split programs or closing a school and relocating students from their neighborhood schools."
"As acknowledged by the committee, the grade split proposal will not solve the problems of low academic performance among several groups of students at Montgomery," she added.  "Nor will it take Montgomery out of program improvement status."
She quoted from the report that said, "The split itself will not address the achievement gap, however we do know there will be concrete negative consequences of splitting the schools."
A Pioneer parent posted an interesting comment on the Vanguard, "The district's liberal policy for school transfer played a role in the current state of schools in South Davis. I've never heard of a district giving parents such freedom to "shop around" beyond a magnet program here and there. One of the most interesting stats in the SDEC's report was that roughly 50% (!) of Davis students go to school outside their neighborhood boundaries. When you let every parent choose from every school in the district, you're creating a free market economy situation for your schools, and just as in the free market, some schools thrive and some schools don't, and this is what's happening to MME."
She continued, "I can't speak for everyone, but in my personal experience, I don't see race as driving the more vocal Pioneer parents' (or anyone who transferred out of MME) unwillingness to consider solutions like school split. This is about class and income combined with an achievement-focused parenting culture, along with a resistance to any compromise at all on the Pioneer side. Not that it makes much difference in the end – it's still segregation."
She said she was one of the 11 percent of Pioneer parents who supported the school split scenario.  She argued, "This would address the segregation problem, but is there any research out there that demonstrates that this would help the English-learning kids academically?"
—David M. Greenwald reporting