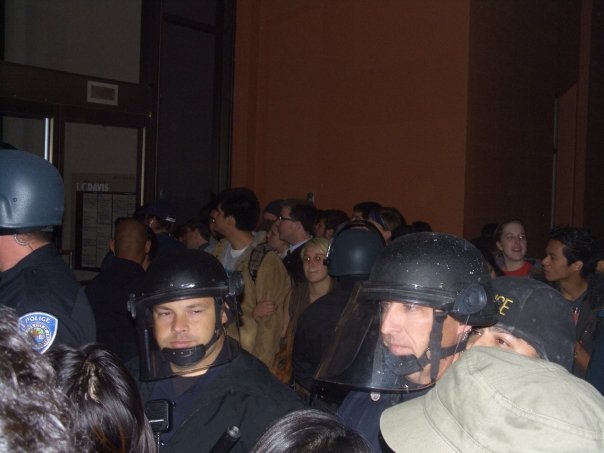 On Tuesday we will find out the long-awaited results of the pepper-spray report.  Many are bracing themselves for a whitewashing, but I don't think that is going to happen.  The reason that is not going to happen is that Cruz Reynoso is not going to allow it to happen.
I know that he would have preferred to have been able to speak with, or at least have the Kroll investigators speak with, Lt. John Pike and the police chief, but apparently they have enough to know who did what and who ordered whom to do what.
Interestingly enough is the city council's curious decision to put the Minor Alcohol Preclusion Ordinance on the agenda that evening.  It is difficult to know whether it will simply lose its force and get overshadowed by the pepper-spray report, or if anger fueled by one will spill over into the other.
There is an irony in that both matters may be determined the same day, because I think, in a very real way, just as this issue really is about Picnic Day and alcohol for the public, this issue is also about the police for college students.
In many ways, the opposition to the Alcohol Minor Preclusion Ordinance has to do with distrust for the police embodied by the pepper-spraying incident.  If you listen to student complaints, it is really about giving the police another tool that they can, in their minds, use to harass the young – not just those under 21, but those who appear they could be under 21. As someone nearly 40, that's pretty much anyone under 30.
In many ways, the pepper spraying is a culmination of poor police tactics at handling protest situations on the UC Davis campus since 2007.  In 2007, the police made the fateful decision to arrest nearly a dozen protesters who were "occupying" Mrak Hall – in the former usage of the word. The problem was that you cannot trespass in a public building during normal business hours, and so the arrests were actually illegal.
In 2009, it was the occupation of Mrak Hall that led to the arrest and acquittal of Brienna Holmes.  Ms. Holmes has since filed a lawsuit against UC Davis, alleging that Captain Joyce Souza had singled her out and used excessive force as she waited outside of the building where a protest was being held.
She told the Vanguard, "On the night I was arrested in front of Mrak, I went to my evening class and returned back to Mrak to find a friend of my mine. I was standing alone towards the parking lot and news vans, when Officer Souza approached me."
"Still to this day, I don't understand why I was singled out and pushed by Officer Souza. I was not trespassing or aggravating the situation in any way. I was simply an innocent bystander eventually tangled in the police chaos," she continued.
In 2010, a student was Tasered during a protest where protesters threatened to perhaps attempt to block I-80.  Initially, the police denied the reports, but when video surfaced they were forced to acknowledge that it had occurred.
Last year, the students' distrust increased when it became apparent that university organizations were tracking student activism.
According to a release from a student group, "The information has shocked students, staff and faculty at UC Davis as they begin to examine it. The documents reveal that high-ranking administrators, staff members who work closely with students and leaders of the campus police department formed a network called the 'Activism Response Team' to keep close tabs on student activists and their plans."
While the "Activism Response Team" was far more innocuous than it first seemed, the revelations corresponded with revelations that a UC Davis Police Officer, Johanna Zaconi, had allegedly disguised herself as a "'protester" when she introduced herself as part of the UC Davis Biological Department in March.  And then she denied being a police officer when confronted by student protesters.
University Spokesperson Claudia Morain denied that there was an undercover officer and that this was an infiltration.  She told the Vanguard, "The officer was in plain clothes and part of the police presence to ensure public safety."
However, she did acknowledge that this was not handled as well as it should have been.
"This clearly has caused concern among some students and members of the community, and we can do better in the future," Ms. Morain told the Vanguard last year. "Officers are going to identify themselves from now on, and they'll either be in uniform or have a badge on their belts."
All of the past incidents have led to a pattern of distrust of the police and the university, for their handling of such matters.
When we wonder why the students might not trust the university, perhaps we ought to understand that anxiety within the six-year context of events.
One of the students who was pepper sprayed, David Buscho. is not hopeful that the investigation will yield the kinds of findings he sees as needed, but he said, "I think now that a reputable organization like the ACLU is here [and] is involved in representing the interests of the students, I think that now we can actually say that [the university will move in the right direction to rectify the situation]."
"To date all [the university] has done is put two officers on paid administrative leave," he noted.
Mr. Buscho questions the independence of those investigations and believes they are simply there to build a defense case for the university.
ACLU attorney Michael Risher is a bit more diplomatic.
"We will certainly be interested to see what the investigation comes up with.  We will read their reports very carefully," he told the Vanguard.  "Our goals are to make sure nothing like this ever happens again, to get to the bottom of what did happen and we see them as complementary."
"There have already been two extensions of the report that is coming out," he added.  "We are not going to prejudge those.  We'll be very interested to see what they say.  We feel there is also a need for an independent look into this and that's part of the reason we filed this."
At the same time, there has been a lengthy history of distrust between students and City of Davis police, that is also reflective in the stance against the Minor Alcohol Preclusion act.  The biggest concerns for students have been about what constitutes probable cause and reasonable suspicion.
Within that context, one must understand the longstanding distrust of police by members of the minority community.
During our MLK Event, Osahon Ekhator said that as soon as he got a new car from his parents, he was pulled over seven times by the police.
Professor Desmond Jolly said, "For young black men, unfortunately, I think it's still a problem," and related that his son was stopped frequently by police in Davis, "almost every Friday and Saturday night."
"Davis has become much more open and tolerant about diversity," he said, "But there are still pockets of resistance.  I think the locus of that might be the police department and perhaps, in some degree, in the schools."
One reason that students are opposing this has very little to do with alcohol and a lot to do with the belief that this will give police another tool to see a group of young people and single them out with very little rationale needed.
Moreover, distrust was also fueled by the lack of notice and prior discussion they had before proceeding with the proposed ordinance.
At their January meeting, the council expressed concern that this matter had not been vetted through the Student Liaison Commission, a body that is not only representative of students, but also law enforcement and business interests.
They passed the ordinance on first reading, in order to send it to the Student Liaison Commission, who would hear the matter in late January.
The discussion that followed should have been telling about the gulf between the police and students – and the manner in which this came forward makes it far worse.
Rebecca Sterling was recently elected student body president. Speaking at the meeting, she said that this ordinance came as a shock and she believes that students should have been involved in the conversation from the start.
Yara, a current ASUCD Senator, had issues with the term "reasonable cause," arguing she would feel more comfortable with something like "objective symptoms."  She stated flatly, "Our biggest issue is there is distrust between students and police.  This really did not help at all."
She cited a good relationship last year between the police and Greek Life as the result of pre-Picnic Day conversations.  The result was that no one from Greek Life was arrested at all.  She said that they had built a good relationship but "I think this completely destroys that.  It's going to cause more issues because I wouldn't call the police on my party if all my friends are going to get breathalyzed on their way out.  I would probably stay at a party that was getting out of hand, too."
Carly Sandstrom, the ACUCD External Affairs Chair said, "Having this act increases the gap between the student and the police population.  It doesn't help with wanting to communicate with their neighbors – if you're going to have a party – because, regardless, you can get fined."
The city council wanted to hear what the students had to say – but oddly enough, except for Councilmember Greenwald, they did not attend this meeting.
The message should have been loud and clear.  And yet here we are, a month later, and the council is bringing back the item with a staff recommendation for approval.
We wonder why the students distrust the process – I think most probably believe that they have not had their concerns heard and will not get them heard.
Unfortunately, community members seem to not really understand what this issue is about.  Elaine Roberts Musser spoke in favor of the ordinance at the January city council meeting, and posted yesterday:  "The police attempted to engage the students, they essentially refused by voting 'no' on the ordinance and then not showing up in any significant numbers to discuss it, which is no surprise."
She added, "Students seem to want unfettered rights to consume alcohol, no matter their age."
The problem is that the way in which this item was presented directly to council without having a discussion by the commission, or discussions with student groups, poisoned whatever possibility there was for collaboration or buy-in.
More importantly, I have yet to see an honest give and take.  I have yet to see a dialogue, rather than directives from police that this is how it is going to be.
Moreover, I think alcohol is only a small part of this issue.  The bigger issue that came out, both at the council meeting and in the student meeting, was not alcohol but police-student interactions.  The students said it – there is distrust between students and police and everything that has happened since November has been about that distrust.
That is the real problem, and it is what is fueling the lawsuit against the university, and it is what is fueling the opposition to this Minor Alcohol Preclusion Ordinance.
Six years ago, African-Americans in large numbers came before the city council to express their concerns with treatment by the police.  Most were students.  Hundreds in May of that same year marched from the Memorial Union to the police station.
The response from the broader community was indifference, and worse.  Those problems, while not nearly as public, have not gone away and they are the underlying current that fuels this opposition.
No one wants to hear that today, let alone acknowledge it.  But that's where we stand.
—David M. Greenwald reporting