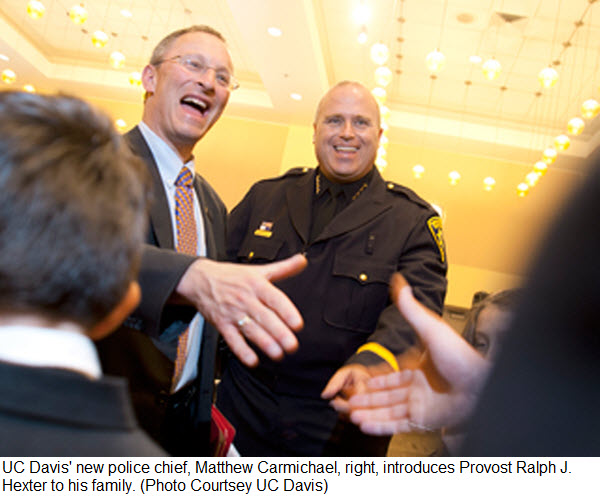 At one level, the hiring of Matthew Carmichael to be the Police Chief of the UC Davis Police Department seemed the obvious choice.  He had already led the department since those fateful days following the November 18 pepper-spray incident, that led to the suspension of his predecessor and nationwide scrutiny on the department.
Supporters can point to his long record of service and training.
"Matt is a 27-year veteran with extensive leadership experience, having previously overseen all Davis campus public safety operations as Lt. before being promoted to chief on an acting basis (as chief, he oversees both this campus and the Sacramento campus)," UC Davis Spokesperson Barry Shiller told the Vanguard.
"He holds Peace Officers Standards and Training (POST) basic, intermediate, advanced, supervisory and management certifications," he continued.
But on the other hand, the appointment triggers a number of questions, some of which remain unanswered, while others are answered relatively easily.
One of the critical questions is where was Matt Carmichael on November 18, 2011?
To the best of our understanding, it appears that Matt Carmichael was Officer S in the report.  Officer S appears to have had no direct role in the November 18 incident.  The references to him appear to be limited to some pre-incident interviews, in which there is nothing of substance directly attributed to him.
It does lead one to wonder exactly what was the point of redacting his name.
According to Mr. Shiller, he had spoken to Chief Carmichael directly about this question on Thursday.  He said, "He was on a regularly assigned shift at the Medical Center in Sacramento."
This makes a good deal of sense, since we figured that the reason that Matt Carmichael was ultimately appointed to acting chief was precisely because he had no involved in the pepper-spray incident.
One of the perhaps surprising things we learned is that Chief Carmichael holds an associate's degree in administration of justice from Napa Valley College.  At the very least, it seemed odd that a world class university would have a police chief that does not even hold a bachelor's degree.
When we asked Mr. Shiller about it, he dodged the core of the question, focusing instead on the training and experience of Matt Carmichael.
And there is no doubt about it.  He has 27 years in law enforcement.   He's been a lieutenant at UC Davis since he was hired in 2002.
One police officer, who asked not to be identified by name, felt that given the circumstances it was not odd that UC Davis would hire someone without at least a bachelor's degree.
However, they added, "For a Departments that size, the typical education requirement is a BS."  And in fact, "A[n] MS or better is preferred along with command college, FBI National Academy and/or IACP Leadership."
He added, "It will surprise me in a year if their permanent chief does not have a BS."
Chief Carmichael did just graduate from IACP Leadership.  International Associations of Chiefs of Police is an organization that seeks to "advance professional police services; promote enhanced administrative, technical, and operational police practices; foster cooperation and the exchange of information and experience among police leaders and police organizations of recognized professional and technical standing throughout the world."
As it turns out, Matt Carmichael never could have been even an acting chief in the Davis Police Department.  Davis Police Department, for ranks of lieutenant or above, requires not just a BS, but the degree must be from an accredited school.
Our source indicated that throughout the valley, a number of chiefs had no education higher than an AA.
He indicated this this "really surprised" him.
He added, "I was also surprised how many chiefs and exec staff had a BS and MS from a non-traditional school.  I see that as a troubling trend."
And a BS is just the minimum.  For Captain and above, an MS or better is actually preferred.
So here we have a Police Chief appointed for a year, at a major university, without a bachelor's degree and expected to come in and stabilize the department and make the kinds of changes that are need.
One of the questions that emerges is why appoint Chief Carmichael for a one-year term rather than keep him on as acting chief until a permanent chief can be hired?
"There is a significant difference between a lieutenant serving as Acting Chief and being appointed officially to the job for a defined term with a national search to come," Barry Shiller told the Vanguard.
He added, "Under the former structure, one vacancy is created to fill another. Backfilling is required to keep other key spots staffed. With Matt [Carmichael] officially serving as chief, he can address other staffing needs, fill gaps, etc."
The other critical change the university has made is shifting the roles of the administrators.
On Thursday, Chancellor Katehi also announced a shift in oversight of the Police Department – effective May 1 and on an interim basis – from the vice chancellor of Administrative and Resource Management, a post held by John Meyer, to the provost and executive vice chancellor, Ralph J. Hexter, who serves as the campus's chief academic and operating officer.
"This transfer will ensure that, going forward, the department will be closely aligned with our core academic mission and values," Katehi said.
As we noted yesterday, Vice Chancellor Meyer played a critical role leading up to the fateful decisions on November 18 and was criticized in particular for lack of communication between the leadership team and the police department.
The Kroll report writes, "In that capacity, he, more than other members of the Leadership Team, should have taken steps to determine if police leadership had concerns about the contemplated operation and to ensure that those concerns were understood and evaluated by the Leadership Team."
But Provost Hexter was hardly a bystander in the process, either.  As Provost and Executive Vice Chancellor, he was part of the "Leadership Team."
Provost Hexter was, in fact, described by Vice Chancellor Meyer and others  as one of "several key decision-makers within the group."  He was on call even though he was not on campus on November 18.
So the question is, why would UC Davis expect better results with Provost Hexter in charge of the police rather than Vice Chancellor Meyer?
For Barry Shiller it is a move that simply makes more sense.  He told the Vanguard, "Ralph Hexter oversees all academic programs and is the campus's chief operating officer."
"There is a desire to align police services more closely with academic priorities; this move serves that goal. In addition, the department will receive attention from the campus's top administrator," he added.
—David M. Greenwald reporting