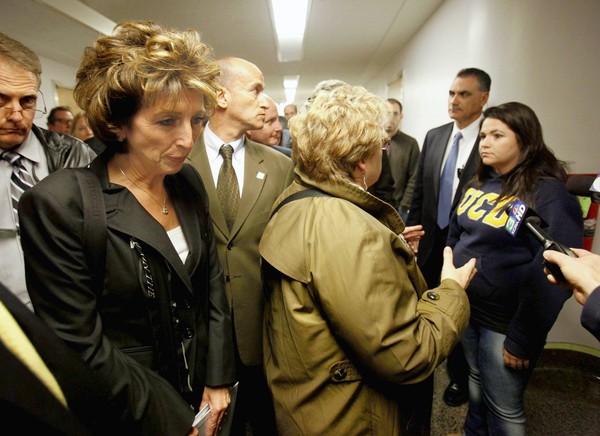 Chancellor Linda Katehi perhaps has a brief window of time to act in order to save her job and in order to take advantage of the consensus for change, despite the vote of confidence she received from Cruz Reynoso on Thursday.
On Friday, Chancellor Katehi acknowledged the problems that the campus faces in a statement, "The Reynoso task force report illuminated clearly and sharply the need for major reform of campus police operations and better coordination, collaboration and communication within the UC Davis administration and with the broader university community."
"We are moving swiftly to address these issues and any others that need attention. In fact, we began addressing several areas of need prior to the release of the Task Force report," she said.
One of the next steps is the internal review processes that could lead to personnel decisions.  The task force was specifically precluded from making personnel recommendations, but it seems fairly obvious that at least Chief Annette Spicuzza and Lt. John Pike will be dismissed, based on the report from Kroll.
The statement by the chancellor notes, "While the Reynoso task force addresses many areas for broad improvement, parallel but wholly independent internal affairs inquiries (so-called 'I. A.'s') into officer conduct have been ongoing and are nearing completion. These inquiries will inform personnel decisions."
At the same time, Acting Police Chief Matt Carmichael has, in consultation with campus leadership, asked independent experts to audit department policies and training records, and propose needed changes.
Acting Chief Carmichael also has invited an internationally recognized expert in police accountability to lead a campus forum on this topic.
"This is envisioned as a possible step toward establishing a campus police review commission. If adopted, it would be just the second in the UC system. He will provide details soon," the chancellor said.
"We will also commission an independent, top-to-bottom audit of campus police operations, as the Task Force recommends," Chancellor Katehi continued.  "And, we await a report from the Special Committee of the Davis Division of the UC Academic Senate, and results of a system-wide analysis of police practices led by UC Berkeley Law School Dean Christopher Edley and UC Office of the President General Counsel Charles Robinson. We will seek ways to utilize both reports in our planning."
"Efforts to improve administrative coordination, collaboration and communication are also underway. On April 6, I announced the creation of a Campus Community Council, with broad student, academic, staff, emeriti, alumni, community and administrative representatives," she said noting, "This council will meet for the first time next week.  It will be an additional venue for receiving campus input on strategic campus issues, including those raised by the Task Force."
Chancellor Katehi said, "Effective collaboration, of course, extends beyond our campus. Since the report's release, I have met with several state lawmakers and other external community members. I will meet next week with Justice Reynoso and several task force members."
Police Officer's Bill of Rights
One of the key frustrations for former Justice Cruz Reynoso was the Public Safety Officers Procedural Bill of Rights Act, California Government Code sections 3300-3311, known commonly by different variations of that name.
"Some of the delays were caused by the negotiations with the policemen's union to see whether the Kroll Investigators could meet with some of the police officers – that got resolved," Justice Reynoso said on Thursday.
He continued, "The greatest delay happened because of the lawsuit."
Mr. Reynoso did not blame the lawyers who brought the lawsuit, but rather the law.  "They brought it based on some legislation that has come from Sacramento.  So my blame is on the legislators who have passed legislation that sometimes is referred to as the policeman's bill of rights."
'The reality is, as you can see in this case, that it does not permit the community to know exactly what happened, who's responsible for it, what can be done to correct it," he continued.  "I think that that's a great disservice to the communities that deal with police officers who, after all, are public servants.  And I personally think it's a disservice to the police."
He would later raise the issue several times and call on Sacramento to address it.
One of the obvious possible Senators to carry forth such an effort would be Senator Leland Yee, an ardent critic of the University of California and defender of the public's right to know.
His spokesperson told the Vanguard that, while they would look into it, the California Newspaper Publishers Association (CNPA) attempted to make changes a few years ago following the Copley Press decision, and made no headway.
Senator Lois Wolk told the Vanguard on Friday, "I support the Task Force recommendation that the 'Office of the President  (UCOP) should review provisions of the Police Officers Bill of Rights that appear to limit independent public review of police conduct and make appropriate recommendations to the Legislature.'"
The Senator continued, "I look forward to receiving the recommendations from the UCOP and making the appropriate changes so that any future investigations of similar events, at any campus, can be conducted in a more thorough, transparent, and timely manner."
However, she added that her primary concern was making sure the internal changes are made to avoid repeating mistakes in the future.
"My primary concern, however, is that UC Davis make the necessary changes recommended by the Reynoso Task Force so that an event like this never happens again," Senator Wolk said.
Assemblymember Yamada was on the road Friday and unavailable.  Her spokesperson told the Vanguard, "She does hope that the Higher Education and Public Safety committees in the legislature will convene hearings to discuss this issue."
—David M. Greenwald reporting