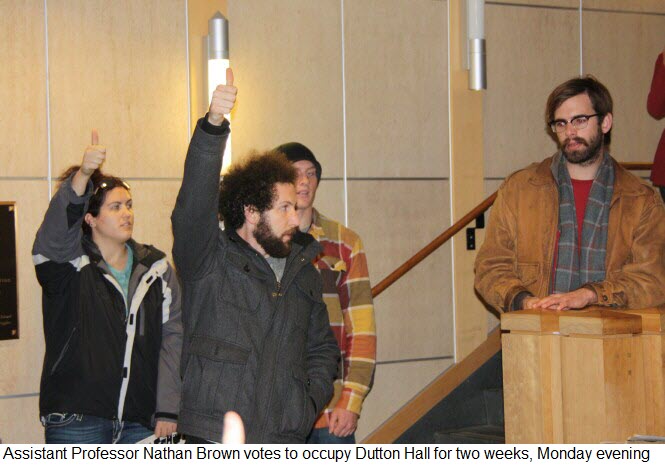 My first experience as a graduate student in UC Davis' political science department is now nearly 16 years ago.  In a lot of ways it was an eye opener for me because the culture of research coming from a teaching college was very different.
Political science in the research areas is not the study of politics; rather it is a study of political systems and political actors.  Critics might be stunned at how apolitical the field is in most ways because the focus is on hard quantitative research, where statistical analysis and complicated mathematical models dominate the leading journals, and methods dominate over outcomes.
I remember one of my colleagues noting that they had little interest in politics, but rather a curiosity in understanding how political systems worked in different countries.  That is not to say that if you go across the field that you will not find those political junkies following political affairs, it is simply to draw a distinction between the practice of politics and the study of political science.
Through my decade-long work at UC Davis, I became acquainted with a number of other programs – particularly at Stanford and Berkeley.  My work took me across disciplines, as well.
So the idea espoused by a nebulous group of conservative critics, of California education being co-opted by political activism, is a bit too far-fetched from my view.
There is a notion that the "decline in quality at UC corresponds to a fundamental transformation of the curriculum: away from an emphasis on teaching facts and intellectual skills, and toward the propagation of a political agenda."
The group is called the California Association of Scholars, founded "to confront the rise of campus political correctness."  The reality is a bit ironic, however, as an unpacking of their study shows that they have themselves engaged in the same kinds of activities they are purported to shun.
Writes a scathing LA Times editorial: "When the group shows its work, things aren't that clear. 'A Crisis of Competence: The Corrupting Effect of Political Activism in the University of California' is a mélange of anecdotes, second-hand studies (some of them national surveys that may not reflect the situation at the UCs), leaps of logic and ideological hyperventilation."
As the LA Times notes, it is not that UC or any system in California is beyond reproach.  "Clearly," they argue, "some UC professors and programs have on some occasions transgressed the line between education and indoctrination."  But overall, they argue, "the report fails to establish the existence of either a 'cancer' or a 'crisis' requiring urgent action by the Regents to restore a 'rigorous marketplace of ideas.' "
The report includes a number of horror stories involving those instructors who do foist their opinions on students, and it finds questionable course descriptions and reading lists.
We do not have to go far to find examples in our own backyard of professors who have gotten a bit too close, say, to the student protesters and have become involved in their causes.
On the other hand, I would argue my department would have looked down upon that type of activism by a professor.  I think most departments at UC Davis would be uncomfortable with a professor engaging in that type of activism on campus.
As the LA Times notes, "You don't have to be a Republican to object to a computer science instructor who calls Arnold Schwarzenegger a 'Nazi actor,' or a community studies teacher who (according to a student) used her course as a vehicle for a 'personal vendetta against the state of Israel, against Zionism, against Israelis and against Jews.' "  They write: "Subjecting a captive classroom audience to a one-sided political harangue is poor pedagogy, and so is stacking the deck in reading assignments."
But anecdotes are easy to find.  The real question is whether, on a systemic level, there exists some sort of problem that has impacted the quality of education more than years of lack of prioritization of funding by the state legislature and the voters.
'The report cites a national study suggesting that a majority of teachers in the U.S. believe it is important to teach students to effect social change. "But is that sort of politicization pervasive at UC?" the LA Times asks, but the study never conclusively answers.
Instead, they cite the overwhelming discrepancy between Democrats and Republicans in social science departments.  Writes the Times, "Imbalances like that are eye-opening, but they don't prove that professors are pressing their politics on their students or are incapable of exploring other points of view."  Part of the problem is a self-selective process that leads to career choices, but again, this hardly proves the point that they are making.
Writes the LA Times, "In fact, the report is short of proof of any kind that UC suffers from a 'cancer of politicization.' Anecdotes abound, but quantification is elusive."
In fact, it is this lack of quantification that leads me to believe that this report really commits the same sort of errors that they accuse professors of doing.
The LA Times adds, "Anticipating assertions that most teachers conduct their classes responsibly and without politicization, the report notes that 'the word "most" is consistent with the existence of a huge problem. If even 10% of classrooms are corrupted, that would be horrendous, and yet the word "most" would allow far more than that.' "
But as the Times points out, even the 10% figure lacks quantification and backing.  The report instead asserts, without much more than scattered anecdotal evidence, that indoctrination is "so widespread, and so open, that it is now clear that politicization is acceptable both to faculty and administration."
Furthermore, the Times hammers the report for failing to "justify its apocalyptic title by documenting a link between politicization and declining standards."
At best it speculates, "If graduates cannot even write short declarative sentences competently, that is not surprising when writing courses neglect writing and focus instead on radical politics."
It is an interesting point, but one of the shocking things I discovered as a teaching assistant was how little writing skills students had coming into college.  Entry level students at UC Davis struggled to write even a basic and bare-boned five point essay.  As a teaching assistant I had to spend hours with students to turn their papers into at least structurally correct papers.
From my standpoint, that should not be the job of a college.  That is the job of K-12 to teach.
Concludes the LA Times, "Anyone who has been to college knows that a minority of professors, liberal and conservative, succumb to the occupational hazard of inflicting their political (and other) views on their students without allowing any dissent."
They add, "When that occurs, at UC or elsewhere, administrators need to remind faculty of the importance of open and uninhibited discussion. But the California Assn. of Scholars insists that more must be done to address the 'crisis.' It suggests that the Regents require 'annual campus reports of progress in returning the campus to intellectual health, making it clear that administrations that have not achieved substantial progress will be replaced.' Before instituting such an intrusive policy, the Regents should demand more proof of a problem than is contained in this report."
The problem with these kinds of reports, other than their lack of intellectual and research-oriented rigor, is that they get thrown into the political discourse as though they are fact.
When that happens, hyperbole becomes talking point and perspective gets lost.
That is what happened this week when Presidential Candidate Rick Santorum decided to rip the California educational system without doing his own research.
In a campaign stop in Wisconsin he told the audience, "I was just reading something last night from the State of California that … seven or eight of the California system of universities don't even teach an American history course. It's not even available to be taught."
Now, wouldn't you think he would check his facts before making the claim publicly?  Just from a political standpoint, it is embarrassing to make mistakes when you know bloggers and reporters are microscoping every last sentence.
But apparently not.  It does not take much to disprove this kind of inflammatory rhetoric.  Rachel Maddow, a commentator, simply read the UC Davis course calendar which named course such as "History of the United States," "The Gilded Age and Progressive Era" and "War, Prosperity and Depression, 1917-1945."
Naturally UC Davis officials go a kick out of that.
"We were thrilled that a national TV audience was able to see the breadth of our course offerings in a very important subject," UC Davis spokesman Barry Shiller told the Sacramento Bee.
In fact, the Bee reports that American history is taught in nine of the ten campus, and only UC San Francisco, which is a medical school only, does not have such classes.
In fact, all undergraduate programs require American History as a required course for an undergraduate degree.
It is unfortunate that this has to be the discussion, rather than the real problems facing college students, including rising costs of tuition, increasing onerous student loan debts and decreasing numbers of course offered.
And the irony here is amazing.  So here you have students clashing with the police at these college campuses that are supposedly co-opted by political correctness.  You have a UC Board of Regents, mostly appointed by Republican governors, who oversee this bastion of liberalism.
The whole thing makes no sense. But it does fit the political agenda of a few and then it gets repeated with very little thought given.
—David M. Greenwald reporting