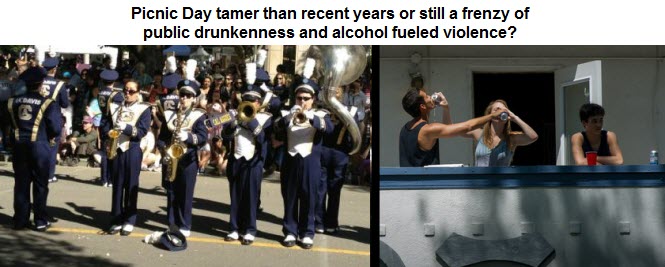 The early reports I heard regarding Picnic Day seemed encouraging, other than a couple of high profile cases – a tasering and a knife, otherwise, things were relatively calm in Davis.  None of the out of control shenanigans of 2010.
The reported level of arrests was 51 – a bit higher than perhaps we would like, but given the police presence, not wholly surprising.  There were also just over 100 citations.
Compared to last year, those numbers are down – way down for the citations, where the Davis Police Department issued over 200 citations in 2011 and made 54 arrests.
Last year, Old North Davis reported a number of vandalism incidents and residents there were concerned that the Safety Enhancement Zone would end up pushing problems from the core to the rest of town.  This year, the city expanded the Safety Enhancement Zone and the reports are the problems there were way down.
Given all of this, we thought Picnic Day would be safe for another year.  We were surprised to see comments from both Police Chief Landy Black and a Davis Enterprise columnist lamenting the state of affairs.
While Landy Black started off reporting to the Davis Enterprise that "the weekend came and went without any significant assaults or other tragedies that have cast a shadow over Picnic Day celebrations over the past couple of years," the Chief believed, "there's far too much alcohol-fueled disorder going on."
He said he wants to see city leaders talk more about the issue.  It is unfortunate that neither the mayor nor mayor pro tem were in town to personally witness what things were like.
The Chief added, "We need to be attentive so there is not the opportunity for tragedies that this thing brings on."
Chief Black told the Vanguard Tuesday evening, "Neighborhoods might have been a bit tamer, but we didn't see a significant difference downtown.  Plenty of disorder and some violence."
"It's really a shame that that's what this has come to," Chief Black told the Enterprise. "That's not what the City of Davis or the university wants to be known for."
For Bob Dunning, he argued, "When 51 arrests on a single day in downtown Davis is considered an 'improvement,' it's time for everyone to sit down and reassess the very public black eye that Picnic Day has become … or at least Picnic Day downtown has become."
He adds, "Picnic Day has been overshadowed for three straight years by rampant violence and public drunkenness downtown."
He added, "It's time for the university brass to have a come-to-Jesus powwow with bar owners downtown … either ban the sale of alcohol for one glorious day or we'll cancel the event altogether … take it or leave it … as it is now, Picnic Day is a stain, not a celebration … very few of us look forward to it anymore."
I was not able to walk through the downtown this year like I had hoped, but even last year, was fairly tame.
I asked UC Davis spokesperson Claudia Morain for her assessment.  She told the Vanguard, "This year was better than last year. The Greek pledge was a new and very positive step. Things are moving in the right direction."
Now, some will counter that the university is spared the worst of things, and that is perhaps true, but the overall arrest and citation numbers were down this year from last year.  And some of it is inflated by what many said were actually too many police with not enough to do.
ASUCD President Rebecca Sterling called Picnic Day over all "a huge success."
"[It was] much better than past years," she said.  "The on campus scene was much calmer, and the crowds were not so compacted.  Even with the heat, the number of emergencies and people dehydrated decreased."
She did add, "Into the evening there still seemed to be a large out of town presence downtown, but I don't think it increased from years past."
Various other people suggested it was tame compared to other years.
On Facebook one person told me, "Compared to years past it was very calm. Not as much going on. A lot more police around and not as many parties."
It seems to be that the situation in Davis on Saturday was manageable and bearable.  It is not going to be perfect.  It is not going to be the exact event it was twenty years ago.
Can we do a bit more?  Probably.  But if we can prevent wholesale problems and put up with the large number of police, I think it can be one day out of the year where everything does not go perfectly but still ends up a reasonably good day.
I am sure there are still those people who want to ban alcohol altogether on that day.  To me, that seems a bit over-the-top.
—David M. Greenwald reporting