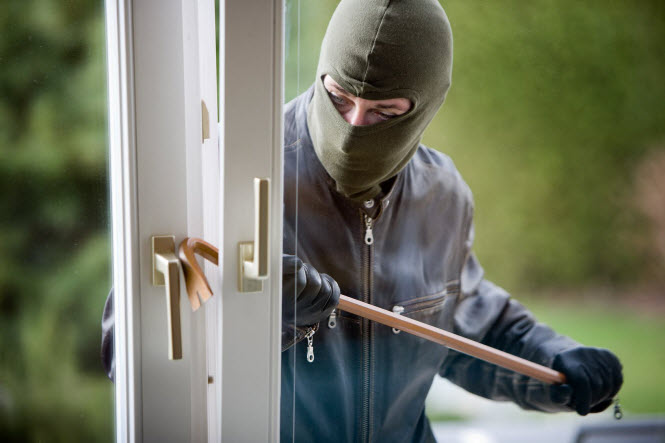 Vanguard Gets Data on Calls for Service
Last night Davis Police Chief Landy Black followed up on a council request for a criminal statistics report.  The report comes on the heels of the much publicized arrest of a suspect involved in at least some of a string of burglaries in Davis.
The Vanguard, following up on a story last month, also requested data on calls for service by address.  As Chief Black told the Vanguard, it is difficult, without a very time-consuming examination, call-by-call, to make a whole lot out of that data, but we will present that as well as his comments to the Vanguard.
He warned the council not to attribute too much to single-year spikes or dips in the crime statistics, but rather suggested that they look at the trend over time.  He suggested in many cases the anomalies are not easily explained anyway.
(click to enlarge)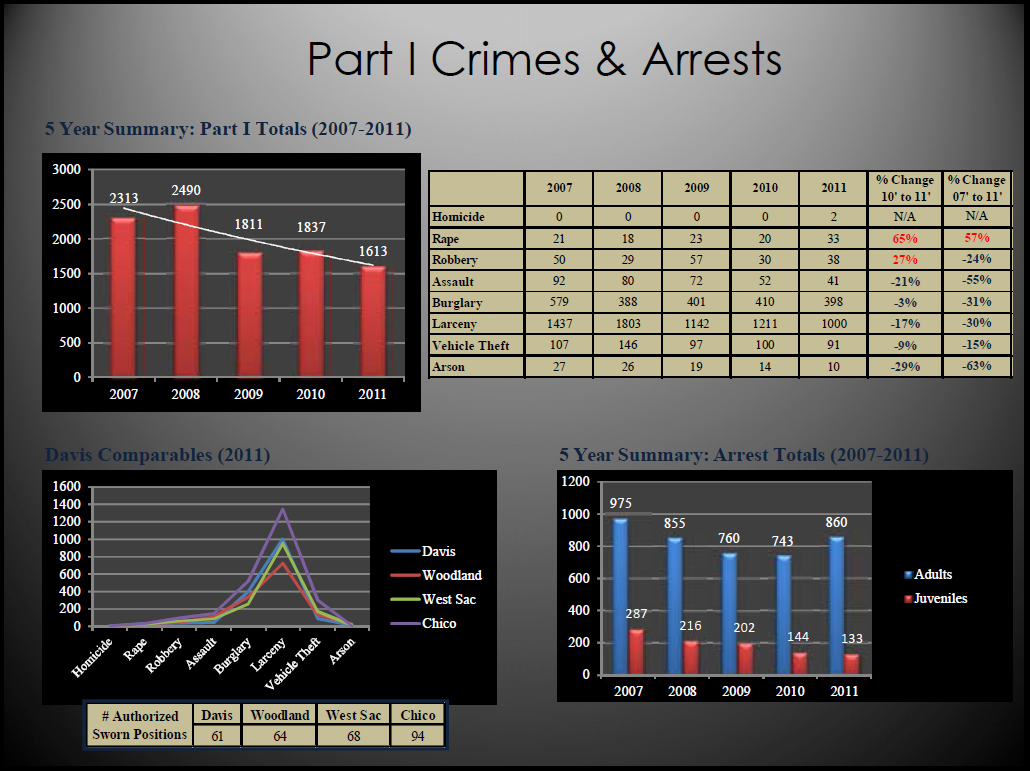 Part I crimes are the most serious crimes, and in Davis over the past five years, we see a downward trend in those crimes.  Chief Black said that was consistent with the trends that are occurring across the nation.
"I think there are a lot of socio-genic reasons for that," he told the city council.
He presented a discussion of AB 109.  "Throughout this discussion there are some overarching issues, the criminal justice system in California has been changing, budgets have been impacted and one of the things that we are seeing is the impetus of AB 109, the criminal justice realignment act," which is causing many of the people convicted of crimes that are not violent crimes, not sex crimes, that are coming back to our communities in a community supervision component."
As to whether changes in crime statistics correlate with AB 109, he said, "At this point it's rather early, any of the data that we have would be rather nascent, it doesn't really lend itself to a really solid conclusion that could be drawn."
He said that some of his colleagues from other cities with larger populations report to him that they have already seen increasing numbers of arrests of people who were released due to AB 109.
Likewise, he has seen some arrests in Davis of AB 109 people, but he had reminded the council a year ago that they would have not been in our community, they would have been in prison.
"That crime would not have been committed," he said.  "Is this going to be significant?  It's too early to tell."
"The ultimate goal is to reduce recidivism through the AB 109 process."
The chief had a decidedly negative view, overall, toward AB 109, to the point where Councilmember Dan Wolk remarked that the chief really did not like AB 109.
The Part II crimes followed similar patterns as the Part I crimes, declining over the time period.
(click to enlarge the images)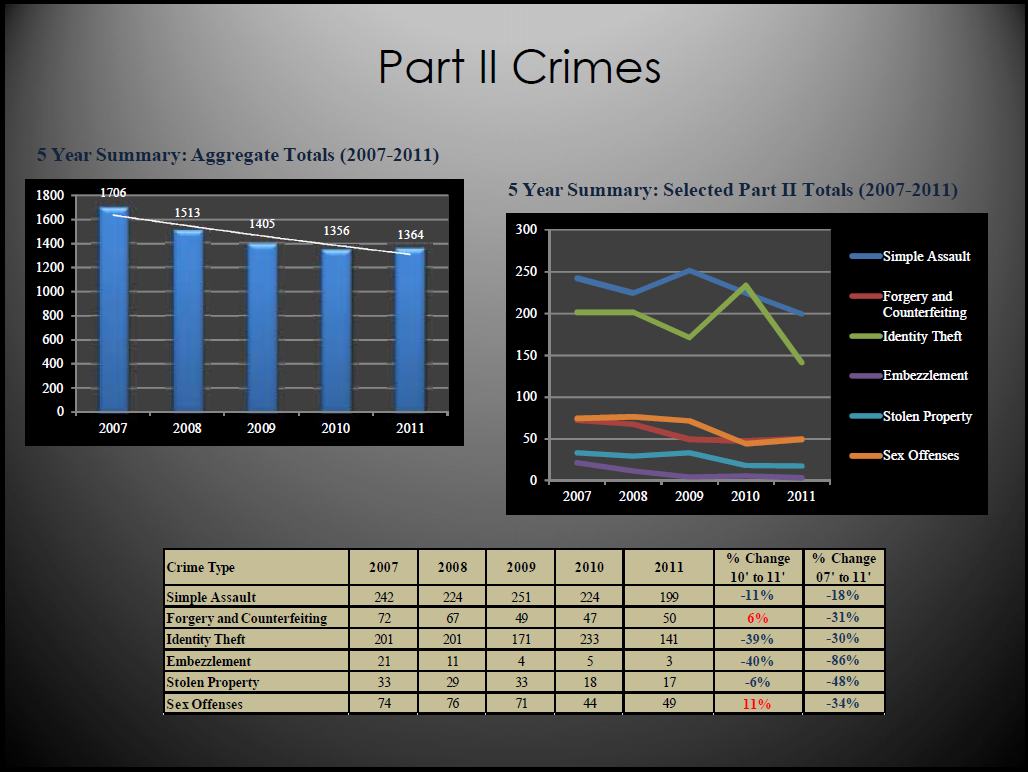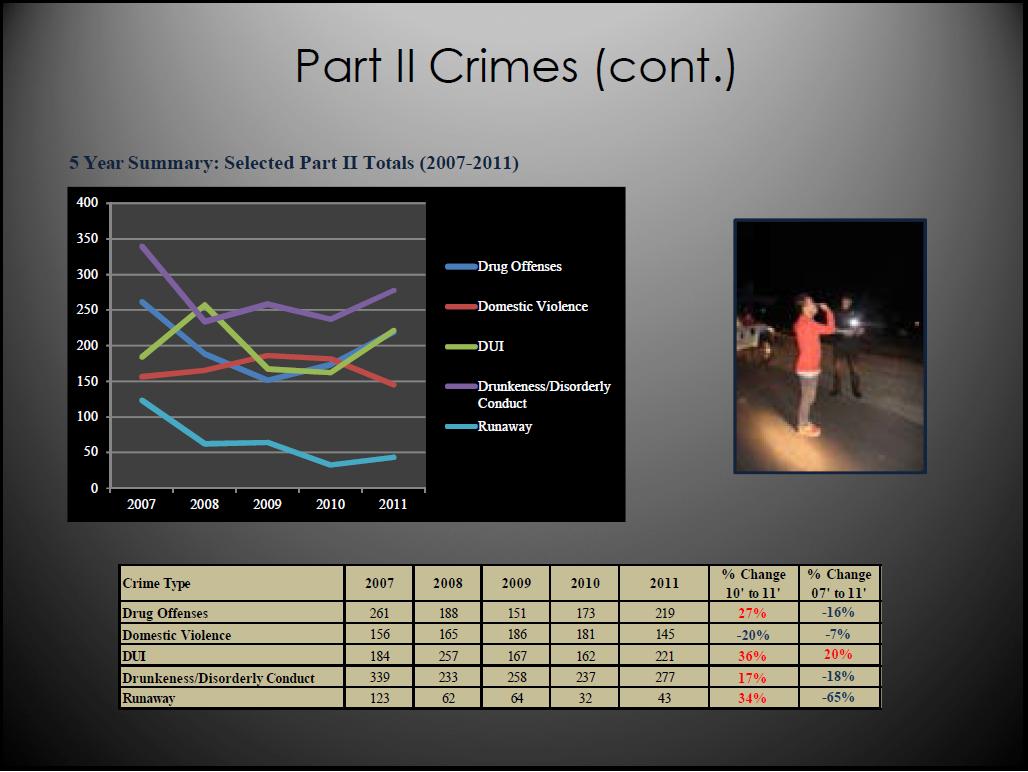 Police Calls For Service
The Vanguard a few weeks ago requested a list of the top 10 addresses for calls for service by the police.  We requested it over a three-year-period, but the three years are fairly similar.
We cross out the first address, which is the police station; this was explained as an artifact of their tracking system.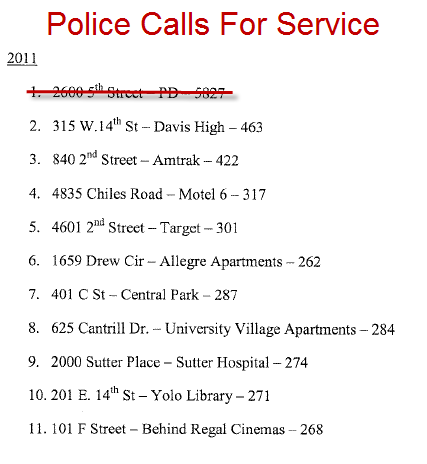 Chief Black told the Vanguard that the data "does not lend itself to any real analysis or to developing a properly informed opinion. There are just so many variables; things the numbers you asked for and received don't take into consideration."
He adds, "A tally of calls at any particular location(s), if used without analyzing the specifics of each and every call, as well as factors that are unable to be captured through numerical data, runs the risk of actually comparing the dissimilar and reaching non sequitur conclusions."
While we understand the chief's point and that it would take much more work to analyze the underlying bases for these calls, in our view we can still see some patterns here.  It is difficult to know why the Davis High location ranks so high, and whether they are counting truancy calls or if these represent a real crime problem.  We inquired with the district but have not heard back from them.
The train station, along with the park, might represent places where homeless people gather, which may or may not be a factor.
Motel 6 has at times been a location of violent crimes, including at one point, a murder.  Target, when it was proposed, generated a lot of concern that it might be a "target" for crime.
And there are a couple of student housing addresses that probably receive party and noise complaints.
Chief Black told the Vanguard, "What I can say is that there is no shortage of work for our Police Officers to undertake, as you can see from just the number of calls to the top-10 call-generating locations. More than 50,000 calls-for-service come into our 911 center every year and several thousand crime reports are initiated each year."
Chief Black added, "I would like to see additional police officer staffing for the Davis Police Department so we could do even more than we do, be an even more responsive agency than we already are, and be able to respond effectively and successfully to the future challenges associated with the changing California criminal justice system brought about by AB109 and other impetuses."
This is a point that we raised recently with respect to the burglary wave, as we believe that the city has disproportionately used resources on the other side of the public safety continuum.  While the chief did not go there, he did say, "In spite of our staffing limitations, the City of Davis ranks high on the list of safe and livable cities."
He told the Vanguard, as he told the council, "As I've said many times before, the City of Davis is a safe and peaceful community, with a low overall crime rate and a very low violent crime rate. The efforts of the Davis Police Department, in handling the crimes that do occur, and the calls for service received from all around our community–as the numbers you've gathered demonstrate occurs–do much to help maintain the low, and generally dropping, crime rates and keep Davis a safe, usable city."
He added, "We must not disregard the public safety benefit that derives from the City of Davis being a community of informed, thoughtful, civic-minded, law-respecting citizens who are able to properly interpret and learn from the public safety and crime prevention education efforts of the Police Department."
"Those better prepared community members act to support the crime-fighting efforts of their Police Officers. This police-community alliance helps to further ensure the high quality of life the Davis community enjoys," he concluded.
—David M. Greenwald reporting