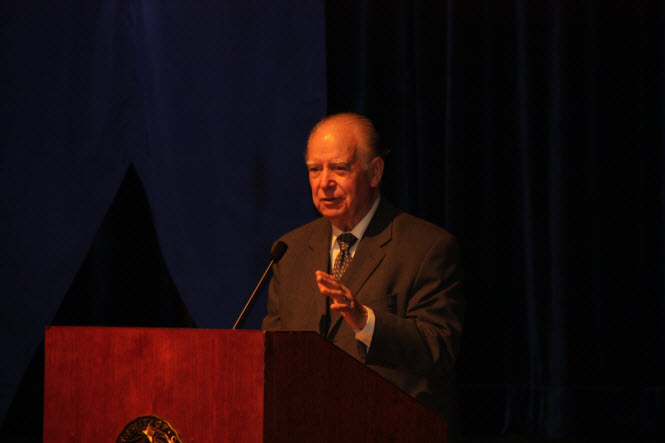 Task Force Presentation Generates Anger and Frustration Among Students and Community Members
Former Supreme Court Justice Cruz Reynoso was stark, critical and to the point on Wednesday afternoon during the long-awaited release of the pepper-spray report – and the Justice did not hold back when describing his frustration with the problems of portions of the Penal Code known commonly as the Police Officer's Bill of Rights.
"I'm very pleased to be here, AT LONG LAST," Justice Reynoso said with emphasis.  "I very much regret… the delay in getting this report to you.  I think that the best interest of the community would have been to have the report to you as quickly as possible."
The Justice pulled no punches in his assessment: "Some of the delays were caused by the negotiations with the policemen's union to see whether the Kroll Investigators could meet with some of the police officers – that got resolved."  He continued, "The greatest delay happened because of the lawsuit."
Mr. Reynoso did not blame the lawyers who brought the lawsuit, but rather the law.  "They brought it based on some legislation that has come from Sacramento.  So my blame is on the legislators who have passed legislation that sometimes is referred to as the policeman's bill of rights."
'The reality is, as you can see in this case, that it does not permit the community to know exactly what happened, who's responsible for it, what can be done to correct it," he continued.  "I think that that's a great disservice to the communities that deal with police officers who, after all, are public servants.  And I personally think it's a disservice to the police."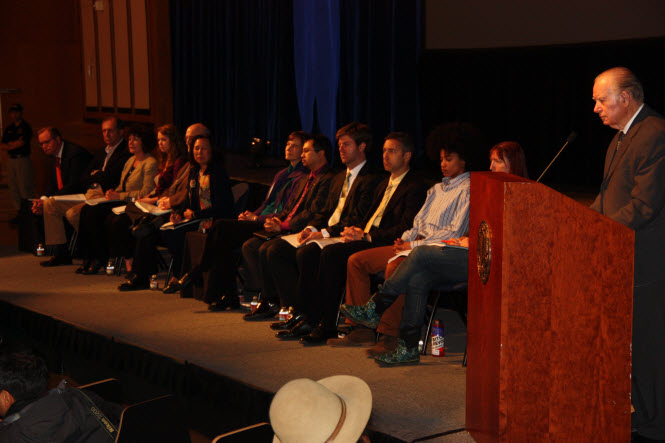 Cruz Reynoso expressed appreciation for the work of both the members of his task force as well as the Kroll people, who were willing to work with the Task Force to ensure that they got all the material and information that they needed.
He noted that the task force members had agreed to the findings of the report unanimously – a remarkable feat, noting that large numbers of this committee were filled with UC Officials, many of them in upper administration.  And yet these officials, during the question and answer session, were equally pointed and critical about what happened.
Overall, he said that those in charge acted in good faith but made serious mistakes.  His bottom line comes from the first sentence in the report: "The pepper spraying incident that took place on November 18, 2011 should and could have been prevented."
Much of his presentation went over the findings of the report and discussed some of their recommendations.
"With respect to the pepper itself, objectively there was really no reason we concluded to have used the pepper spray," he said.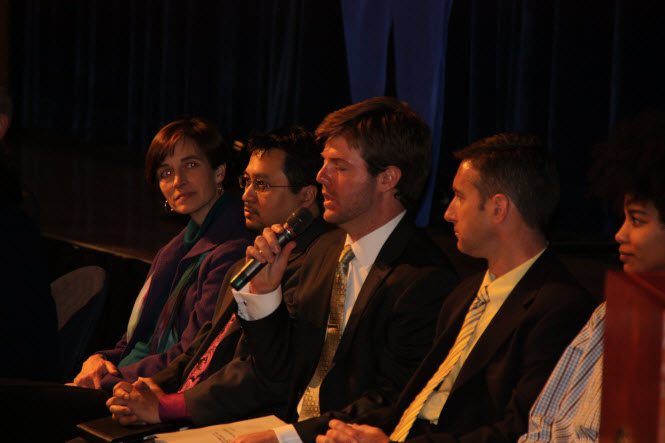 Some of the officers said they were scared because they were surrounded, but he said, "When the Kroll people looked at the tapes we found out that they were not completely surrounded.  There was one officer who in fact took two arrestees through the students that were around."
"Objectively speaking there was no basis for them to indeed have any fear or to have done what they did," he said.
Following the report, Cruz Reynoso argued that the plan by the police was not only inadequate to begin with, but it was not followed by the campus police.  He noted that some of the problems were perpetuated by the lack of any plan for what do with the arrestees.  They ended up, in fact, getting surrounded by onlookers who had nothing to do with the demonstration, because of this.
"Sworn officers have a special responsibility, they can't just go out and arrest anybody," he said.  "They have to have a good basis for it and" it is safe "to say there was confusion in terms of even the basis for any possible arrest."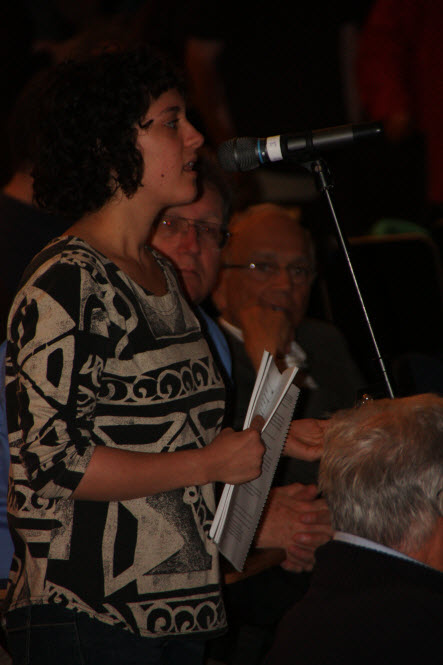 He questioned whether the rule against overnight camping was a sufficient basis to arrest demonstrators during the day.  "Obviously the regulations could be enforced by somebody, but could they be enforced by sworn police officers?" he asked.
"The role of police officers on the campus," he said, "is very different from that of a city or a county."  He thus suggested that the campus may look into whether they have the right number of sworn police officers as well as the need for officers to undergo special training when they work on campus.
Alan Miller from Davis was the first member of the public to speak, in a lengthy and often heated question and answer session.  He noted that he had gone down to the police station following the incident and was told that there were a lot of rocks and bottles and large numbers of non-students and "all of this would come out in the following weeks."
But, as he noted, this turned out to be false – the rocks were there to hold down the tents in the wind and the bottles were there for recycling.  He said pointedly, "The police lied to us.  The police lied to protect themselves, to protect their fellow officers."
One of the members of the task force (and unfortunately they were bad at stating their names before speaking) responded, "I think it's clear that the officers were wrong, but to delve into their intent, I'm not in a position to do that."  But he added, "If they were basing their decisions on being surrounded by protesters, that was factually incorrect."
He added, "If there were rocks, those rocks were being used to pin down the tents."
Cruz Reynoso spoke to the "bunker mentality" of the police – an effort to protect one another.  "What concerns me is that, but for the reality of the Kroll report finding something like 60 tapes about what happened so they could really analyze what factually happened – without that, I think folk would have a tendency to believe exactly what was said."
"The first thing the chief said was that the officers used pepper spray because they were surrounded and they were fearful for their lives…  without those rather dramatic pictures that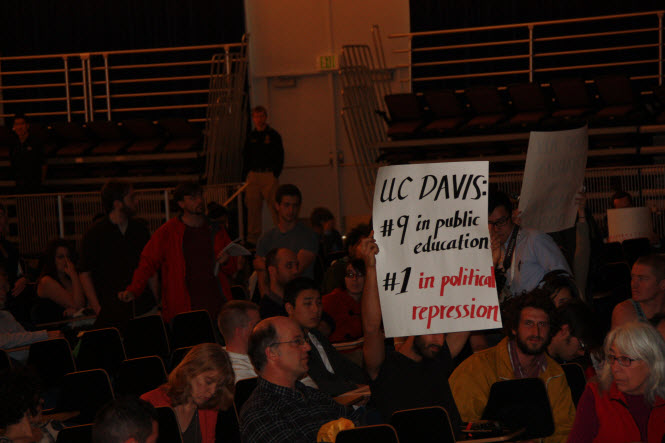 we saw, I think folk would have believed that and that would have been the end of it," he added.
One of the ten people arrested on November 18 spoke and asked about how much coverage there was about "misconduct that may have happened in the police station involving people who were arrested."
Robert Ostertag, a UC Davis professor said, "One thing that jumped out at me in the report was the finding that the pepper spray that was used was not an approved weapon."  He added, "they said they were also not trained in its use."
He asked, "How did a weapon that they're not approved of and not trained in using end up in their hands?"  He further asked, "Do they have other weapons over there at the police department, readily available that they're not trained in and are not approved?"
Cruz Reynoso responded that there are requirements that they be trained on the weapons they use.  Moreover, there are different types of pepper spray and "this was a more [powerful form] and in their protocol they did have some training in using the pepper spray, but it wasn't as strong a pepper spray as the one that was used."
He indicated that he could not interview Lt. Pike to find out why he had that type of pepper spray.
Professor Ostertag commented, "If safety of students is the primary concern… and according to the university administration, the whole reason they went out and took down the tents is concern for safety… the idea that an unapproved [weapon] in which people have no training [is] being used is a very very serious matter."
Cruz Reynoso responded, "The irony, as you'll note in the report, [is] it wasn't even used properly."
Geoffrey Wildanger was one of the people pepper sprayed and is currently being prosecuted for the bank blocking protests.  He noted that they were, ironically enough, pepper sprayed with military grade pepper spray but pepper spray has been banned under the Geneva Convention as a chemical weapon.
He noted that, following the incident, there was a large mobilization for people who wanted Katehi to resign "because Katehi as chancellor of the university bears ultimate responsibility for what happens on campus."  He added, "The delay and delay and delay of the report has effectively dispersed  a lot of this energy and a lot of this anger and caused a situation in which" they have been repeatedly told to be patient as there are ongoing investigations.
He asked, "Why when the reports are being delayed are we still being harassed by the same administration… and the same police force and now being prosecuted and arrested by them?"
He expressed his frustration because, as he said, this wasn't the first time these types of incidents have occurred and he argued in each protest he has been beaten up by the police and has the bruises to show for it.
Dan Dooley, Senior Vice President in the UC Office of the President responded, "The report acknowledges both in the findings the mistakes that were made…"  He continued, "With respect to the police department," he said they asked the same question as earlier why was this weapon available that was supposedly not authorized and the officers untrained on, "how can this happen?  The bottom line is, we think, there needs to be a complete review from top to bottom of the police department, of the training that's required, the procedures and protocols…"
He said that their objective is "a university public safety operation that is a model for university campuses around the country and not one that is designed around the… [traditional] model ."
Later, a member of the task force responded to the question about whether the police have too much power.  A task force member argued that their report does look at the question of "what is the right level of police," and the right level of sworn officers versus non-sworn officers.
He added, "There is some disagreement here with the policeman's bill of rights in that it doesn't properly serve the police force and doesn't properly serve the community.  There's consensus agreement on that belief."
Shawn, a graduate student in sociology, said, "This isn't an isolated incident…  The committee has focused a lot on finding individual fault and that might be taken by some people to think that this is an isolated incident, when, rather, this is something that has been going on at all of the University of California campuses, including this one, since at least 2005."
He referenced the findings of the Berkeley report on their November 9 incident, that argued that pepper spray was a better alternative to the use of batons.
A task force member indicated that the UC Berkeley report was "an internal affairs investigation report,"  and continued, "I don't think that review under the Berkeley internal affairs has any bearing on what we've recommended.  Our recommendations are far more comprehensive and address a far broader set of circumstances than that report did."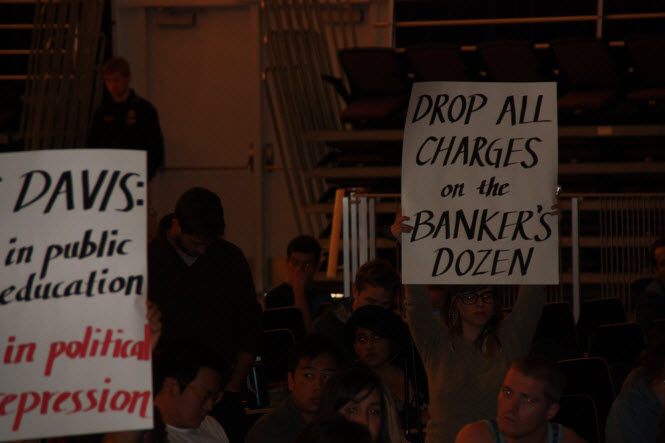 He added, "Quite candidly, I don't think it's particularly relevant to the Davis circumstance."
Alan Brownstein, a Constitutional Law Professor who sat on the task force, addressed free speech issues that arise in this matter.  He said, "There are really serious questions about the what the rule should be in our community and how the first amendment applies.  Some of the rules are designed not to suppress speech but to protect speech.  A lot of time, place and manner rules exist to make sure that everyone gets an opportunity to speak and the people who shout the loudest aren't the only people who have the floor and have the ability to be heard."
So he argues, "I think it's a mistake to view rules as only suppressing expressive activity."  He also noted that no matter what people's views are there are people who disagree with those views "and they will insist that their interest be respected as much as your interests are respected.  We have to develop a framework where people who disagree can coexist in our community."
In response to the pepper spray versus baton question, Professor Brownstein said, "I think we want to develop a community where the police don't use either."
A member of the task force said, "There were basic errors that were made and that shouldn't happen…  Our police department at UC Davis should be a model, a model that all universities come to and look to say how should we do it."  He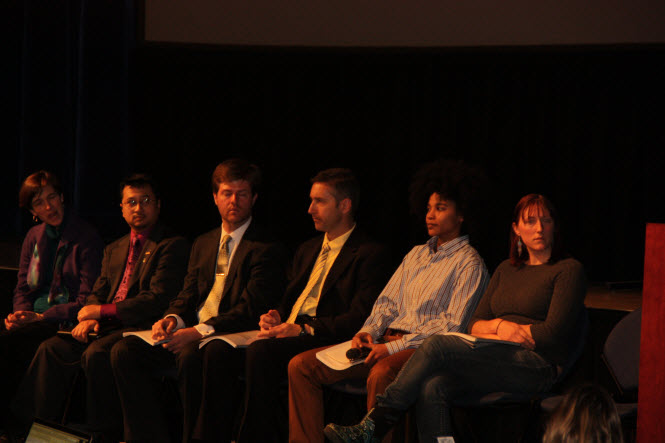 added, "We're a ways from there."
He said the task force recommends, "We follow the latest evidence-based practices and where the evidence-based practices don't exist, we develop them.  We're a research institution, let's take the steps necessary to be a model for other institutions."
Professor Brownstein probably made the most pointed and poignant comment when he said, "Kroll people who were experienced police officers were aghast…  They had worked for decades with municipal police departments, they were shocked at the way that our police department operated."
He added, "Experienced police officers looked at our department and said that's not what well-trained experienced police officers do in similar situations."
"Some people said the police appeared to be surrounded and threatened," he added.  "I think the opinion of the Kroll investigators was that's ridiculous.  Any trained and experienced police force could have handled that situation without resorting to violence or pepper spray."
"We agree as a task force," he added.
Another commenter who was pepper sprayed and is also facing charges at the bank protest asked, "If the police are not trained, why are they still walking around with their weapons on this campus?"
She added, "Why are these police officers still around – that's unacceptable."  She asked if they took recommendations, then said, "Then why did you ignore over 100,000 people who called for the resignation of Chancellor Katehi?"
"This report has done its work, right, it was to buy Katehi time and let this uproar die away, now there are no mechanisms to hold her accountable despite the contents of the report.  These same administration and these same police are now prosecuting some of the pepper spray victims and trying to imprison them for up to 11 years," she continued.
"This report should have changed something, it hasn't changed anything, how can this be?" she asked.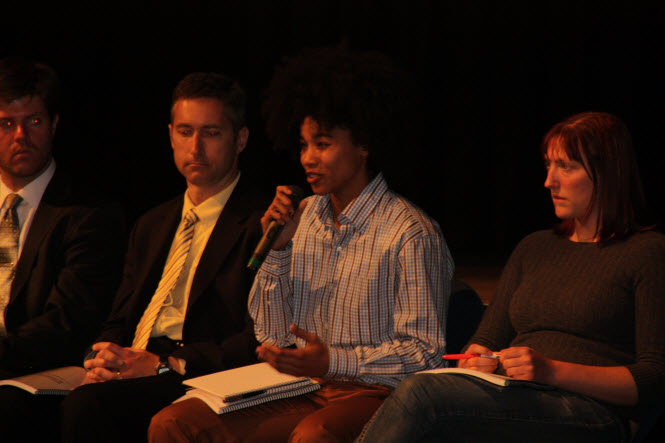 Cruz Reynoso noted that President Yudof asked the task force not to make recommendations about punishment.
The commenter responded, "Because no one gets punished then."
Cruz Reynoso indicated that they would be meeting with the chancellor to go over the mistakes that were made and the lack of judgment.
But the commenter was clearly frustrated by the delays in this process, which Cruz Reynoso acknowledged were outside of their control and again laid the delays at the hands of the lawsuit and the police bill of rights.
"We called these things are we saw them and we're not apologetic about it," Mr. Reynoso said.
She responded, "And on April 27, I'll meet with the District Attorney's Office, so the same violence against me of this university, and nobody is being held accountable for that."
One of the students on the task force said bluntly that, while most of what the student said was true, the employee contracts did not permit them to make those kinds of findings.
However, the student on the task force said, "Katehi's not going anywhere.  She is our chancellor and she will remain our chancellor unless she does something horrendously illegal.  As it stands right now, that's not what happened."
So, the student on the task force added, "The answers that you're looking for are not going to be found on this task force report because we're not allowed to do those things."
"Our job was to point fingers and say what happened, we can't really do more than that," that student added.
Another female student came forward and spoke on behalf of someone not allowed to speak up, "The majority of the people who were pepper sprayed that day are now, as you all well know, unable to comment on this report because they're being pursued, prosecuted by the university for the very same thing, but by the Yolo County Court."
"They no longer have a voice," she said.  "The majority of the people cannot even comment on the Reynoso report because on April 27 they're being called to the Yolo County Superior Court to appear for protesting the privatization of the University."
Cruz Reynoso closed by noting that he disagreed with an issue that happened at UC Irvine in the past: "I disagreed with what happened there in terms of bringing in the law enforcement people, and I confess that I disagree with what this campus has done."
—David M. Greenwald reporting