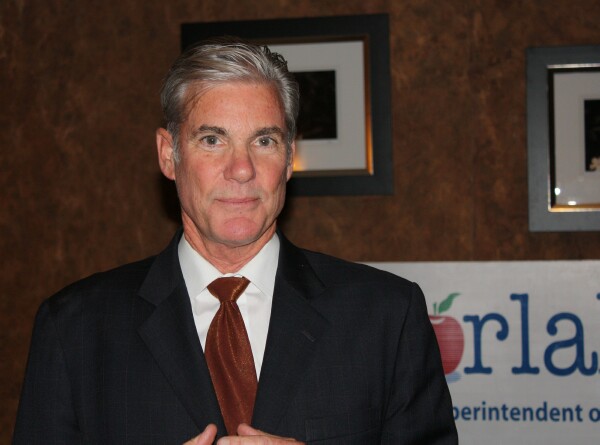 The heat is slowing being turned up on the leadership of Cal State University (CSU) as State Superintendent of Public Instruction Tom Torlakson Monday called for a freeze on executive compensation when hiring for five open California State University (CSU) campus president positions.
In recent weeks, Governor Jerry Brown and Senator Leland Yee have criticized the timing of executive pay increases as they coincide with tuition increases on students, along with proposals for tax increases to aid higher education.
As Superintenent of Public Instruction, Mr. Torlakson sits as an Ex Officio Trustee of CSU, and yesterday he released the following letter addressed to CSU Chancellor Dr. Charles B. Reed and Chair of the Board of Trustees A. Robert Linscheid, with copies sent to the entire Board of Trustees.
He writes, "At a time when virtually every Californian is being called on to make economic sacrifices, I feel compelled to express my opposition to your recent decisions to approve the maximum allowable pay increases for the incoming presidents of California State University (CSU) campuses at Fullerton and East Bay."
"As I understand it, the executive compensation policy adopted recently by this board states that incoming campus presidents are to receive no more than a 10 percent increase above the pay level of the predecessor. This policy was designed to create a ceiling for compensation during a time of crisis. Instead, it appears that it is also being used as a floor," Mr. Torlakson continued.
He cautions, "We cannot make these decisions in a vacuum, unaware of the challenges facing our state. We must be ever mindful of the financial emergency at every level of California's educational system."
"As Trustees, we know that state support for higher education has been sharply reduced over the last few years, including the $750 million reduction in CSU's 2011-2012 budget. With $200 million in additional cuts proposed should the Governor's November initiative fail at the polls, we face the very real potential of a 35 percent reduction in state funding to the CSU in just 18 months' time," Mr. Torlakson pointed out.
He noted, "Unfortunately, students and their families have borne the brunt of these reductions, with tuition fees rising more than 300 percent in the last decade. In addition, Trustees are proposing to freeze spring 2013 enrollment, forcing as many as 16,000 students to delay their dreams of a CSU education."
He therefore urged more "careful and thoughtful stewardship of the system's scarce resources," with the search for five additional presidents of CSU campuses.
He warned, "I would add that the Trustees' willingness to increase executive compensation is in stark conflict with the recently ratified collective bargaining agreement between the CSU and the CSU Employees Union, which provides no immediate salary increases for more than 15,000 classified staff members. If we have no resources to compensate those who are already hard at work providing for the daily operations of our campuses, how can we justify greater compensation for those who would lead them?"
"As an important first step, I propose placing an immediate freeze on any increase in executive compensation. Specifically, I suggest that the five open campus president positions be filled with candidates willing to accept the base pay of their predecessors, with no increase for a specified minimum period of time," he said, concluding: "The students we serve and the public that supports our system enjoy no immunity from the consequences of the Great Recession, which has left millions without work and millions more working harder for less. Why should those we select to lead our campuses be any different?"
Governor Jerry Brown previously weighed in, "I write to express my concern about the ever-escalating pay packages awarded to your top administrators. I fear your approach to compensation is setting a pattern for public service that we cannot afford."
He added, "I have reviewed the Mercer compensation study and have reflected on its market premises, which provide the justification for your proposed salary boost of more than $100,000. The assumption is that you cannot find a qualified man or woman to lead the university unless paid twice that of the Chief Justice of the United States. I reject this notion."
"At a time when the state is closing its courts, laying off public school teachers and shutting senior centers, it is not right to be raising the salaries of leaders who–of necessity–must demand sacrifice from everyone else. These are difficult times and difficult choices must be made. I ask that you rethink the criteria for setting administrators' salaries."
Senator Yee was angry, issuing a statement, "When the students are suffering, CSU should not be handing out such exorbitant executive compensation."
The Senator noted that the CSU Board of Trustees has twice in the past year raised tuition by 9.6 percent and then by 12 percent.
Unfortunately, Chancellor Reed has been a problem for some time and that is not going to change any time soon.
This week, the California Faculty Association, which represents faculty in the CSU, issued a scathing critique in a report entitled "For-Profit Higher Education & CSU: A Cautionary Tale":
"During this challenging time, the system's chancellor, Charles Reed, has chosen to lead the CSU through a stealth process of what might be described as 'for-profitization,' taking the CSU down a path that threatens the public essence of the university and its mission. Leveraging the public's hunger for access and the opportunistic moment of crisis, the CSU's executive leadership is quietly pursuing a vision of the university that will have permanent consequences and irrevocably harm the CSU's quality and reputation. This version of the CSU contrasts starkly with that of the visionaries who founded the system fifty years ago."
The report examines how, "with virtually no public input, those entrusted with leading the CSU have parlayed the public's desire for greater access to higher education in a time of economic crisis into a stealth program that threatens to alter the very essence of the CSU as a great public university."
The report continues:
"Last year, CSU executives were paid between $240,000 and $400,000 in salary alone. On top of that, each executive is allotted $12,000 per year as an auto allowance. Campus Presidents and the Chancellor each receive either state-owned homes or housing allowances of $50,000 or $60,000 per year. Other perks available to executives include special retirement packages such as lifetime employment as a tenured professor and other deals that were widely criticized as excessive 'golden parachutes' when they were exposed by the San Francisco Chronicle in 2006."
In a blistering letter from Senator Ted Lieu to Chancellor Charles Reed, "Against the backdrop of statewide outrage, it is disturbing that CSU leadership – rather than reaching out to stakeholders – instead engaged in a unilateral process of creating a skewed policy to lock in ever-escalating pay packages. By asking for adoption of this policy, CSU leadership is essentially telling the Governor, Lieutenant Governor, legislators, faculty, students, taxpayers, and editorial boards in California to go pound sand."
He adds, "The resulting loss of credibility by CSU leadership has severely negative consequences for the CSU system. Last year, CSU's budget was cut twice, for an amount totaling $750 million. Several legislators have introduced, or will introduce, legislation to take away salary discretion from the Board of Trustees. In walking the halls of the Capitol, meeting with stakeholders, and discussing the state budget with other legislators, I can safely say CSU has few to no defenders."
In their hasty and ill-conceived defense, the university official on Wednesday conceded that the raises were "bad optics…bad juju" in light of budget cuts and enrollment restrictions, a notion that was first quoted in the Sacramento Bee but quickly spread across Twitter and other social networking sites to the mocking of many.
In a scathing editorial from the Fresno Bee, of all places, they wrote, "In this economy, the symbolism of the CSU move is dreadful."
"Unfortunately, it is only a matter of time before CSU gives yet another executive pay hike and another scandal plagues our great university," said Senator Yee. "I will not give up this fight for our students, faculty and California taxpayers."
—David M. Greenwald reporting