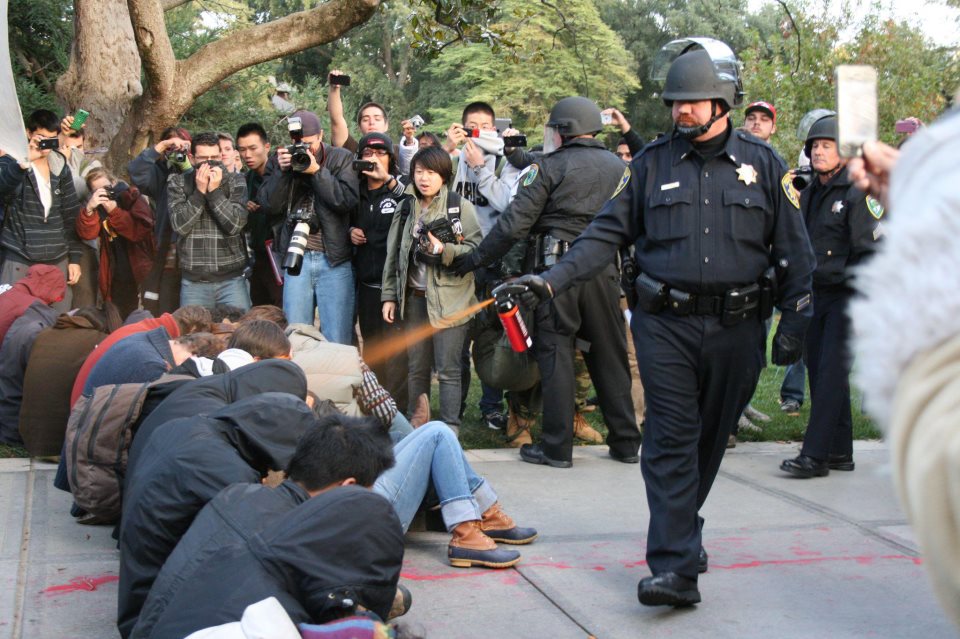 At this point, two dominoes have fallen:  Chief Annette Spicuzza was likely forced to retire in order to keep her pension; and Vice Chancellor Meyer, Spicuzza's immediate supervisor, was removed administratively from the position of direct oversight over the police department and replaced by Provost Hexter in that role.
The Vanguard has now completed its individual-by-individual account of the key actors at UC Davis.  We are, of course, awaiting the official word – if we ever get it – on the plight of people such as Lt. John Pike, Lt. Barry Swartwood and Officer Alexander Lee.
While we called early on for Chancellor Katehi to resign, it seems quite evident that she will not be fired.  We will make an argument shortly where our analysis leads to a conclusion that she should be fired.
Chief Spicuzza
We start the analysis with a look at Chief Spicuzza.  One thing we do not know from the  Kroll report is the relationship between Chief Spicuzza and both John Meyer and Chancellor Katehi.  That would be important to be able to assess, because on the surface of it, it seems that the upper brass made a decision on when to remove the tents based on questionable intelligence and even more questionable legal authority.  In addition, while Chief Spicuzza said afterward that she had reservations, she did not clearly express them to upper management.
That is a problem from the perspective that she is the highest ranking police officer, who chooses to ignore her tactical knowledge and experience, and instead basically allows the civilians to make a critical tactical call.  She fails to exercise her own judgment and ignores officers with tactical experience and knowledge under her.  We do not know, however, if that is a political decision to let the civilians choose the course of action rather than exercise her own independent judgment, leading to the grave error described by Kroll.
What we do know is enough.  She did not have the support of the people over which she had command authority: they ignored her with impunity, and during critical times she was absent from key meetings where decisions were made.  Moreover, we have the embarrassing account of her conduct on the day in question – instead of making command decisions and expressing them directly to her personnel, she was taking photos, videotaping the events, and using the cell phone to call dispatch.
Based on this and this alone, we can certainly conclude that her sudden, and likely forced, retirement was the proper move by the UCD officials and Spicuzza, knowing that this was not a first-time problem with her. There were all sorts of problems with the leadership of that department, and going back at least five years only bolsters that notion.
We fully believe that it was not her decision to retire, but her best option.  We support the decision here to change leadership as quickly and cleanly as possible.
Alexander Lee
If Chief Spicuzza was the easiest call on forced retirement, Officer Alexander Lee would seem at least to be the easiest call on choosing retainment – though some will argue that as a police officer he has the duty to resist unlawful orders – rookie or not.
As we wrote previously, we know that Officer Alexander Lee was a rookie officer in November 2011, having recently been promoted to Officer from Security Guard sometime between June 2011 and November 2011.  We don't have the specific date because the university withheld that record, however we know it was so recent that even on November 29, the change was not reflected in the university's payroll system.
We also know, from the report, that Officer O is Officer Alexander Lee.  According to the task force report, Officer Alexander Lee was "acting at Lieutenant Pike's direction" when he pepper-sprayed a "smaller portion" of the protesters who were in a seated line.
The Kroll report writes, "The actual deployment of pepper spray by Lieutenant Pike and by [Alexander Lee] at Pike's direction was flawed and unnecessary."
The report continues, "Lieutenant Pike appeared to have exhausted the contents of the canister and [Officer Alexander Lee] began to spray some of the students seated on the west portion of the group."
According to Alexander Lee, "Lt. Pike issued an order to me to use police pepper spray on the crowd. I sprayed the crowd directly in front of the police skirmish line using a department issued pepper spray fogger Defense Tech MK-9."
That is pretty much the extent of Officer Lee's role here.  He was a rookie officer taking direction from Lt. Pike a longtime veteran Lieutenant.  Given the circumstances, it is reasonable to understand that the officer was hardly in a position to question the orders and therefore it is difficult to find much cause for his termination.
In addition, it is possible that Officer Lee was still assigned to a Field Training Officer who should have been responsible for making sure that Office Lee followed lawful orders.
In this case, both the FTO and Lt. Pike would have failed in their duties to train a rookie officer.
Other the other hand, it is possible that Officer Lee would have been on probation as a police officer and therefore a mistake of this sort could be grounds for firing him without any right of appeal on his part and no job protection at all.
In short, there is much we do not know about Officer Lee's position.
Lieutenants  Pike and Swartwood
We tied the two together here because, in a very real way, they both bear about the same responsibility for the decision to use pepper spray.  Lt. Swartwood was the scene commander but Lt. Pike was the most senior officer on the Quad.
The only difference between the two was that Lt. Pike ended up using the pepper spray and Lt. Swartwood did not.
However, it seems likely that they both approved its use.  Kroll reports that, according to Lieutenant Pike's Supplemental Narrative Report, he discussed the use of pepper spray with Lt. Swartwood and "considered other force options."
However, "In the Supplement Narrative Report" written by Lt. Swartwood, "he does not say that he discussed the use of pepper spray or any other less-than-lethal force with Pike."  The "first mention of pepper spray" by Lt. Swartwood "in his Supplemental Narrative Report is when 'Lieutenant Pike displayed a can of police pepper spray' to the crowd while Lt. Swartwood was outside of the circle."
It is possible that Lt. Pike mentions this in his report to reduce his burden of responsibility.  On the other hand, Lt. Swartwood attempts to distance himself from the decision in his report.
We cannot reconcile these two accounts.  Only one can possibly be telling the truth here.  Though we speculate that, as scene commander, Lt. Swartwood should and would have been consulted by Lt. Pike before he used the pepper spray.
Moreover, in his narrative, Lt. Swartwood justified the use of pepper spray, stating, "It was my belief that to step over the protesting occupiers with prisoners and weapons would be hazardous. The occupiers had collectively surrounded us and it was possible, if we did step over them, that they could attempt to free our prisoners (they chanted that they wanted them released) or attempt to grab us or our equipment."
We are supposed to believe that he supported its use after the fact, but did not know that Lt. Pike intended to use the pepper spray?  That seems unlikely.  We believe it is enough that Lt. Swartwood knew or should have known that Lt. Pike intended to use the pepper spray and was not opposed to its use even after the fact.
That establishes joint culpability, even though Kroll flags Lt. Pike more heavily.
The major finding of the two reports is: "The pepper spraying incident that took place on November 18, 2011 should and could have been prevented."
Kroll writes: "The actual deployment of pepper spray by Lieutenant Pike and by [Officer Alexander Lee] at Pike's direction was flawed and unnecessary."
The task force finds, along with Kroll, "The decision to use [pepper spray] was not supported by objective evidence and was not authorized by policy," as the pepper spray that was used was not an authorized weapon for use by the UCDPD.
The task force finds, "Lt. Pike bears primary responsibility for the objectively unreasonable decision to use pepper spray on the students sitting in a line and for the manner in which the pepper spray was used."
It is inconceivable that Lt. Pike should be retained and we believe Lt. Swartwood is equally culpable and should likewise be relieved of duty.
The question comes to mind whether or not criminal charges should be brought against the lieutenant(s).
The case for criminal charges starts with the finding that the use of pepper spray was objectively unreasonable given the circumstances.  That is bolstered by the questionable legal authority that the police used as a basis to clear out the tents.  Not only did they probably lack legal authority according to Kroll, they knew it.  It was Lts. Pike and Swartwood who demanded the Campus Counsel give them a legal opinion.
We do not know what was in the legal opinion expressed by Campus Counsel, but we know it was clear enough that the police carried out the tent clearing operation.
Not only was the use of pepper spray not reasonable according to Kroll, and not only was the legal authority at least questionable, but these errors were compounded by the ultimate fact that the police used non-authorized pepper spray.
The military grade weapon is unauthorized under UCDPD General Order No.559 which "provides that pepper spray can be used, but specifically refers to the MK-4 (a smaller canister)."
The task force adds, "Furthermore, the investigation found no evidence that any UCDPD officer had been trained in the use of the larger MK-9."
Kroll supported their conclusion that use of pepper spray was not reasonable use of force by stating, "This conclusion is buttressed by the facts that the MK-9 was not an authorized weapon under UCDPD guidelines and that UCDPD officers were not trained in its use."
The task force notes that  UCDPD officers were not trained on how to use this pepper spray correctly and that they "did not use it correctly."  Writes the task force: "The MK-9 is a higher pressure type of pepper spray than what officers normally carry on their utility belts (MK-4). It is designed for crowd dispersal rather than field applications and "[t]he recommended minimum distance for . . . application of the MK-9 is six feet." Lt. Pike appeared to be spraying protesters at a much closer distance than 6 feet."
It remains an unsolved puzzle as to how UCDPD acquired and used an unauthorized chemical agent, and the facts here are rather appalling.
We have Kroll determining that the use was unreasonable.  We have questionable legal authority to clear the tents anyway.  We have an unauthorized military grade chemical weapon, a weapon that UCDPD are not trained on, and a weapon that they do not use properly.
The major question is whether this rises to the level of criminal activity.  We stress that we are not attorneys, however, attorneys were consulted for the writing of this section.
There are two primary criminal charges that might apply.
One possible charge is battery which, under Penal Code section 242, is "any willful and unlawful use of force or violence upon the person of another."
The battery charge would be pretty much a straightforward determination that the use of force was unlawful.  We think there is ample evidence of that. as we have already laid out.
The questionable legal authority may be a key element in the determination, but if the DA were to determine that the use of force was not objectively reasonable, that coupled with the three-fold problem of (A) unauthorized type of pepper spray, (B) lack of training, and (C) improper application, would seem to present a strong case.
A question is whether this is merely a simple battery which only requires "the slightest touching" if "it is done in a rude or angry way. Making contact with another person, including through his or her clothing, is enough. The touching does not have to cause pain or injury of any kind."
On the other hand, it could be considered battery causing serious bodily injury.
Under the jury instructions, Calcrim section 925, serious bodily injury "means a serious impairment of physical condition."  It describes possibilities including but not limited to loss of consciousness, concussion, bone fracture, protracted loss or impairment of function on any bodily member or organ, wound requiring suturing, or disfigurement.
Those pepper sprayed described prolonged vision loss, nausea and lung problems, which might be deemed by a jury to be a serious bodily injury.
Lt. Pike is the most obvious figure to be charged criminally, however, the other officers, and in particularly Lt. Swartwood as scene commander, could be viewed as "acting in concert" with the one who actually did the deed could be considered "co-conspirators."
In order to prove aiding and abetting, the prosecution must be able to prove that the perpetrator in this case, Lt. Pike, committed the crime and that other officers like Lt. Swartwood know that the perpetrator intended to commit the crime – in this case their conversation about the use would be sufficient if proven that such occurred.
Furthermore, before or during the commission of the crime, Lt. Swartwood intended to aid and abet the perpetrator in committing the crime.  Finally, the lieutenant's words or conduct did in fact aid and abet the perpetrator's commission of the crime.
That element would be met if the lieutenant as the scene commander gave Lt. Pike the go ahead to use the pepper spray in an illegal manner or did not prevent him from doing so.
Based on this analysis, we believe that Chief Spicuzza's forced retirement was appropriate.  We believe that Lt. Pike and Lt. Swartwood should face criminal charges in addition to termination.  And we are unclear as to whether Officer Lee should incur no further discipline, given that we do not know his previous status.
Next we will look at Chancellor Katehi's ultimate outcome.
—David M. Greenwald reporting