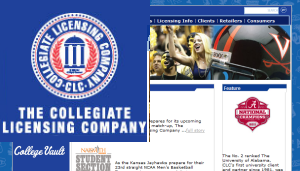 On Sunday, the
Vanguard
brought you a story about the letter we received from Kortny Ficke, Online Enforcement Assistant with the Collegiate Licensing Company.  In a story so bizarre that many of our readers believed it had to be an April Fool's joke, she requested that the
Vanguard
ask a poster using as his username the University's mascot name, Gunrock, to "choose a different name?"
It turns out the joke is on us, however, though it is difficult to imagine a more fruitless waste of time and, it turns out, resources.
The Vanguard, of course, had to get to the bottom of this.  Julia Ann Easley of the University News Service informs the Vanguard that Ms. Ficke is associated with CLC, the university's licensing agency.
"Under our contract," she writes, "CLC gets $20,000 for every $100,000 in gross royalties. The contract is administered by Student Affairs."
Boy, there's a nice little deal, though we do not know exactly how much of that goes to actions such as this.
We are not the only ones who think this is a complete waste of time and money.
Bob Dunning wrote on Wednesday, "BLOG THIS … my friend David, who is the chief cook and blog-watcher at the Vanguard, forwarded me a piece of correspondence he received concerning his site."
His response: "Oh my goodness gracious … does my beloved alma mater have nothing better to do than worry about a user name on a local website? … is Cruz Reynoso available to do an investigation? …"
He writes, "Adds the letter: 'The university is concerned that visitors may believe that this user is associated with the university.' … who knows, if this is allowed to go on unchecked, it could affect graduation rates and retention of tenured faculty … maybe even research grants …"
Finally he adds, "Bottom line here is that this whole debacle could have been avoided if UC Davis had never agreed to trade longtime beloved mascot Ollie Mustang for the likes of an untested upstart like Gunrock …"
The thing is, I just can't bring myself to respond to the letter that is now a little over a week old.
Ordinarily, I would have a Vanguard attorney respond, but that seems almost as much of a waste as the initial letter.
I can't really bring myself to make a serious response.
A kind reader suggested that that we "just put a disclaimer at the bottom of the Vanguard's front page, that states: "Disclaimer: The Vanguard does not control what username a person selects, in an effort to protect the user's anonymity. Any opinion expressed by the user, regardless of the username chosen, is solely that of the user."
I thought about it, that too would cost me $100 and it would require me to take this seriously, and I flat out refuse to.
I probably cannot reprint what I would actually like to respond, so Ms. Ficke, if you are reading this, the answer is no, we are not going to ask our poster to change his or her moniker.  We do not believe there is a reasonable possibility that someone would think that the poster is speaking on behalf of the university.
Frankly, the user may be associated with the university for all I know, certainly an alumnus if not an employee.  So be it.
—David M. Greenwald reporting