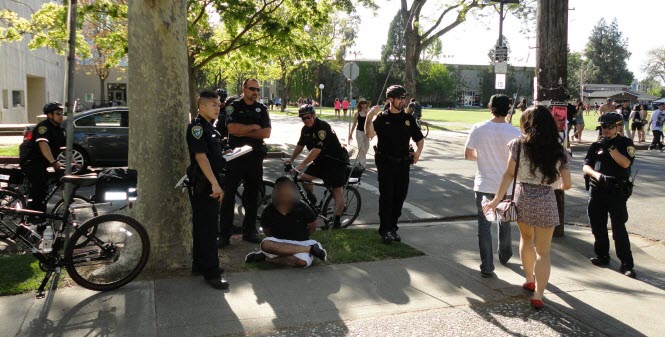 Two years ago, Picnic Day resulted in huge problems in the community, as heavy drinking and a large out-of-town population resulted in huge numbers of assaults that threatened the prospect of future Picnic Days.
As a letter from March 28, 2011, indicated, co-signed by Mayor Joe Krovoza and Chancellor Linda Katehi, the city and campus took a number of steps to reduce the problems, including the creation of a Safety Enhancement Zone which increases the fines for violations in downtown areas.  That SEZ has been expanded this year into areas north of Fifth Street in the city's core.
Moreover, alcohol vendors stopped the practice of 6 am beer sales.
Wrote the mayor and chancellor, "It is vital that we work together this year to take the necessary steps to reduce the activity that marred last year's celebration, or UC Davis will be forced to consider canceling Picnic Day."
While last year's tragedy may have marred the event, a heavy police action greatly reduced the number of problems, even as the arrests went way up due to the heavy, sometimes overly heavy-handed, approach of law enforcement.
For instance, in the middle of the day, the Vanguard observed ten uniformed police officers approach a surprised couple who had been in the middle of a heated but non-violent quarrel.  Police were often seen standing on street corners, waiting for something, anything to do.
UC Davis has announced further efforts to crack down on excessive drinking.
The Greek leaders are signing a covenant "to promote a healthy and safe environment" for Picnic Day, which has been marred by alcohol-related problems in recent years, mostly in the city's downtown and after the daytime event ends. To date, presidents of 51 of the 75 Greek organizations represented at UC Davis have signed.
The new covenant builds on the Greeks' actions last year that earned the praise of the city and university police departments and campus administration for reducing problem behavior. It also follows the introduction for Picnic Day 2011 of a covenant under which Davis businesses that serve or sell alcohol pledged to follow responsible hospitality practices, according to a university press release from earlier this week.
No alcohol is served or permitted on campus on Picnic Day.
"There are a lot of negative stereotypes associated with the Greek system and Picnic Day," said Matt Chernin, president of the Interfraternity Council, the governing body of 22 fraternities at UC Davis. "The covenant demonstrates that we're doing our part to make it a fun and safe day for everyone," said the senior from Lafayette, who is majoring in animal science and history.
The new covenant's 10 points call on Greeks to be responsible party hosts through such actions as providing food and alcohol-free beverages when they serve alcohol, not serving alcohol before noon, and refraining from drinking games.
The practices are in keeping with the Safe Party Initiative, a collaboration of the City of Davis and UC Davis to reduce problems associated with alcohol use by college students at parties in Davis. The initiative focuses on creating safer party environments, building a sense of community among students and neighbors, and increasing enforcement of alcohol-related laws and policies.
Those who signed the Greek covenant have agreed to:
comply with all legal obligations, including not permitting alcohol consumption by those under 21 or those who are intoxicated;
refrain from serving or providing alcohol before noon;
refrain from activities or drinking games that encourage overconsumption and intoxication;
provide food if alcohol is served;
provide alcohol-free beverages if alcohol is served
refrain from using alcohol-themed materials that promote Picnic Day as a "drinking" or "partying" event;
provide adequate supervision and security;
encourage departing guests to travel safely by using designated drivers or taking taxis;
encourage an atmosphere that facilitates positive interactions and provides activities other than drinking;
ensure music or live entertainment complies with the Davis Noise Ordinance; and
encourage responsible drinking along with awareness of the risks associated with alcohol consumption, including activities and situations that might result in harm, injury or death.
"The fraternities and sororities are really taking to heart the idea of being a strong example to the rest of the student population," said Joaquin Feliciano, Greek life coordinator at UC Davis.
Last year, more than 60 of about 100 Davis establishments that serve or sell alcohol signed a public pledge to follow 13 "responsible hospitality practices," and they are being asked to do so again this year.
As we mentioned, the City of Davis expanded the special safety enhancement zone that doubles fines for specific violations on Picnic Day weekend. Targeted activities include violations of noise and open container ordinances, urinating in public and smoking where banned.
Bordered by Eighth Street to the north, the railroad tracks on the east, and First Street to the south, the enhancement zone's perimeter jogs north on A Street, runs west along Russell Boulevard and heads north along Anderson Road.
Among the variables added this year is whether the Occupy movement will plan and target Picnic Day to further their agenda.  There is some indication that this may occur.  However, others believe that since any problems could spell the end of Picnic Day, it might not be the best time to make a political point.
—David M. Greenwald reporting