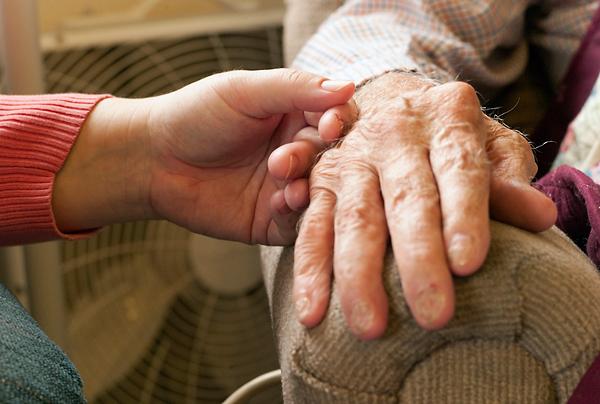 By E. Roberts Musser
The Davis Senior Citizens Commission convened a forum on hospice issues.  There was a selected panel composed of an internest/geriatrician from Vitas Innovative Hospice Care, a social worker from the UC Davis Medical Center, and a representative from Sutter Hospice.  Three Commissioners shared their own hospice experiences, and an attorney-commissioner described two of her clients who had less than optimal hospice encounters.
For the uninitiated, hospice care is of two types:
"Hospice focuses on caring, not curing and, in most cases, care is provided in the patient's home. Hospice care also is provided in freestanding hospice centers, hospitals, and nursing homes and other long-term care facilities.  Hospice services are available to patients of any age, religion, race, or illness. Hospice care is covered under Medicare, Medicaid, most private insurance plans, HMOs, and other managed care organizations."  See here
"Palliative care (pronounced pal-lee-uh-tiv) is specialized medical care for people with serious illnesses. It is focused on providing patients with relief from the symptoms, pain, and stress of a serious illness-whatever the diagnosis. The goal is to improve quality of life for both the patient and the family." See http://www.getpalliativecare.org/whatis
To be more precise, hospice care is provided only to those certified by a doctor to have a terminal illness with 6 months or less to live.  Palliative care, on the other hand, is suitable for anyone with a serious illness in need of symptom relief.  Both hospice and palliative care attempt to give the patient a better quality of life than they would ordinarily have without the benefit of such services.
Barbara Torrez from Sutter Hospice indicated such services provided patient empowerment, dignity, pain control, and independence.  Dr. Amacher from Vitas Innovative Hospice Care described hospice as a Medicare benefit.  She encouraged patients to seek out hospice services as early as possible.  She noted hospice is the "frosting on the cake", giving extra TLC at a difficult time.  She noted that hospice offers chaplains to provide spiritual confort, nurses to give medical intervention, nurses aids to assist with activities of daily living, and volunteers just to impart friendship and company.  Susan Wilson, a social worker from the UC Davis Medical Center opted for hospice as a career choice because she preferred to be given the opportunity to interact with patients.  She stressed legacy building through letter writing, so that patient memories would not be lost.  The UC Davis Medical Center hospice serves many indigent patients.  Counseling is provided to families, where the focus is on quality of life.
One commissioner described his experience with hospice just before he lost his wife to cancer.  He was quite impressed with the training he received from hospice in caring for his deathly ill spouse.  Fortunately his wife did not become disabled until one month prior to her death.  Hospice provided a constant family environment, which made the final days easier to bear.  Another commissioner depicted her encounters with hospice as equally positive in the care of her husband, who had Alzheimer's Disease.  She noted hospice care is very complex, and is an enormous undertaking for the caregiver.  It did make end of life care much better than it would have been without it.  Her husband accessed hospice care twice, recovering somewhat after the first and second times.  The bereavement services were excellent.  However, there was one particular male nurse that in her opinion was negligent, because he did not visit her husband as often as required.  There was also a problem with a palliative care doctor who refused to certify her husband as terminally ill towards the end, even though her spouse died less than a week later.
An attorney-commissioner noted two cases that had been brought to her attention, both bad experiences.  Each situation had certain aspects in common as follows:
The attending physician was cut out of the decision-making loop;
The caregiver spouse was bypassed for medical decisions;
Patients were threatened with discharge from hospice if all orders were not followed;
There was pestering by hospice about unwanted bereavement services;
There may have been a hastening of death by overmedication.
All the panel members seemed surprised at such unfortunate experiences.  To a man, they insisted it should have never happened if hospice care had been administered as intended.  They addressed most of the above identified issues.  According to the panel, the attending physician should always be part of the decision-making process.  However, it is not uncommon for general practitioners in particular to be reluctant to deal with end-of-life issues they are unfamiliar with.  In addition, the patient's wishes must be honored, even if it runs counter to that of the caregiver.  Further, it is frequently the case that a family member is unwilling to accept the impending death of a loved one, and so it is unexceptional to want all medical measures to be taken, e.g. a feeding tube inserted, even if it is against the patient's wishes.
The third point was not addressed – threats of discharge from hospice if orders are not followed to the letter.  As for bereavement services, according to one hospice representative, sometimes family members take up to a year or more to accept death or anything remotely resembling grief counseling.  So to offer such services with some frequency may be necessary.  While it is true overmedication may hasten death, there is a delicate balancing act between providing necessary pain relief for a better quality of life and slightly accelerating certain death.  One important thing that was noted is that any particular hospice is only evaluated by the state no more than once every ten years.  There may be some legislation on the way that will shorten that time frame to at least one time for each three year interval.
Lesson to be learned:  Clearly the hospice industry is not well regulated.  And like any other health care institution, it is far from perfect.  However, if operated properly, it can offer invaluable services to assist with end-of-life care.  It is imperative to check out any hospice ahead of time if possible; strongly advocate on behalf of the patient undergoing hospice care; and speak up if you have determined something is not right.  If for some reason you or your loved one has a bad hospice experience, do not be afraid to file a complaint with the appropriate state agency.  To report such unacceptable incidents is imperative, so that data can be collected and referenced for necessary improvements to the hospice industry.
Elaine Roberts  Musser is an attorney who concentrates her efforts on elder law and aging issues, especially in regard to consumer affairs.  If you have a comment or particular question or topic you would like to see addressed in this column, please make your observations at the end of this article in the comment section.