Executive Council Stops Just Short of Calling For Resignation
In the strongest move to date in response to the reports on the November 18 pepper-spraying incident, the UC Davis Academic Senate announced this morning, that they "hereby censure Chancellor Linda P. B. Katehi for failure to perform adequately the tasks of her office and failure to provide clarity, candor, and trustworthy accounts in relation to the events of November 18, 2011."
The Executive Council stopped short of calling for her resignation. However, the Special Committee did do so.
They said: "The Executive Council calls upon Chancellor Katehi to provide an action plan to implement the recommendations in these reports and to address the leadership deficiencies identified therein. These include deficiencies in consultation, communication, administrative organization, and documentation."
Executive Council requests from the Chancellor a detailed written action plan by June 1, 2012, and a progress report by October 1, 2012.
The Executive Council said it will then "evaluate the progress that has been made to restore effective campus leadership, actively consider the faculty's confidence in the Chancellor's leadership in light of the progress that has been made towards meaningful change, and report to the Representative Assembly."
The Special Committee however, went much further.  It was comprised of ten faculty members.
They note the work of the Reynoso Trask Force and Kroll Group, both of which "identify a systematic breakdown in campus decision-making, procedures and communication. This breakdown led senior leadership to misidentify a peaceful student protest on campus as a crisis."
They "unanimously agree that the pepper spraying of protesters on November 18, 2011 was completely unnecessary and avoidable, regardless of the legality of the operation."
They add, "Both reports identify many factors that contributed to this mistaken and costly misjudgment. As a committee, we are concerned with the conditions that led to the episode, and the aftermath of the incident."
"The unacceptable treatment of our students by the administrators and the campus police, as determined by Reynoso and Kroll, represents an unreasonable use of force," they write.
They went further in their conclusion: "Inconsistencies and gaps in statements made by the leadership team to Kroll may be the result of faulty memory or deliberate acts of omission, obfuscation or misdirection (Kroll, 58-9); the fact is, we do not know."
They find these inconsistencies "troubling."
They express concern over the professionalization of the administrative group, which they argue "has produced a deep divide between the administration and the rest of campus."
They state that the committee has divided views on whether the chancellor should have to resign.
In the appendix to their report, they note "On the question of recommending specific personnel changes, the committee was deeply divided. Some members of the committee even wondered whether or not our charge extended to recommending personnel changes."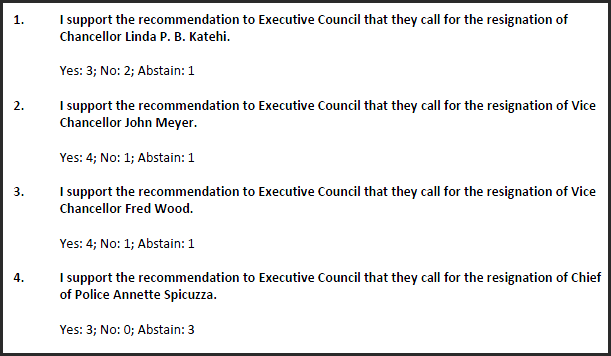 They do agree on core principles concerning the duties of the chancellor.  Those include accountability, wherein they believe the chancellor is responsible for her actions and for the actions performed under her authority, and in that the Chancellor fell short.
They write, "We are particularly concerned about the failure to take responsibility in the weeks and months that followed the incident. Such a failure disables the community from moving forward and healing. To date, the Chancellor has not truly taken full responsibility for the incident on November 18, 2011. The chancellor has on a number of occasions claimed that she has taken full responsibility for the events; however, to date she has not acknowledged the mistakes and errors of judgment that she has made as documented in Kroll and Reynoso."
Second, they called the chancellor performance of her duties during the planning and execution of the tent clearing and other protests to be "woefully inadequate."
Finally, they argued that, in order for the leader to function, she must have the trust of the community.  Here they argued: "Chancellor Katehi's lack of candor, consistency and clarity in the aftermath of the events has undermined the community's trust in her leadership (Reynoso, 26- 7; Kroll, 58-9)."

The Senate vowed "to work actively and collaboratively to restore clear, effective, and respectful channels of communication and to be vigilant in assuring that goals are met and progress is sustained."
—David M. Greenwald reporting