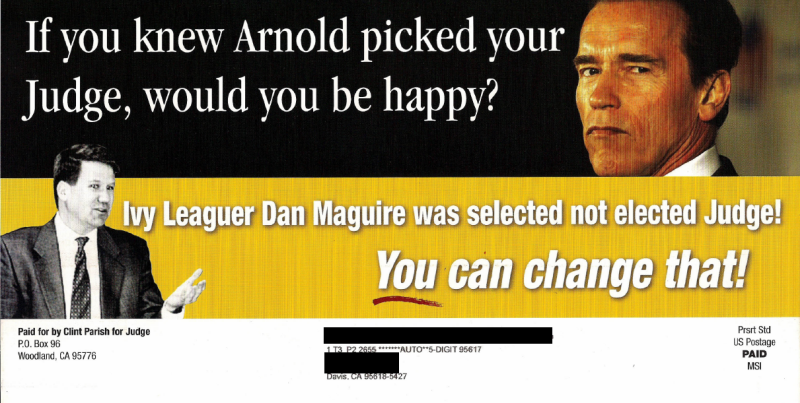 For the second time in less than a week, mailboxes in Davis and probably the rest of Yolo County received an attack mail piece.  This time it was the race for Yolo County Superior Court Judge and Judge Dan Maguire, the incumbent was on the short end of it.
In addition to touting the Deputy DA's record and endorsements from Yolo County Sheriff Ed Prieto, and the West Sacramento, Woodland and Winters Police Officers Association, the mailer attacks Dan Maguire as "Arnold's Bagman," referring to former Governor Arnold Schwarzenegger.
Unlike last week's Davis mailer attacking Councilmember Sue Greenwald, this one was paid for by the candidate himself.
Now the race for the judgeship, which generally eschews such personal attacks as unbefitting of the judiciary, has taken a turn into the kind of nasty and divisive politics that typically befalls other political races.
"Unfortunately, my opponent Clint Parish has resorted to the worst sort of gutter politics," Judge Dan Maguire told the Vanguard.  "His mailer is recklessly false, and includes charges made up out of whole cloth."
"It's deplorable when any candidate resorts to such tactics, and unthinkable to imagine that a person comfortable spewing such lies could be a judge," Judge Maguire added.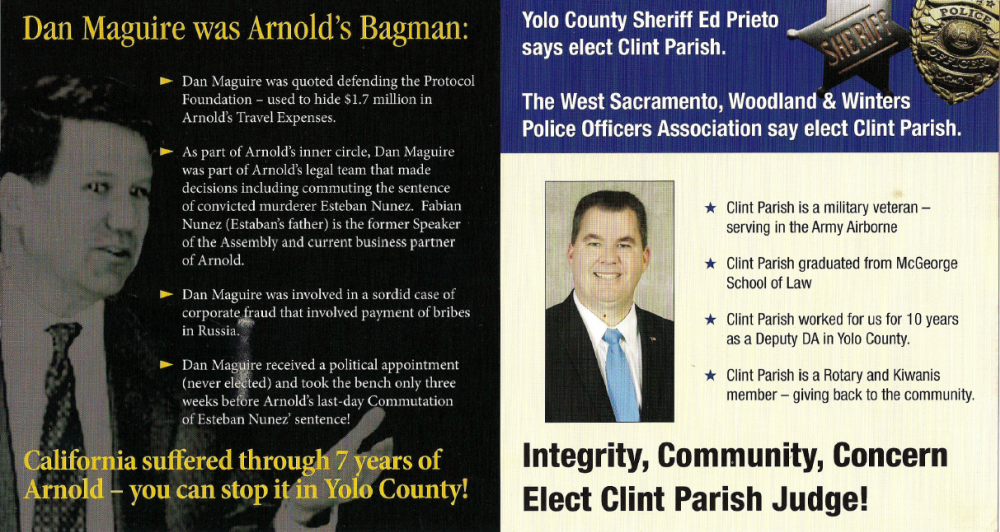 The piece charges, "Dan Maguire was quoted defending the Protocol Foundation — used to hide $1.7 million in Arnold's travel expenses."
In a statement to the Vanguard, Judge Maguire said, "The Protocol Foundation was a 501c3 created to help to relieve the taxpayers of paying for things like trade missions, dinners for visiting diplomats, etc."
"I had no role in creating it or disbursing its funds — it was an independent body with own its board," he said.  "One of my jobs as lawyer for the Governor was to help respond to Public Records Act requests, which is why I was quoted in articles sometimes."
"I never took such trips," Judge Maguire added.
"The Governor always followed the law and disclosed when the Protocol Foundation paid for his business travel or business travel for members of his office," the Judge said.  "No FPPC charges or lawsuits of any kind were ever filed against the Governor concerning any issue relating to the Protocol Foundation."
The mailer further charged, "As part of Arnold's inner circle, Dan Maguire was part of Arnold's legal team that made decisions including commuting the sentence of convicted murderer Esteban Nunez.  Fabian Nunez (Estaban's father) is the former Speaker of the Assembly and current business partner of Arnold."
Judge Maguire responded, "I had absolutely no involvement in the decision to commute part of the sentence imposed on Esteban Nunez.  I learned of it in the newspaper."
In a more bizarre charge, the mailer purports, "Dan Maguire was involved in a sordid case of corporate fraud that involved payment of bribes in Russia"
He speculates, "He may be referring to this case, which involves the firm I worked for in Denver from 1993 – 1997."  Information on this can be found here.
The Judge adds: "The case was just handed down recently, and has nothing whatsoever to do with me, except my former firm was a defendant.  My old firm prevailed.   My firm had over 200 lawyers at the time, and many offices,  and I had absolutely no involvement in any of the facts in the case."
Finally the mailer charges: "Dan Maguire received a political appointment (never elected) and took the bench only three weeks before Arnold's last-day commutation of Esteban Nunez's sentence."
Judge Maguire responds: "I was appointed through the same merit-based peer review as every other appointed judges.  I had no knowledge or involvement in the Esteban Nunez case."
At this point, Deputy DA Clint Parish has not responded to the Vanguard's request for substantiation.
—David M. Greenwald reporting