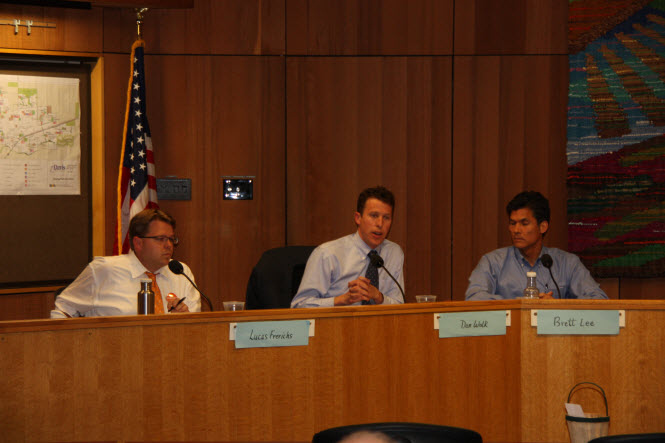 The Davis City Council Candidates met on Wednesday night for their second major candidates forum, this time hosted by the League of Women Voters.  Once again Jean Canary served as moderator of the event.
Per the usual League format, the first part of the forum consisted of a brief opening remark followed by three questions for each candidate.  After a break they took audience questions.
We will cover the three questions here which were sent in advance and two questions that were asked by the audience on water in a future installment.
The first question dealt with the plans for covering or cutting the unfunded liabilities faced by the city of Davis.
Dan Wolk: "This is one of the main reasons why I decided to serve on the city council."  He said we are threatened with "a serious fiscal imbalance that threatens the very foundation of our community."  He believes it would be unconscionable for the council not to address those issues.
Mr. Wolk cited his work with Solano County as a Deputy County Counsel focusing on public finance, redevelopment, and water law.
To address our fiscal imbalance, he argued we need to recognize three things: "First we got into this situation under a fiscal paradigm that is no longer sustainable and a new generation of thinking and policies is required to get us out of it."  "Second of all, there is no magic bullet.  It took us years to get into this mess and it's going to take us years to get out."  "Lastly, this is a time of shared sacrifice each one of us from employees to management to the city council and the wider community must pitch in and we all have a role to play."
He argued that process cannot be adversarial, citing employee morale as being important.
Mr. Wolk argued we need to address personnel expenses which are the largest unfunded liabilities we have – pensions and OPEB (retiree health).  "We need to look toward shared services, we need to look toward expanding public-private partnerships."
Brett Lee: Talked about his experience as project hub for FedEx which has a no lay-off philosophy which looks at ways to become more efficient and save costs without putting people out on the street.  He said it creates a sense of team work between the management and employees.
He wants to do something similar to that in Davis.  "I believe looking at the numbers, that there is no need to lay off any city employees."  He continued that he wanted to maintain our present level of employment, "because the city employees are part of our family."
That said, times are difficult for the city of Davis and therefore "it's only fair that we ask the city employees to pay more towards their pension costs and more towards their retiree benefit costs."
He argued that the biggest challenge for the city is not today's budget but future unfunded liabilities.  "So if we start in earnest today by addressing that, we won't have that problem."
However, if left uncheck the proportion of employee costs will continue to grow in size, "so eventually we have no money for sidewalk repairs, street repairs, maintaining our parks, things like that."
He said he wants to do this in ways that are not "conflictual" which he says is important, "because we don't want to divide the community.  But at the end of the day, we must be firm on the city council because we can't agree to something which is not sustainable.  I believe in the past we've perhaps been a little over-optimistic in what our revenue projections should be."
Sue Greenwald: "Everyone now seems to recognize that we have a problem with our unsustainable budget and our projected growing deficit."  She cited her past record dealing with this issue over the last twelve years.  "I have been explaining that the paradigm under which we're operating was a false paradigm."
She argued that even as far back as 2002 and 2003, she argued that the budget shows that a property tax bubble was the only thing keeping the city in the black.  She argued that her advocacy had a very profound effect on the way things were going.  She said that she prevented moving miscellaneous employees to 2.5% at 55 for a whole bargaining cycle.
"Lost it the second cycle, after explaining that we could not undo it once it was there," she said.  She believes she kept total compensation down.
She said that while she is the only councilmember to vote against the $50,000 total compensation increase to the city manager and a pay increase to city council, "I do think that we should be protecting our lowest paid workers."
She argued that we should cut our cafeteria cash out, more employee pay into pensions, employees share more in the costs of health care, instituted the two-tiered retirement system – "unfortunately we have to do it so we will."
Stephen Souza: He said that he's in his third set of labor negotiations right now.  "It is a process that involves both parties.  If you're going to get to a solution, you have to have a willing partner on the other side to give something up.  It's a back and forth process to where you eventually get to an acceptable agreement, otherwise you're not going to get to an agreement.  You're just going to have the problem still there."
He said it is incumbent on all of us to "do it in that collaborative way.  To do it with an understanding that we're going to ask for something that may not be achievable or acceptable.  And also recognize that we may have to step back just a small step and not get it all in one bite."
"It took us many years to get us where we're at," he said, "and it's going to take us many years to get down, back to a more sustainable level."
"But to think that cutting the budget in whatever fashion it may be through negotiations and labor contracts, through restructuring, through outsourcing services, through reducing programs, is going to solve the problem in its entirety, it's not true," he said.  "We can't do it.  It's a large lift.  We can and we should demand that those who work in our community, step up as we have in the last round and take care of some of that liability."
Lucas Frerichs: Said he works on budget issues in the legislature and has for a number of years.  "In terms of this community we need a comprehensive line-by-line look at the city's budget and we have to get our fiscal house in order before we can do anything else in this town."
Wants to have a community conversation about the prioritization of current services and programs.  He said, "There a lot of ways where we can be much more efficient and effective with the use of our dollars."  He cited the paid internships again and also shared services.
He also spoke to statewide efforts toward pension reform that will come down from the state level as a mandate.  There are a number of reforms being discussed for new and current employees which includes a 50% contribution level for employees of their annual pension contribution costs.  He also spoke of the need to limit post-retirement employment.
Second Question: Asks the candidates to tell about their experience with balancing budgets and asks them to give their experience with negotiating with unions on meet and confer issues.
Brett Lee: He has worked experience in a unionized workplaces as well as a master's degree in Industrial Relations.  "I believe I have a little bit of practical and theoretical background in this," he said, but acknowledged, "As far as being involved in direct management negotiations, I have not been involved in direct labor management negotiations."
He said that what he does know is that there needs to be a minimal acceptable level that has to be achieved prior to agreeing to terms.
"We're negotiating on your [the people of the city of Davis'] behalf and so it's essential that we get this right," he said.  He noted that city employees are part of our community,  however, "their benefit packages are out of line with what many of the private industry firms but also UC and also the state employees."
"I think it's acceptable that we ask them to pay a greater share of their pension costs and their retiree benefit costs," he said.
One strength he believes he can bring is the ability to negotiate in "a way that makes them feel secure about their jobs.  I do not want to allow the unions, when confronted with our desire to cut costs, to maintain the current compensation and benefit packages but cut ten percent.  I don't think that's an acceptable alternative for us.  I think that in this economy it's devastating for someone to lose their job."
Sue Greenwald: Made a critical point that the council in fact does not negotiate.  Instead they have a negotiator.  She said for years it has been a staff member and she has argued that the city needed a professional negotiator.
"We do now have a real, top-notch professional negotiator," she said.  "So we don't negotiate we basically just set the parameters that we're willing to accept, the range, make offers, receive counter offers."
She added that because we have collective bargaining rather than binding arbitration, we have to enter the process with an open mind listening to various ideas and alternatives that come forward.  She said that they do reserve the right to make a "last best offer" and to go to impasse, "that's always an option."  But she warned that we have to be very careful there to follow the protocol.
"We don't really interact with the employees," she added.  "In fact we're told not to."
Stephen Souza: "We have an intermediary," he said, "that serve on our behalf basing what we were presenting to our labor organizations on guiding principles that we established in the last round and we have those guiding principles that we've established in this round, that we've put out to the public so that the public knows very well what are the areas that we're seeking compromise and solution and collaboration and eventual enactment of."
"Those are very important because we all know the playlist that we are playing from," he said.  "You've got to begin from a set of rules that we all accept."  The process will determine the degree to which we accept how much of them, he added.
Mr. Souza said that the paid negotiator is attempting to convey the message to labor groups so that we can address the unfunded liabilities and take care of the problems that have been building up over the years, "so that we can have the necessary funds to take care of the needs that we need to take care of."
"When you ask for program reductions, you're asking for folks to not have a job," he pointed out.  "Programs equal people in many instances.  It's not just about restructuring for the purpose  of creating more efficiency.  A lot of times that efficiency, which is necessary… restructuring means people's jobs, you can't deny it, it's what happens."
Lucas Frerichs: Cited his experience balancing budgets with the Davis Food Co-op as well as the Yolo Mutual Housing Association.  He said that while he has never been involved inside the closed doors, he does have experience with both of those organizations and labor negotiations.
"I believe that all of the above would allow me to step into these negotiations… without missing a beat if I were elected to the City Council," he said.  "It is absolutely time that the city gets its fiscal house in order.  It's a time of shared sacrifice, there's an absolute need for the city to figure out what types of additional cuts it needs to make in terms of programs and services… but also there are going to need to be changes made in terms of employee contracts."
"It should have been done years ago, but it's absolutely critical that now is the time that we have to address these issues," he added.
Dan Wolk cited two critical points of his experience.  First, he is a public employee as an attorney for the County of Solano.  Second, he said he negotiates as part of his job on a daily basis.
"I certainly recognize the value that public employees bring to an agency – to our city and to the greater community," he said.  "I also recognize that there is a need in this period of real fiscal challenge for public employees to contribute.  This is an era where everyone's going to have to give a little bit."
He said he had to do that in Solano – he pays more into pension and health care.  He said, "That's necessary in the time we're in."
Moreover, our budget is built heavily and overwhelmingly on compensation to city employees and "Those negotiations need to be done in a very delicate way because you're balancing employee morale which I'm very concerned about… with the need to address some of these long term issues."
The way we need to go is similar to how he voted on the first one, "I was part of a 3-2 majority, I was the swing vote on that one,  that made a very difficult decision that not only were we going to see it balanced… but that we were going to look to getting $2.5 million more in order to try to address these larger unfunded liabilities."
And even with that $2.5 million cut, we still had to essentially put Community Pool on a path to closure," he said noting that this was a very painful decision on his part.
The Third Question is on University Growth: Given UC Davis is projecting growth in student enrollment, how will the city's rental market with low student vacancy rate contend with this?
Sue Greenwald argued that building more apartments will not decrease the number of rentals in the neighborhoods.  She argued students like houses with yards when they can help it.  "We're not going to get 'students out of the neighbors' by building apartments."
That said, she said, "it's a pretty good idea to increase the rental housing stock for students."
She has focused on the need for student affordable housing units – where students mostly currently cannot live.  "We sometimes forget that we are student / university town and that 30-40 percent of our students are on Pell Grants – they are low income.  Why shouldn't we be helping with our affordable housing program?"
She hopes to do more of that in the future – student affordable housing.
She argued, "Campus housing – that is the best way to assure affordability.  That is the best way to ensure that the students don't have to compete with other tenants and the public at large."
Stephen Souza said, "The University has a 20/20 vision in which they seek to see 5000 new students come to our community over about a five year period.  That's an awful lot of students and with those students will come faculty and staff."
So it's not just student housing that we need, he said, it's housing for faculty and staff as well.
"We are going to be faced with a dilemma," he said, "The university is either going to take care of most of that or we're going to have to do some of it ourselves."
He noted, "We have not seen an apartment complex built in this community since 2004.  It's time to see some more apartments built in our community and adjacent to the downtown."
One problem he noted that the bedroom cost in an apartment is far more than a single family home.
He said, the city has an MOU with the university that they need to take care of 30 percent of the student housing, they are close to 26 with West Village.
He suggested Solano Park and Nishi as two properties close to the university and downtown as location for more student housing.
Lucas Frerichs noted that while there has been little growth in market rate apartments, there have been some affordable ones such as New Harmony that have come online.
He argued that the university has an obligation to take on more of their coming growth – this is not something that the city of Davis should do alone.  Aggie Village and West Village are two good examples.
Touted Santa Cruz's innovative second unit program as a possible solution whereby the process is streamlined to create a second unit that can be created in one's yard.  He sees this as a way to increase density without sprawling on the periphery and it increases the ability for folks to have rental property.
Mentioned that along with the increase in student rentals has been an increase of noise and party complaints as students are forced into greater proximity with neighborhood residents.  He said that is absolutely something that we need to address.
Dan Wolk appreciated Chancellor Katehi's 20/20 vision arguing it's "something we need to embrace.  I think a vibrant growing university can only help our community – the university after all is the lifeblood of our community."
"Our vacancy rate is too low and our housing prices are too high," he said.  "Certainly this hurts the ability of UCD students to live here but it also hurts a demographic of which I'm a part of and that's … young families."
"The demographic of our community are clear, the cohort ages 25-44 is shrinking in our community," he said noting that those 55 and over is the fastest growing cohort.
He said these concerns are why he voted to move Cannary Park along.  "That is planned to provide exactly that kind of housing," he said.  He felt it would provide starter homes for young families and high density housing for students.
He also agreed in terms of using Solano Park and Nishi as mixed use innovation hub there would enable the city to address student housing and housing for young families.
Finally he supports infill, particularly in the downtown.
Brett Lee argued that our planning should not be done on a "piecemeal" basis.  "We as a community need to decide what we would like to do and we need to prioritize that.  It might be worth updating our general plan."  He added, that we have heard about university's desire to grow and said, "what we don't want is this scattered piecemeal approach to planning.  I think we need a comprehensive plan that's community driven."
Once that plan is in place we can address the various plans that come before us and see whether they address our specific need that we have identified.
He said that he supports the university growing, "The university is a great asset for our community and we wouldn't be the community we are without the university."  We need to plan for greater numbers of students in our neighborhoods.
UPCOMING COVERAGE: On Friday, we will have the Vanguard's fourth installment of the council question.  Over the weekend we will present the answers to the two water questions from teh audience.  We will likely have commentary on the League of Women Voter's forum.  On Monday, we will have written transportation anwers and then next week coverage of the transportation forum.
FINALLY, we invite you on Saturday to meet the candidates yourself from 6 to 8 pm in the parking lot south of UC Davis Store on F and 2nd St.
—David M. Greenwald reporting