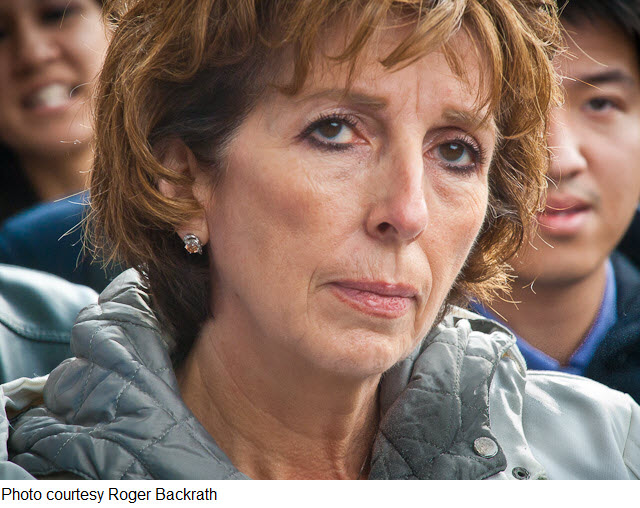 Not all of the faculty supported the decision by the Academic Senate to censure Chancellor Linda Katehi.
In a letter written by members of the UC Davis Association of the National Academies (National Academy of Sciences, National Academy of Engineering and Institute of Medicine) they "strongly protest the resolution passed by the Executive Council of the Academic Senate to censure Chancellor Linda Katehi for her response to the Nov. 18 incident."
They write: "It is distressing that the recommendation of the special committee calling for the resignation of the chancellor was passed solely on the basis of three votes out of the six voting members of the committee, chaired by Julia Simon, professor of French in the College of Letters and Science."
They add, "Thus, the Executive Council and three faculty members of the special committee basically attempted to reverse the will of the majority of the Academic Senate (a body representing more than 2,600 members), who overwhelmingly supported the chancellor with a vote of confidence."
"It would be impossible for anyone reading the May 3, cover article of The Davis Enterprise titled, 'Faculty leaders censure Katehi,' printed in bold letters, to fully appreciate that this is the conclusion of a small group of faculty members."
They write, "It is not only unfair to Chancellor Katehi but it is also deceptive, inappropriate and counterproductive to the mission of UCD."
"The campus should, of course, continue to develop policies and procedures to prevent a similar incidence from occurring in the future. However, this incident should not be used to interfere with the primary mission of the university of teaching, research and service," they continue.
"Chancellor Katehi has initiated a bold and visionary leadership for UCD to become one of the top-tier universities in the nation, and a large majority of the UCD faculty has indicated plainly that it supports the chancellor's leadership."
The letter is signed by a number of esteemed faculty and researchers: Tilahun Yilma (NAS), chair of UC Davis Association of Members of the National Academies; Berni Alder (NAS); John Dewey (NAS); Emanuel Epstein (NAS); Diana Farmer (IOM); Bruce Gates (NAE); Bruce Hammock (NAS); James Hildreth (IOM); Gurdev Khush (NAS); Kenneth Kizer (IOM); Nathan Kuppermann (IOM); Stephen Kowalczykowski (NAS); Michael Lairmore (IOM); Subhash Mahajan (NAE); Alexandra Navrotsky (NAS); John Roth (NAS); Michael Savageau (IOM); Paul Singh (NAE); Thomas Schoener (NAS); Judith Stern (IOM); George Tchobanoglous (NAE); Anthony Tyson (NAS); and Donald Turcotte (NAS).
The letter is notable for its lack of condemnation of the November 18 or the damaging findings of the Reynoso/Kroll reports.
Physics Professor Daniel Cox, however, wrote strong disagreement.
He wrote, "I greatly respect my colleagues who wrote this letter but I disagree with their perspective. The views of the Special Committee and the Academic Senate Executive Council are drawn from extended study of the Reynoso and Kroll reports which were commissioned by the Office of the President."
"The Kroll report in particular is very hard hitting on the role and responsibility of the Chancellor in the events leading to Nov. 18. I do not believe these findings, the work of the special committee, or the censure vote of the Executive Committee can be dismissed lightly, nor are they somehow trumped by the no confidence vote outcome alluded to in the letter. Given the Kroll/Reynoso reports, we have no idea how such a vote would turn out today."
Professor Cox continues: "The rationale of the special committee's recommendations for resignation, as I understand it, is that when a failure of leadership is sufficiently great, the appropriate action of the individual is to resign as an act of personal integrity. While the Special Committee was clearly not unanimous on this issue, the recommendation is a serious one."
He writes: "The less severe motion of the Executive Council to censure the Chancellor is based upon the same reports and the findings of the Special Committee. The spirit of this as I understand it is similar, but the Council felt that while they had no choice but to recommend censure they did not feel the actions singled out in the Reynoso and Kroll reports justified a call for resignation."
"Censure is censure. It is meant to send a clear message that failures of leadership require correction, and I for one hope that meaningful corrective actions are taken so that nothing like this happens at UC Davis again. It also has the connotation of some sense of disapproval or punishment. I for one, think that is appropriate given the Kroll/Reynoso findings."
He adds, "In the Representative Assembly meeting this morning, in response to a question from Scott Shershow of English, the Chancellor admitted she regretted her choice of action in removing the tents. The most saddening aspect of this whole affair to me is that it appears the goals of the students and the Chancellor are in substantial alignment, and that different choices made in those fateful few days leading to Nov. 18 could have provided a very different outcome with a unified campus in which faculty, students, and administration were all working towards the realization of an accessible, affordable, and great public university."
Physics Professor Markus Luty wrote, "I am a professor of physics at UC Davis. The November pepper-spray incident and its aftermath has done enormous harm to UC Davis. The Reynoso report and that of the Executive Council document the fact that this is directly due to specific failures of leadership by Katehi and others in the administration. Are there to be no consequences for the academic 1%?"
—David M. Greenwald reporting